New York Times of October 4, 1951
In interviews on Underworld, DeLillo frequently mentioned looking at the New York Times edition of October 4, 1951, which reported on much more than the Thomson home run. The front page alone has several other important stories:
Soviet's Second Atom Blast in 2 Years Revealed by U.S.; Details Are Kept a Secret
Jessup Denies Any Red Ties, Calls McCarthy Charge False
British Evacuate Staff From Iran
Vietminh Opens Indo-China Drive; Captures 2 Strong Points in North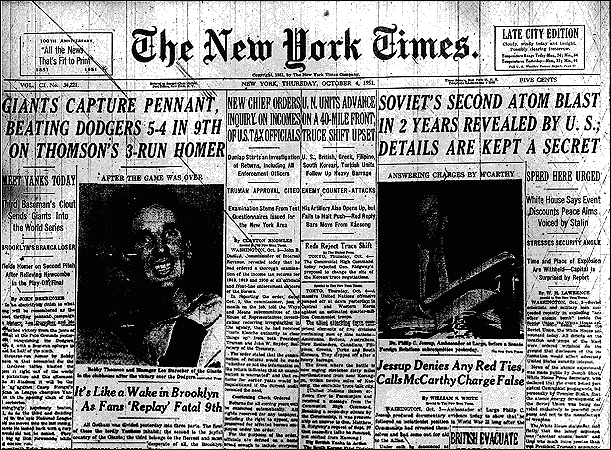 Suddenly DeLillo's story seems to be about much more than a baseball game. Many of the important currents of American history of the second half of the twentieth century emerged on this day. (Or maybe it just seems that way...)
Here are a few selected passages from some of the stories:
From a story on the fan reaction to the game:

The Giants rooters whooped and danced about jubilantly in the streets, while the morose Dodgermen walked away quickly and silently.

In Harlem, the loyalties of the populace were divided between the Dodgers and the Giants since each team has Negro players. Perhaps the Dodgers were a slight favorite since Brooklyn was first in the major leagues to hire a Negro player, Jackie Robinson.

The bar of the Theresa Hotel, Seventh Avenue and 125th Street, in the heart of Harlem, was jammed with intense men and women watching three television screens. When Robinson or Monte Irvin, the Giants' slugger, would come to bat, their rooters would shout affectionate encouragement to the images on the flickering screens.
From the Soviet Bomb blast story:

Representative Henry M. Jackson, Washington Democrat and member of the Joint Atomic Commission, said that each successive intelligence report he had seen estimating the size of the Russian atomic bomb stockpile "gives a little darker and grimmer picture."

"It is just plain indisputable that the Soviets are in the atomic weapons business on a big scale and with every day and week that passes, they are adding to their stockpile of these destroyers," Representative Jackson added.

Senator Bricker said he believed "we're still far ahead of them, but they evidently are progressing."

"We can't even guess from this whether they are closing the gap of our superiority in the atomic field," he added. "Remember, we have tested twelve or fifteen."
From another short story, entitled Secrecy to Blanket Coming Atom Games:

LAS VEGAS, Nev., Oct 3 (UP)--The Atomic Energy Commission announced today that coming atomic war games at its near-by desert proving grounds would be hidden behind a heavy security curtain. No newspaper men will be admitted.
---
Back to DeLillo's novels.
---
Last updated: 02-JAN-2000