DeLillo in New York City, Oct. 27, 1997
On October 27, 1997, Don DeLillo appeared at the 92nd St. Y in New York City.
DeLillo Plain
A report from Joshua Roberts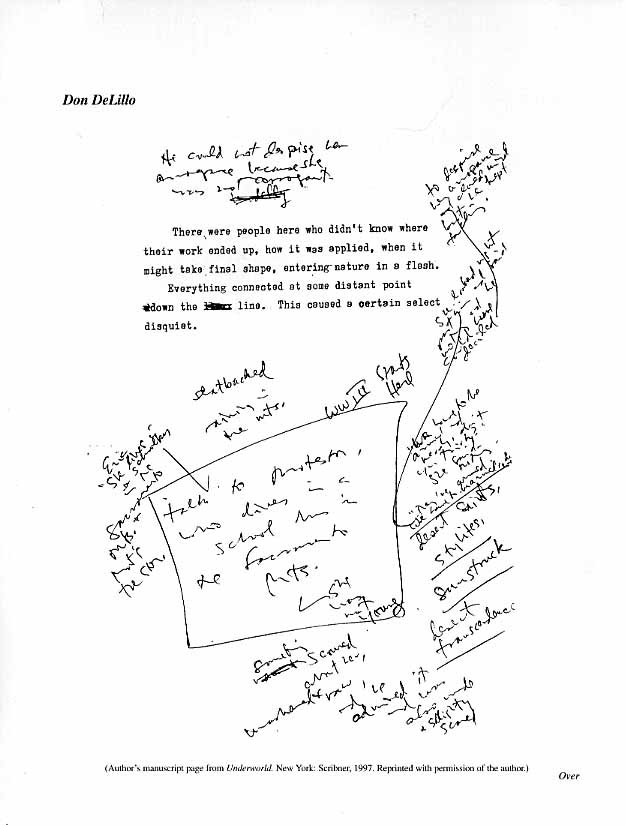 A handout distributed at the reading. (Anyone pick up an extra?)
What appeared to be a sell-out crowd began to line up in the lobby of the 92nd Street Y long before the scheduled start of Delillo's reading. This was the hometown boy made good, after all. Many copies of Underworld in evidence. Your correspondent was able to get a prime seat not too far back from the podium.
DeLillo shared the night with Richard Price, author of Clockers and many screenplays such as The Color of Money and Sea of Love. Price read two lengthy excerpts from a forthcoming novel, Darktown, and while fairly compelling, the audience's anticipation was clearly directed elsewhere.
DeLillo was introduced by Rick Moody, the thoughtful writer of such estimable novels as The Ice Storm and Purple America. Moody gave an intelligent assessment of DeLillo's work, as depicting a culture that prefers "the front end of life" at the expense of "the back end...the Great White Way, not Great Jones Street." DeLillo's great accomplishment, it was stated, was to have encoded this shrouded waste-world in such excellent prose over the course of so many outstanding novels, and to prove its true eminence and power.
DeLillo appeared to great applause and made only the barest preliminary remarks before reading from Underworld. As it turned out, we were treated to a condensed, chronological history of Nick Shay's life and thoughts, that is, selections from Parts 6, 1 and the Epilogue in that sequence. DeLillo added minor headers as he went from piece to piece, as: "Bronzini Walking...On the Roof...Nick and Klara." The best responses came from the bits of street-tough dialogue ("Shit in your fist and squeeze it") authenticated in the author's live, nasal voice. There were no concluding remarks, nor question-and-answer session.
In the adjoining reception room, no-nonsense Y staffers kept the line of autograph seekers moving briskly past DeLillo's table. "Mr. DeLillo will only be signing two books per person!" Taped to the small table, a sheet of typing paper, already torn, the name "Don DeLillo" scrawled in hasty ink. He seemed understandably uncomfortable with this portion of the evening, and I felt bad to be contributing to it in my little way. Thought of Robert Browning's poem "Memorabilia": "Ah, did you once see Shelley plain, and did he stop and speak to you, and did you speak to him again?"
Brought my copies of Underworld and Amazons to the table, the latter of which quite baffled the woman who was preparing offered books for signature. "This is not by Mr. DeLillo." "It's a long story," he said, dutifully taking the book and signing under the printed name of Cleo Birdwell. Under the circumstances, I could see I wasn't going to be able to ask for that story, which I very much wanted, and still want, to hear. I was only able to introduce myself as a contributor to Curt Gardner's web site, and DeLillo replied, "Oh yes, I met him last week," and I said, "I know. Well, it's been a pleasure," and that was all for me. I *was* able to speak at some length with Rick Moody and congratulate him on his introduction and on his own work.
---
Back to DeLillo's America
---
Last updated: 01-NOV-97