"Game 6" (1991)
Screenplay by Don DeLillo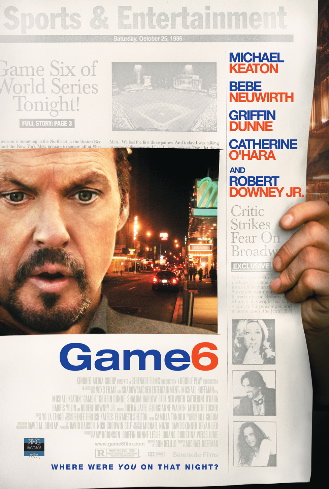 Poster for the film, from http://www.game6film.com
Unpublished screenplay by DeLillo. The version I've seen is dated 1991.
A movie was made in 2004, directed by Michael Hoffman, starring Michael Keaton, Bebe Neuwirth, and Robert Downey Jr. It opened for general release on March 10, 2006. The film is 87 minutes long.
What it's about: A playright has an opening on the night of game 6 of the 1986 World Series (baseball). That's the night that the Boston Red Sox could have won the Series for the first time since 1918 had a ground ball not slipped through Bill Buckner's glove at first base in the 10th inning, leading to a loss that night, followed by a loss in game 7 (to the New York Mets).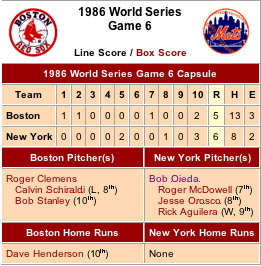 ---
Notes/Media watch for "Game 6"
There have been plenty of reviews of "Game 6" over the last few days, but I'll limit the action here to the cities in question - Boston & New York.
From the Boston Globe, "DeLillo's 'Game 6' is painfully good" by Ty Burr, ran on March 10, 2006. He says:
In terms of demographic appeal, ''Game 6" has an uncommonly narrow strike zone: literary-minded Red Sox fanatics who recall with awful clarity exactly where they were on the night of Oct. 25, 1986. Within those limits, though, it's an inside-the-park home run -- a small, lovingly overwritten comic drama about fate, failure, and primal longing.
On the other hand, the Boston Herald says "Bizarre 'Game 6' is way off base" by Chelsea Bain on March 10, 2006.
Written by Don DeLillo, this strange and contrived tale of self-reflection and sappy inner peace gets increasingly more bizarre.
Ed Park in the Village Voice on 'Game Six' on March 7, 2006:
The new 'Game 6', from a DeLillo screenplay, has an anonymous indie look, but with its absurdist cab ride through gridlocked midtown, airborne toxic disaster, ruminations on personal and public history, and baseball fetishizing, it's like volume one of DeLillo's Greatest Hits. DeLillo's stylized dialogue, part brow-slapping smartitude, part beautiful nonsense, finds an ideal mouthpiece in Michael Keaton.
And in the New York Times, "Once Upon a Time, When the Curse of the Bambino Still Lived" by Neil Genslinger on March 10, 2006.
That, of course, was the day the Boston Red Sox finally ended their much-moaned-about futility and won the World Series. The victory caused virtually the entire world to say, "All right, now will you whiny Sox fans shut up?" But the novelist Don DeLillo still had a script lying around pegged to the whole loser-angst thing - the project has been in the works since at least 1997, according to press materials - and now it has made it to the screen, Mr. DeLillo's first screenplay to do so. You can tell the literary genes by the doses of stylized semi-fantasy; it probably seemed a lot cooler on the printed page.
Blogcritics.org has a nice piece by David Dylan Thomas with interview snippets from the cast and director of "Game 6".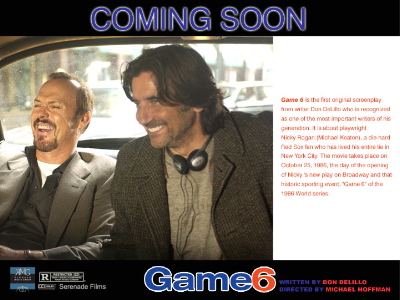 ---
A website for the film is now up and running: www.game6film.com. The promoters are running a contest to give away tickets to the premiere in New York City on March 9, 2006, where you provide your story of 'where you were' on that fateful night in 1986.

The World Premiere of "Game 6" at Sundance Film Festival in Utah was on January 22, 23, 24, 2005. The film was shot in summer 2004 and directed by Michael Hoffman. From the website Film Guide:
Working with a rich and superbly rendered script by the inestimable Don DeLillo, director Michael Hoffman constructs the wonderfully rarefied world of a man whose affairs are crumbling even as he plunges forward to open a new play. Nicky tries to relate to real life and write about things he cares for, but as his life falls apart, the archetypal villain of the theatrical world, a poisonously powerful critic (Robert Downey, Jr.) lies in wait, setting up a finale that challenges the fates and opens Nicky to a new understanding of life's vagaries.
Netflix describes the film thusly:
Legendary scribe Don DeLillo wrote this fascinating film about a New York playwright, Nicky Rogan (Michael Keaton), who's immersed in failure. Unable to ride the coattails of success no matter how hard he tries, Nicky distracts himself from his endless career woes by obsessing about those of others -- namely, the perpetual underdogs of baseball, the Boston Red Sox. But Nicky can't sit out the game of life forever. Michael Hoffman directs.
---
Back to DeLillo's America
---
Last updated: 06-AUG-2017