Great Jones Street Media Watch - a novel by Don DeLillo - 1973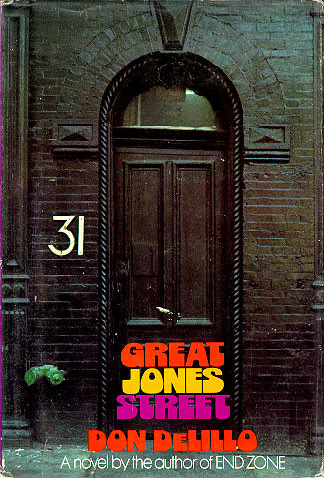 This page lists the known reviews of Don DeLillo's 1973 novel, Great Jones Street.
General Critical Reaction:
Nelson Algren wrote quite a good summary of the novel in his positive review in the LA Times, though the general reaction to this book was that it was a step back for DeLillo. As the NYT daily review put it, "No, Mr. DeLillo is human after all." One complaint was that it is quite hard to effectively satirize the world of rock music, and rock lyrics. Several reviewers felt that the characters did not hold up. Generally everyone recognized DeLillo's gifts with language, however.
---
Los Angeles Times Book Review: June 24, 1973 - "Musical Chairs in a Rock 'n' Roll Throne Room" review of Great Jones Street by Nelson Algren.
---
New York Times: April 16, 1973 - "DeLillo Runs Out of Bounds" review of Great Jones Street by C. Lehmann-Haupt.
---
New York Times Book Review: April 22, 1973 - page two review of Great Jones Street by Sara Blackburn.
For all of this, Great Jones Street is full of beautiful writing. It begins like this: "Fame requires every kind of excess. I mean true fame, a devouring neon, not the somber renown of waning statesmen or chinless kings. I mean long journeys across gray space. I mean danger, the edge of every void, the circumstance of one man imparting an erotic terror to the dreams of the republic." And this is DeLillo not nearly at his best, which usually combines these qualities of strong, clear imagery with a seemingly off-hand and piercing wit. There is a great deal of this kind of writing in Great Jones Street, but it doesn't save the book from being more of a sour, admirably written lecture than a novel, a book that is always puffing to keep up with the power and intensity of its subject.
---
Time: April 23, 1973 - review of Great Jones Street by R.Z. Sheppard.
---
Washington Post Book World: April 15, 1973 - page one review of Great Jones Street by Webster Schott.
---

Back to DeLillo's novels.
---
Last updated: 29-JAN-2010