Mao II Dust Jacket Copy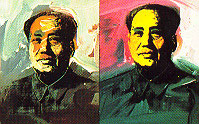 Here's the copy from the original dust jacket:
Six thousand couples are married at Yankee Stadium.
A famously reclusive writer has his picture taken.
A Swiss UN worker is held hostage in Beirut.

Don DeLillo's extraordinary new novel is about words and images, novelists and terrorists, the mass mind and the arch-individualist. Haunted by the spirits of such diverse figures as Andy Warhol and Mao Zedong, it takes us from New York to London to Beirut, terror's modern republic. At its heart is an isolated writer, Bill Gray, who escapes the failed novel he has been working on for many years and enters the world of political violence, a nightscape of Semtex explosives and hostages locked in basement rooms. Bill's dangerous passage leaves two people stranded, his brilliant fixated assistant Scott and the strange clairvoyant young woman who is Scott's lover, and Bill's.

"Years ago," says Gray, "I used to think it was possible for a novelist to alter the inner life of the culture. Now bomb-makers and gunmen have taken that territory. They make raids on human consciousness."

From its first page, Mao II announces our naked exposure to a civilization gone awry. There are crowds everywhere--crowds of brides and grooms, crowds of victims, crowds of revolutionaries, crowds keening at the death of the Ayatollah Khomeini, crowds on television, crowds in the street. Yet against this onslaught of images and cataclysmic events, DeLillo also tells an intimate story about faith, longing and redemption.

When his eighth novel White Noise was published, the Los Angeles Times said, "Through tenderness, wit and a powerful irony, DeLillo has made a moving picture of a disquiet we seem to share more and more," and The New York Times hailed him as "one of the most ironic, intelligent, grimly funny voices to comment on life in present-day America." Now, in Mao II, DeLillo delves into our addiction to apocalypse and our urgent need for certainty, capturing the global obsessions and fears of our time.
And here's Thomas Pynchon's back cover blurb:
"This novel's a beauty. DeLillo takes us on a breathtaking journey, beyond the official versions of our daily history, behind all easy assumptions about who we're supposed to be, with a vision as bold and a voice as eloquent and morally focused as any in American writing."
---
Back to DeLillo's America
---
Last updated: 19-DEC-96