Terrorism - Media - Literature : Don DeLillo and the Ethics of Fiction
A report on the conference held April 25-27, 2008 in Osnabrück, Germany. Photos by Julia, Curt and others.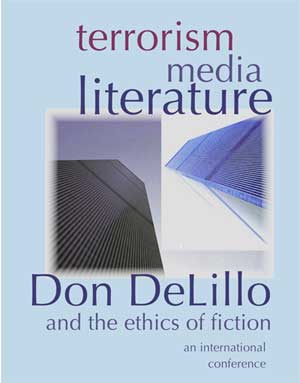 ---
I was lucky to be able to attend the International Conference on DeLillo held in Osnabrück, Germany. The theme of the conference was "Terrorism, Media, Literature: Don DeLillo and the Ethics of Fiction", and a web site is at: http://www.blogs.uni-osnabrueck.de/dondelillo/ (thanks Wayback Machine!). This page is a report on the conference, with photos of some of the speakers but unfortunately not all. A fine time was had by all, I dare to say, and the level of interest and fascination with DeLillo's work was running high!
Opening the conference on Friday evening was Peter Schneck, Professor for American Literature and Culture at Osnabrück University, and one of the principal organizers of the conference. We met in a lovely room in the old Library building. David Cowart, author of "Don DeLillo and the Physics of Language" then gave a keynote talk "The DeLillo Era: Literary Generations in the Postmodern Period" revolving around the generational aspects of American authors, and the relation of DeLillo to the younger authors emerging in recent years.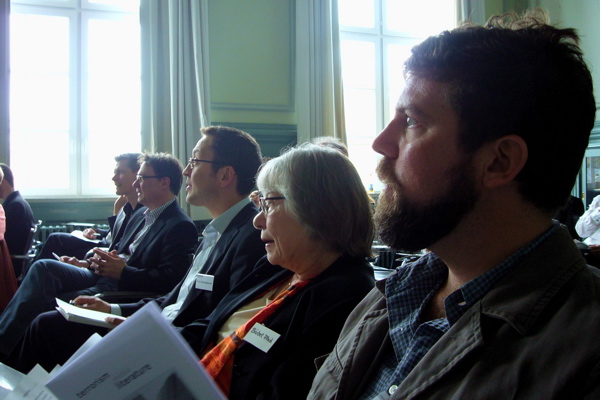 The photo above shows, left to right, conference organizers Devin Zuber, Peter Schneck, and Philipp Schweighauser, German editor of DeLillo Bärbel Flad, and American scholar Eben Wood.
Then on Saturday there were four pairs of speakers, each introduced by a notable DeLillo scholar, with subsequent time for questions and discussion with the audience. Opening the morning session were Linda Kauffman with "DeLillo's Discourses of 9/11: 'In the Ruins of the Future,' 'Baader-Meinhof,' and Falling Man" and Silvia Caporale Bizzini with "Grieving and Memory in Don DeLillo's Falling Man" moderated by Julia Apitzsch.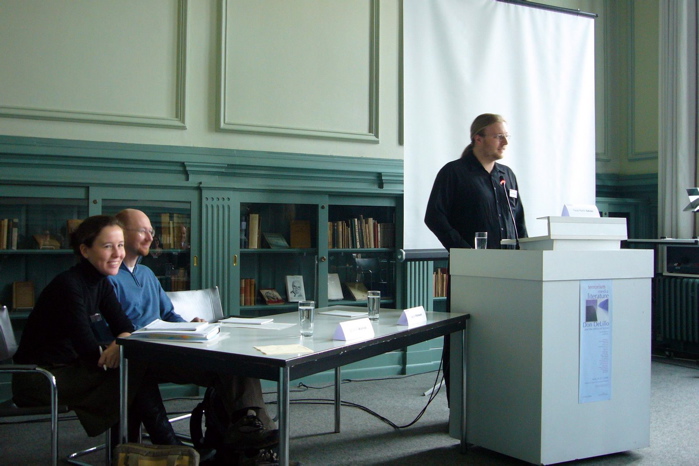 The photo above shows the second session, with Paula Martin Salván on "Terror, Asceticism, and Epigrammatic Writing in Don DeLillo's Fiction" and Adrian Wisnicki on "The End of Resolution? Victorian Detectives and DeLillo's Novels of Conspiracy and Terrorism", moderated by Sascha Pöhlmann.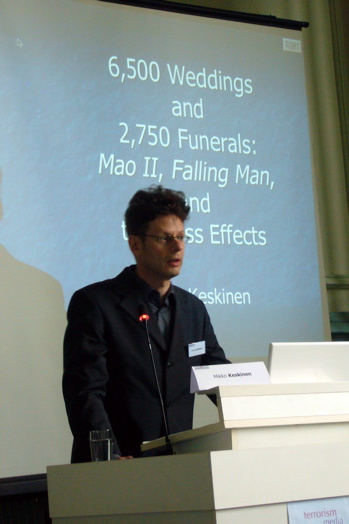 The photo above is from the third panel; Mikko Keskinen giving his "6,500 Weddings and 2,750 Funerals: Mao II, Falling Man, and the Mass Effects". The other speaker was Leif Grössinger with "Influence and Self-Awareness - DeLillo's Writers and Terrorists in Postmodern Mass Society", and the panel was moderated by Devin Zuber.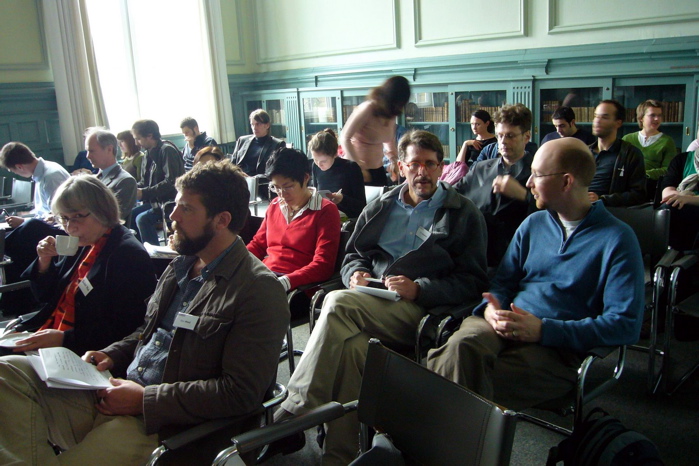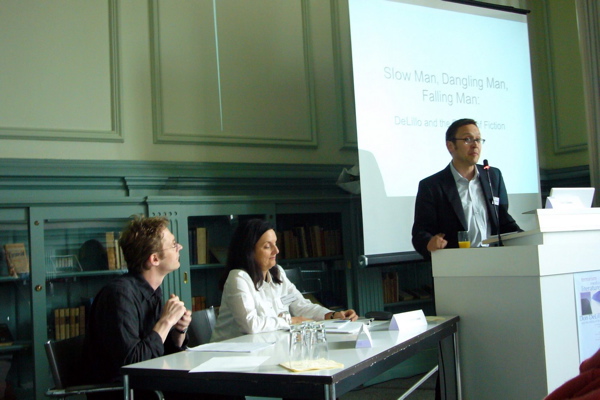 The final panel of the day featured Peter Boxall on "Slow Man, Dangling Man, Falling Man: DeLillo and the Ethics of Fiction" and Marie-Christine Leps with a dramatic reading of "Falling Man: Performing Fiction"; panel moderated by Philipp Schweighauser.

After the long but invigorating day of panels, we all went out for dinner, followed by a walk over to a nearby cafe where a screening of Johann Grimonprez's "Dial H.I.S.T.O.R.Y." was introduced by Eben Wood. Below is a shot of Philipp and Eben at the cafe prior to the screening of the video investigation of the plane hijackings of the 1970s which uses passages from DeLillo's White Noise and Mao II as a kind of narration.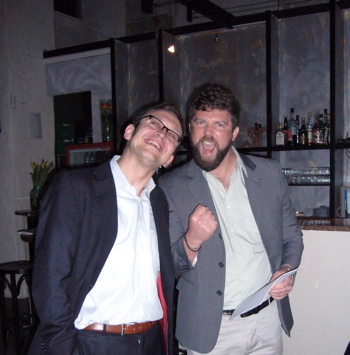 While some folks were ready to dance the night away, and others departed for a deserved rest, things got started again on Sunday morning with a panel discussion moderated by DeLillo translator Frank Heibert. The discussion was largely in German, with simultaneous translation. The photo below shows panelists Eben Wood, Julia Apitzsch, Michael Ostrowski, and Frank Heibert.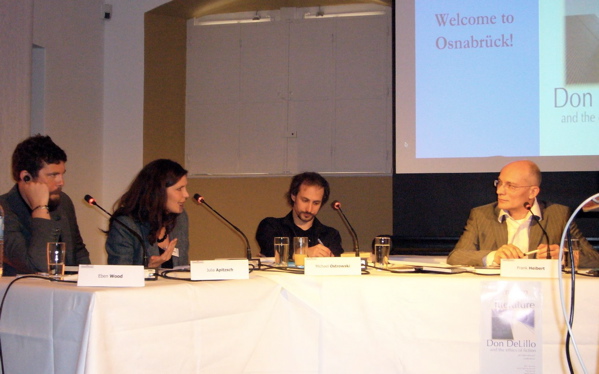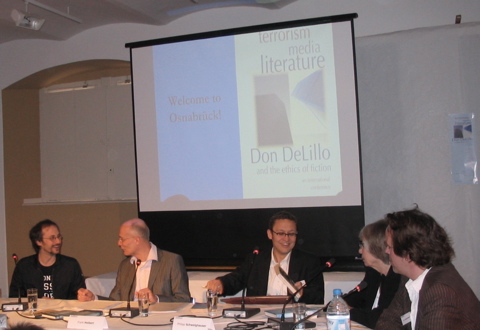 The photo above shows the other side of the panel, adding on Philipp Schweighauser, Bärbel Flad and Jan Langenheim. The panel covered a number of topics, including time for Frank to discuss some of the translation issues of "Falling Man" (such as the difficulties of both the first and the last lines), Bärbel to discuss her history with DeLillo (she discovered White Noise in 1986 and brought it to German publication, along with subsequent DeLillo novels), and the entire panel on various images of import to Falling Man, and discussion of the European reaction to Falling Man. It fell to New Yorker Eben to voice an American viewpoint on many of these issues.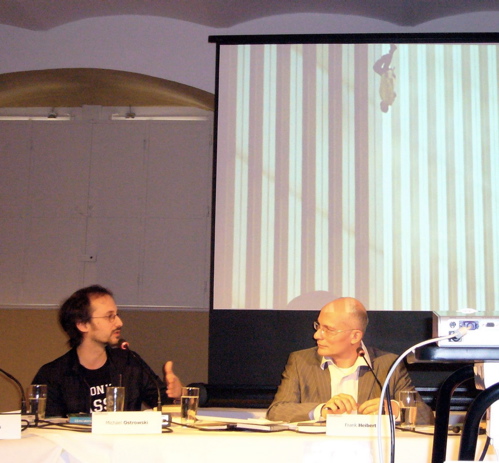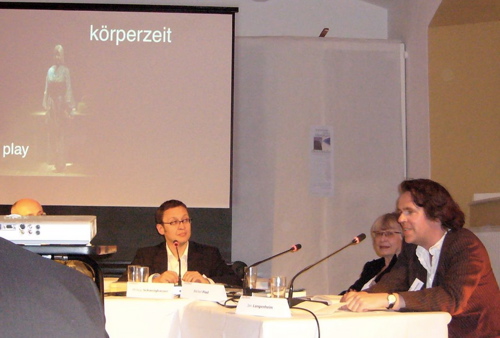 Jan Langenheim is the director of a German dramatic adaptation of "Körperzeit" ("The Body Artist") that was done in May 2007 in Zurich, an event I had not heard about previously. He brought a DVD of the play, and screened some parts of the production, which stages the breakfast conversation scene twice, once veiled and once again opened to the audience.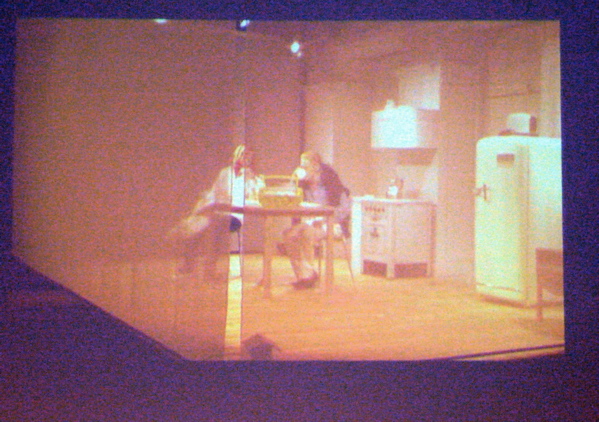 After the panel a number of us were able to sit outside for a nice lunch, hearing some fun stories from Bärbel and soon regretting that our time with new friends was already at an end. Thanks to the organizers for doing such a nice job with all phases of the conference! It would be great to see a similar event in America.
---
From the Conference annoucement:
The Institute for English and American Studies at the University of Osnabrück is happy to announce an upcoming international conference devoted to the works of Don DeLillo. Over the last three decades, DeLillo's fiction and non-fiction has been singularly preoccupied with questions of media, terrorism, and their place in American society. This conference aims to open a dialogue among leading DeLillo scholars on the author's position in a post-9/11 context, and will give particular attention to the European reception of this trenchant American author. Featured international speakers include:
David Cowart (University of South Carolina)
Linda Kauffman (University of Maryland)
Peter Boxall (University of Sussex)

The conference will also feature artistic responses to DeLillo's fiction, as well as panel discussions with European journalists, actors, and editors who have worked on or with DeLillo's oeuvre. "Terrorism, Media, Literature: Don DeLillo and the Ethics of Fiction" will be the largest DeLillo conference of its kind to date in Europe, and offers a timely opportunity for evaluating DeLillo's fictional and non-fictional negotiations of terrorism and the place of literature from a transatlantic perspective. All events are open to the public, and there is no registration fee for attending the conference.

The conference was planned in collaboration with Georg-August-Universität, Göttingen.

Much more information at the conference site.
---
Back to DeLillo's America
Last updated: 14-JUN-2008
---