Running Dog Dust Jacket Copy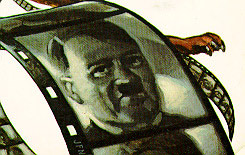 Here's the copy from the original dust jacket:
A man, dressed as a woman, is found murdered in a deserted section of Manhattan. He was supposed to be selling the century's ultimate piece of decadence--the original (the only) copy of a movie shot in Hitler's Berlin bunker during the final days of the Third Reich. What was he doing here? Who were his killers? And where is the film? The scene shifts to a SoHo gallery specializing in erotic art. Two new players learn about the film: a woman reporter for a one-time radical magazine and a staff assistant to an important U.S. Senator.

So begins Running Dog, Don DeLillo's latest novel. The wit, the style, the power that have characterized his previous books are fully displayed here as he transforms the lurid elements of the conventional thriller--espionage, assassination, and pornography--into a dazzling work of art that captures all the fevered shades of the latter-day American nightmare.

Here are the denizens of that roiling darkness--the nude storyteller, the pseudo-Buddhist, the boy-impresario of smut, the disciple of the double life, the investigative journalist, the well-dressed hit man, the intelligence agency that has discovered the profit motive. Wantons and intriguers, they pour over a landscape that ranges from Frankie's Tropical Bar on the Lower East Side to the Senator's home in Georgetown, from the drumbeat of Times Square to the dread city of Dallas, as they arrange themselves, inexorably, into two fatal parallel lines of action: a cross-country chase by car and helicopter, and the sordid quest for the Berlin film.

Humorous, sensual, deadly serious, Running Dog is a bravura performance by a major writer.
---
Back to DeLillo's America
---
Last updated: 27-JUL-96