Underworld Dust Jacket Copy
Here's the copy from the original dust jacket:
Our Lives, our half century.

Nick Shay and Klara Sax knew each other once, intimately, and they meet again in the American desert. He is trying to outdistance the crucial events of his early life, haunted by the hard logic of loss and by the echo of a gunshot in a basement room. She is an artist who has made a blood struggle for independence.

Don DeLillo's mesmerizing novel opens with a legendary baseball game played in New York in 1951. The glorious outcome--the home run that wins the game is called the Shot Heard Round the World--shades into the grim news that the Soviet Union has just tested an atomic bomb.

The baseball itself, fought over and scuffed, generates the narrative that follows. It takes the reader deeply into the lives of Nick and Klara and into modern memory and the soul of American culture--from Bronx tenements to grand ballrooms to a B-52 bombing raid over Vietnam.

A generation's master spirits come and go. And flashing in the margins of ordinary life are the curioulsy connected materials of the culture. Bombs, Chevy Bel Airs, and miracle sites on the Web.

Underworld is a story of men and women together and apart, seen in deep clear detail and in stadium-sized panoramas, shadowed throughout by the overarching conflict of the Cold War. It is a novel that accepts every challenge of these extraordinary times--Don DeLillo's greatest and most powerful work of fiction.
---
Here's the description from Scribner's Fall 1997 Catalog:
On October 3, 1951, Toots Shor, Jackie Gleason, Frank Sinatra, and J. Edgar Hoover share a box at the New York Polo Grounds where the Dodgers and Giants vie for the pennant. Hoover is interrupted with news that the Russians have tested an atomic bomb, and Bobby Thomson hits his infamous home run--"the shot heard round the world"--to give the Giants the pennant.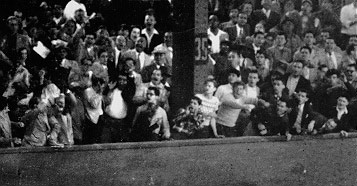 In Underworld, DeLillo has writtan a gloriously fused history of the past 50 years that offers a key to understanding American culture--our preoccupations and obsessions, our fears, our loves, our lives--and a chance to reexperience it. He moves through this country's most diverse landscapes, gradually revealing his two central protagonists, Nick Shay, now a "waste analyst," and Klara Sax, a renowned artist, who had a brief affair in the Bronx in 1952 when she was thirty-two and he, seventeen. Underworld maps the inner landscape of the Cold War and in a mesmerizing interplay of public and private events, DeLillo illuminates both our past and the nature of memory itself.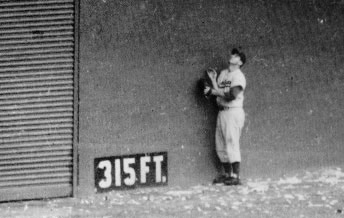 This is his greatest, most exhilaratingly ambitious, and most moving novel.
---
Back to DeLillo's America
---
Last updated: 13-SEP-97