White Noise - Viking Critical Library edition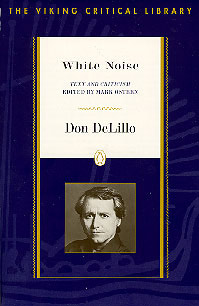 Published by Penguin, 1998. 544 pages, $16.95.
Here's the blurb from the Penguin Fall 1998 Catalog:
Winner of the National book Award in 1985, White Noise is the story of Jack and Babette and their children from their six or so various marriages. They live in a college town where Jack is Professor of Hitler Studies (and conceals the fact that he does not speak a word of German), and Babette teaches posture and volunteers by reading from the tabloids to a group of elderly shut-ins. They are happy enough until a deadly toxic accident and Babette's addiction to an experimental drug make Jack question everything.

White Noise is considered a postmodern classic and its unfolding of themes of consumerism, family and divorce, and technology as a deadly threat have attracted the attention of literary scholars since its publication. This Viking Critical Library edition, prepared by scholar Mark Osteen, is the only edition of White Noise that contains the entire text along with an extensive critical apparatus, including a critical introduction, selected essays on the author, the work and its themes, reviews, a chronology of DeLillo's life and work, a list of discussion topics, and a selected bibliography.
Mark Osteen is Associate Professor of English at Loyola College in Maryland.
---
Above and beyond the novel, this edition includes DeLillo's essay "Silhouette City: Hitler, Manson and the Millenium," the White Noise chapter from In the Loop by Tom LeClair, critical essays by Lentricchia, Frow, Duvall, Bonca, Saltzman and Maltby, a few interview excerpts and reviews, an introduction by Osteen, and a bibliography.
---
Back to DeLillo's novels
---
Last updated: 26-DEC-98