Zero K
A novel by Don DeLillo, 2016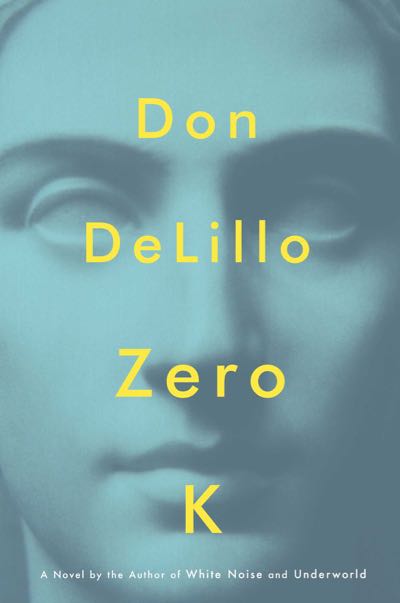 Zero K published by Scribner, May 3, 2016 (ISBN-13: 9781501135392, 274 pages, $27.00).
Here's the original dust jacket copy.
UK first edition from Picador, May 19, 2016. Check out Editions of Zero K for cover images and information.
Dedication: "To Barbara" (DeLillo's wife)
First line:
Everybody wants to own the end of the world.
What it's really about:
Sounds like life and death!
Here's the Zero K Media Watch page.
Here's the description from the Scribner page for Zero K.
Jeffrey Lockhart's father, Ross, is a George Soros-like billionaire now in his sixties, with a younger wife, Artis, whose health is failing. Ross is the primary investor in a deeply remote and secret compound where death is controlled and bodies are preserved until a future moment when medicine and technology can reawaken them. Jeffrey joins Ross and Artis at the compound to say "an uncertain farewell" to her as she surrenders her body.

Ross Lockhart is not driven by the hope for immortality, for power and wealth beyond the grave. He is driven by love for his wife, for Artis, without whom he feels life is not worth living. It is that which compels him to submit to death long before his time. Jeffrey heartily disapproves. He is committed to living, to "the mingled astonishments of our time, here, on earth."
---

Back to DeLillo's novels.
---
Last updated: 27-DEC-2021