Don DeLillo's Awards
A photo of DeLillo accepting the 2009 Common Wealth award.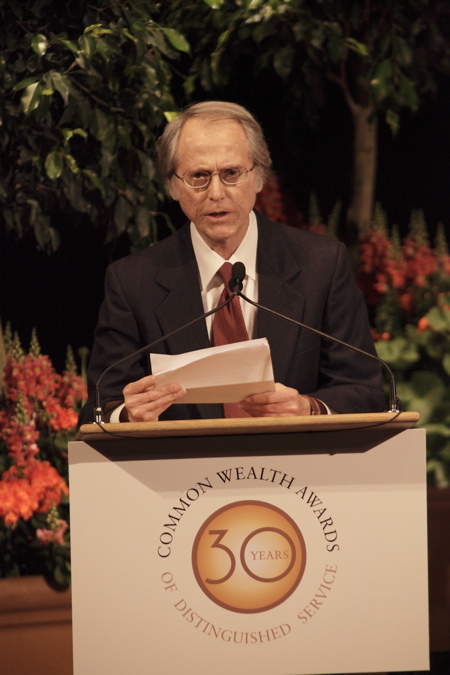 Since the late seventies DeLillo has one a number of awards for his work. Here are the ones I know about:
---
1979 - DeLillo awarded a Guggenheim Fellowship.
---
1984 - Award in Literature from the American Academy and Institute of Arts and Letters
---
1985 - National Book Award for White Noise
---
1989 - Irish Times, Aer Lingus International Fiction Prize for Libra
---
1991 - PEN/Faulkner Award for Mao II
---
1995 - Lila Wallace-Reader's Digest Award
Eight poets and two fiction writers and their affiliate organizations were selected as 1995 recipients of the Lila Wallace-Reader's Digest Writers' Awards... The fiction writers were Don DeLillo of Bronxville, New York, and the Alzheimer's Association, Westchester Chapter; and Mona Simpson of Santa Monica, California, and PEN Center USA West.
The writers will receive $35,000 annually for three years and the organizations will receive grants of approximately $10,000 per year.
The Writers' Awards are given annually to provide financial support for talented writers and to encourage interactions between writers and cultural, educational, and community organizations. Recipients are selected by an anonymous panel of writers and editors. There is no application process.
On January 30, 1997 the New York Times published a story that details DeLillo's work with Alzheimer's patients, entitled "Writing that Can Strengthen the Fraying Threads of Memory" by Ralph Gardner Jr (Sec. C, page 1).
---
1999 - Jerusalem Prize for Underworld
Don DeLillo has been named the recipient of the 1999 Jerusalem Prize, the international literary prize awarded during the Jerusalem International Book Fair to a writer whose work expresses the theme of the freedom of the individual in society.
DeLillo is the first American writer to be awarded the Prize, which has been awarded every other year since 1963 to writers including Milan Kundera, Mario Vargas Llosa, and V.S. Naipaul.
DeLillo gave an Acceptance Address in Jerusalem entitled "A History of the Writer Along in a Room" - more details can be found on the Other Writing page.
---
2000 - William Dean Howells Medal for Underworld
The William Dean Howells Medal is awarded every five years by the members of the American Academy of Arts and Letters for the 'most distinguished work of American fiction published during the previous five years'. The award was given for Underworld on May 17, 2000 at the annual ceremonial of the Academy in New York City, and John Updike, the 1995 recipient, presented the medal. Previous winners include Willa Cather, William Faulkner, William Styron, and E.L. Doctorow.
---
2000 - "Riccardo Bacchelli" International Award for Underworld
The "Riccardo Bacchelli" International Award is a newly established biennial award, and "is awarded to an Italian or foreigner novel by a living author, published in the last five years and already translated into Italian language." The award was given for Underworld on December 16, 2000 in Bologna, Italy and DeLillo attended in person. The award is given "in the name of Riccardo Bacchelli, the eclectic and brilliant Bolognese intellectual, well-known in all Europe, who travelled through every literary territory in his life, from the novel to poetry, theatre, literary and musical criticism, journalism and the historical essay."
It appears that this award was not given out in subsequent years.

---
2009 - Common Wealth Award of Distinguished Service, awarded by PNC Bank, to Don DeLillo for achievements in literature. The award ceremony is on April 25, 2009 in Wilmington, Delaware. For a listing of previous winners of the award, now in its 30th year, see the Wikipedia entry. [note that George Will was presented with one of these awards in 2011!]
---
2010 - The PEN/Saul Bellow Award for Achievement in American Fiction. The award goes to a distinguished living American author of fiction whose body of work in English possesses qualities of excellence, ambition, and scale of achievement over a sustained career which place him or her in the highest rank of American literature. Judges were Joan Acocella, Philip Roth, and Nathan Englander. Here's a portion of the judges' citation:
It is fitting that an award established in honor of Saul Bellow should be given to Don DeLillo. Bellow was old enough to be DeLillo's father, but literary material doesn't go away so fast. Both men were historical novelists who, in their most ambitious works, dealt with American life the mid- to late twentieth century, after World War II, and with the dark knowledge we acquired therein.

In DeLillo, though, because of his later place in time - he was born in 1936 - the knowledge is graver, and crazier.
For the full citation and more about the award, see this page on the 2010 PEN/Saul Bellow Award.
---
2012 - DeLillo, for The Angel Esmeralda, was one of three finalists and a runner-up for The Story Prize, which was awarded to Steven Millhauser. More info here at The Story Prize site.
---
2012 - Don DeLillo was awarded the Carl Sandburg Literary Award for fiction, on October 17 in Chicago. More info here at the Chicago Public Library site.
---
2015 - Don DeLillo is the recipient of the 2015 Medal for Distinguished Contribution to American Letters, from the National Book Foundation. The official awards ceremony took place on November 18 in NYC. More info here at National Book Foundation web archive site.
---
Back to DeLillo's America.
---
Last updated: 19-NOV-2015