Falling Man
A 2007 novel by Don DeLillo.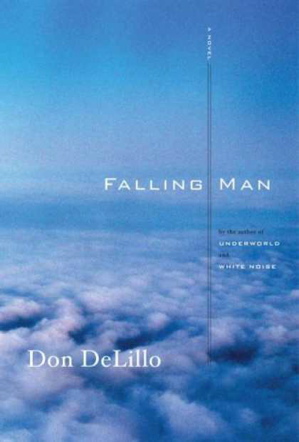 Published by Scribner in May 2007. 246 pages. Original dust jacket copy. A page for Falling Man editions.
Check the media bandwagon.
An excerpt from the book, entitled "Still-Life" appeared in the April 9, 2007 issue of The New Yorker (it appears to be pulling bits from various parts of the book). You can find a link to audio of DeLillo reading Falling Man on the Events page (look at April 25, 2007).
What it's about: The Scribner Summer 2007 catalog is describing the book like this:
In the opening pages of Falling Man, Keith Neudecker emerges from the smoke and ash of the burning tower where he worked and makes his way to the apartment of his ex-wife and young son uptown. Throughout this bold and haunting novel, DeLillo traces the way the events of September 11 kindled or rekindled relationships, reconfigured our emotional landscape, our memory, and our perception of the world. Falling Man is a direct encounter with the enormous force of history, yet the story is told through the intimate lives of a few people immediately affected. It is beautiful, heartbreaking, and ultimately, redemptive.

First line: "It was not a street anymore but a world, a time and space of falling ash and near night."

What it's really about: we'll let this percolate a while before making a call...
---
Next novel: Point Omega.
Back to DeLillo's novels.
---
Last updated: 18-DEC-2012