DeLillo Events of Interest
This page lists events that may be of interest to DeLillo readers.
Last updated: 24-FEB-2019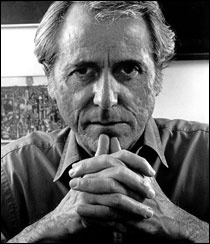 ---
Upcoming Events
April 10-14, 2019 - Julien Gosselin's marathon DeLillo production, which premiered at Avignon in July 2018 (see below) will be staged by the ITA (Internationaal Theater Amsterdam), details here: Joueurs, Mao II, Les Noms at ITA. The full 9 hour show is only on April 14, with separate single work stagings on the earlier evenings.
March 14-30, 2019 - A new dramatic adaptation of Falling Man will be staged in Amsterdam by Julien Gosselin at the ITA (Internationaal Theater Amsterdam), details here: Vallende Man at ITA. This story from Broadway World indicates that performances one March 21 & 28 will be in English: "Julien Gosselin Makes Directorial Debut at Internationaal Theater Amsterdam" (Feb 13, 2019).
Past Events
November 9 - December 8, 2018 - A London production of DeLillo's "Love-Lies-Bleeding", directed by Jack McNamara, at the Print Room at the Coronet, 103 Notting Hill Gate, London. More details and tickets available here at Coronet site.
Sept 25, 2018 -DeLillo attended the memorial for Philip Roth at the New York Public Library, as reported in the AP story by Hillel Italie: Friends and fellow writers pay tribute at Roth memorial, dated Sept 26.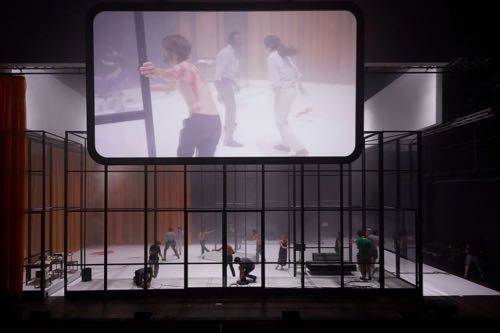 Players, Mao II, The Names - Photo by Christophe Raynaud de Lage
July 7-9, 11-13, 2018 - A grandiose adaptation using DeLillo's novels Players, Mao II, and The Names to examine terrorism is being staged by Julien Gosselin as part of the Avignon Festival in France, details here: Avignon Festival - Players, Mao II, The Names in France. The production runs 10(!) hours long, includes filmed segments, and got a nice writeup from the Financial Times in "DeLillo at Avignon" by Matt Trueman.
"The precision required by the staging's live-film format means it never lets loose, despite a throbbing dance score, but it's brilliantly conceived, impeccably acted and, thanks to Jérémie Bernaert and Pierre Martin's crack cinematography, gorgeously executed."
April 19, 2018 - Don DeLillo read at the International Fiction Now conference honoring author Robert Coover, held on the Brown University campus in Providence, RI. Other visiting authors during the three day festival included Paul Auster, Richard Powers, Siri Hustvedt, Marlon James and more! The New Yorker ran a brief interview with Coover about the fest: Unspeakable Practices.
April 3, 2018 - Don DeLillo attended the Paris Review 2018 Spring Revel, held at Cipriani on 42nd St in NYC. The event honored Joy Williams with a lifetime achievement award, and DeLillo can be seen seated at her table with Dana Spiotta as well. Photos and event notes here: 2018 Spring Revel and covered in Vanity Fair as well.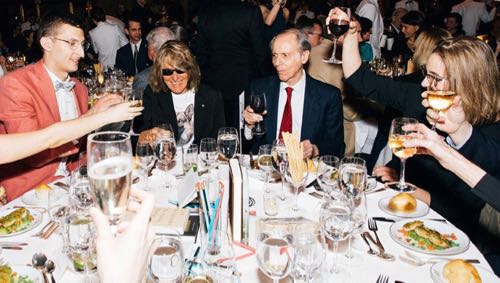 Photo by Matteo Mobilio
April 28-29, 2017 - Conference on Don DeLillo's work: "The Body Artist" at the New School, 66 West 12th Street, NYC 10011. Featuring keynote speaker Vince Passaro, Scott Cheshire, Ed Park, Albert Mobilio, Jacqueline Zubeck and many more! More details from the DeLillo NYC 2017 site.
January 9, 2017 - Don DeLillo appearing at the 92nd St Y for "A Celebration of E.L. Doctorow" at 7:30pm, along with Ta-Nehisi Coates and Jennifer Egan. More details from 92nd St Y.
November 30, 2016 - East Coast Premiere of "Nelson Algren Live" at Metrograph, 7 Ludlow St, NYC. DeLillo appears in the film (probably from event back on April 6, 2009), and will be on hand for Q&A. More details from the Seven Stories Press site.
November 23, 2016 - former baseball player Ralph Branca passed away at age 90. Branca figured in DeLillo's Underworld prologue, also known as "Pafko at the Wall" (Branca was the Dodgers' pitcher, and fellow Dodger Pafko watched Bobby Thomson's 1951 home run go over his head in left field).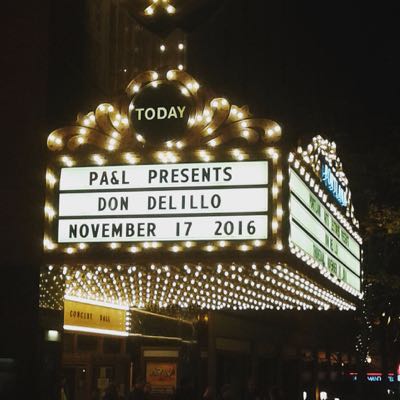 November 17, 2016 - Don DeLillo appearing in Portland, OR in conversation with Noah Hawley at 7:30pm. A recording is available from Portland Arts & Lectures, where they report that Hawley is "adapting Don DeLillo's Zero K for film." One question from the audience asked about whether Don had learned and spoken Italian growing up. He said he learned the curse words and food words (it was 'macaroni' not 'pasta'), but never really spoken it. On his recent visit to Italy he said he found that his Italian hadn't gotten any better! Also some interesting comments about Ratner's Star - Don said that while it was realistic to have a 14-year-old math genius, he was no literary genius (so perhaps the book was not all he'd hoped for).
November 8, 2016 - Donald Trump wins U.S. Presidential election.
November 5, 2016 - Don DeLillo appearing in Austin, TX for the Texas Book Festival, in conversation on Zero K with Noah Hawley. Details from 2016 Festival site.
October 29, 2016 - Don DeLillo made an appearance in Stockholm. The event was from 4:15 to 5pm on the 29th, per this page from Moderna Museet, and the talk is on "Art as a Catalyst". DeLillo will meet with Daniel Birnbaum in a conversation about the importance of art as a catalyst for his writing (so says Google Translate). Thanks to Scott for the tip.
October 22-26, 2016 - Don DeLillo making several appearances in Italia. First up is the Rome Film Fest in a "Close Encounter" on Oct. 22, with details from the Festival, where he "will talk about the relationship between cinema and literature, and about his passion for Italian master Michelangelo Antonioni." Thanks to Nicola & Einaudi here are several other scheduled visits:
October 24 - Turin, Circolo dei lettori (a conversation with Italian writer Giuseppe Culicchia) - 9 PM
October 25 - Turin, Scuola Holden (creative writing school) - 10.30 AM
October 26 - Genova, Palazzo Ducale, Sala del Maggior Consiglio - 8.45 PM
September 13, 2016 - Don DeLillo appearing in Cleveland, OH at Case Western Reserve University. at 7:30pm. Details at Cuyahoga County Public Library - Writers Center Stage, where tickets are available.
June 10, 2016 - Don DeLillo appearing in Madrid, Spain to read from Zero K. Here's one story from the visit from EL PAÍS here.
June 6, 2016 - Don DeLillo appearing in London for a discussion of Underworld with John Mullan at 7:00pm. Details here, with ticket sales (£15 plus £1.11 booking fee) - now showing 'Sold Out'.
June 4, 2016 - Don DeLillo appearing in London at the Southbank Centre to read from Zero K at 7:30pm. Details here, with ticket sales.
June 2, 2016 - Don DeLillo appearing in Toronto at the Toronto Public Library to discuss Zero K with Ben McNally at 7:00pm. Details from this pdf here.
The Globe and Mail ran an article by Mark Medley on June 10, 2016, In Zero K, Don DeLillo's voice is strong as ever, with some quotes from Don (who was losing his voice again!). Here's a bit:
Looking back on his early books he sees "an optimism and a vibrancy in my work that I'm not sure is still there. I'd like to think the sentences still hold up, page by page. But otherwise, it's a little different. Everything was ahead of me when I was 40, particularly since I started late – I didn't publish my first novel until I was 35, I think, or even a little older. So in the 1970s, I was roaring through the decade publishing novels – five or six. And then I came to my senses with The Names and then things slowed down. And I'd like to believe the novels became more interesting, deeper, and better written from that point on. But it's hard for me – I can remember the experience of writing a novel better than I can remember the novel and the characters in it."
May 11, 2016 - Don DeLillo appearing with Rachel Kushner at the Writers Guild Theater in Beverly Hills, 7:30pm. Details here.
May 9, 2016 - Don DeLillo appearing with Rachel Kushner at the Nourse Theater, San Francisco, 7:30pm. Details here.
May 3, 2016 - Date for publication in U.S. of Don DeLillo's latest novel, Zero K.
May 2, 2016 - Don DeLillo appearing with Dana Spiotta at the 92nd St Y in NYC, 8pm. Details here. A brief report appeared in the NYT on May 5 with the highly original title A Rare DeLillo Sighting by John Williams. Don exhibits his usual distaste for public events:
After reading a few pages at a lectern, DeLillo sat down next to Spiotta. "I've lost my voice," he said. "Can I go home now?" No such luck.
March 16, 2016 - Don DeLillo appearing at Onassis Cultural Center, 107-109 Syngrou, Athens Greece, in conversation with Elias Maglinis. Details here. Admission first-come, first-served, go early!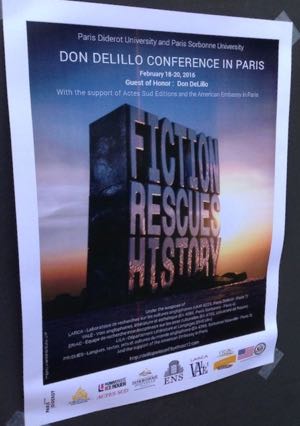 February 18-20, 2016 - A Don DeLillo literary conference was held in Paris: "Don DeLillo: 'Fiction Rescues History'", and DeLillo himself was guest of honor. Plenary Speakers were Peter Boxall and Michael Naas. Deadline for proposals was October 15, 2015; follow the link for more details.
Kevin EG Perry reported on DeLillo's appearance at the conference for Vice, see We Listened to Don DeLillo Talk About his New Book at a Don DeLillo Conference; here's a taste:
After reading from his notes, DeLillo takes questions from the assembled academics. He is gracious, but recoils from joining in any dissection of his life's work. More than once he responds to being set upon with his own quotations with: "I don't remember writing that, but I believe you." It reminds me of his novel Great Jones Street, when his rock star protagonist Bucky Wunderlick tells a reporter: "Make it all up. Go home and write whatever you want and then send it out on the wires. Make it up. Whatever you write will be true."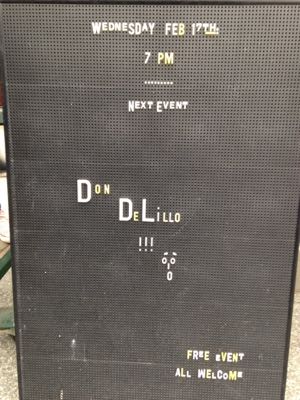 February 17, 2016 - Don DeLillo appearing at Shakespeare & Company in Paris, France, 7pm. Details here. Small space, go early!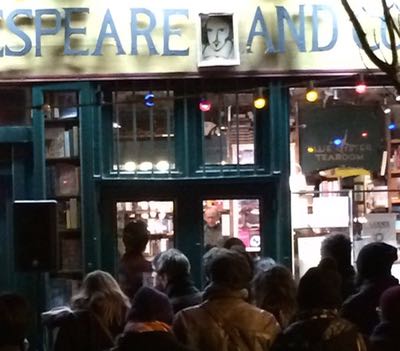 Picador has posted a short interview with DeLillo from this evening at Shakespeare & Company,
December 2, 2015 - DeLillo appeared at An Evening with Joy Williams and Don DeLillo, an event in the Selected Shorts On Stage series. Event at the Peter Sharp Theater at Symphony Space on Broadway and 95th St, NYC, 7:30pm. Check the link for more details.
November 18, 2015 - DeLillo received the National Book Foundation's 2015 Medal for Distinguished Contribution to American Letters, at an event in New York City. Details at National Book Foundation, along with notes on the presenter, Jennifer Egan. Event at Cipriani, 55 Wall Street. Here is my transcription of DeLillo's comments:
Yes, I'm here to talk about myself.

Books. This is why we're here this evening.

Lately, I've been looking at books that stand on two long shelves in a room just down the hall from the room where I work. Early books, paperbacks every one. The first books I ever owned. And they resemble some kind of medieval plunder, old and scarred, weathered covers and sepia pages that might crumble at the touch of a human finger. I'm the human in this story, and when I lift the book from the shelf, gently, I understand again the power of memory that a book carries with it. What is there to remember? Who I was, where I was, what these books meant to me when I read them for the first time.

The House of the Dead, Dostoevsky, first Dell printing, June 1959, 50 cents.

Adventures in the Skin Trade, Dylan Thomas, badly bruised copy, first printing, May 1956.

Cover illustration includes a woman wearing black stockings and nothing else. There are numbers scrawled in the front cover, did I write these numbers? Do I remember the naked woman more clearly than I recall the stories in the book? A Signet book, thirty five cents.

Words on paper, books as objects, handheld. Each wrinkled spine bearing a title. The lives inside, authors and characters, the lives of the books themselves. Books in rooms, the one-room apartment where I used to live, and where I read the books that stand on the shelves all these years later, and where I became a writer myself. Many of these books were packed in boxes, hidden for years, maybe this is why I find myself gazing like a museum-goer, at the two long rows in the room down the hall.

Reflections in a Golden Eye, Carson McCullers. The margins of each page, resembling the nicotine stains on the smoker's hand back in the time when the book was written. Bantam Books, 4th printing, 1953, 25 cents.

Are any of the writers of these old frail volumes still alive? I don't have to study the authors' names to think of recent departures: friends, Gil Sorrentino, and Peter Matthiesen, and Edgar Doctorow. Others I did not get to know nearly as well. Bob Stone and Jim Salter.

Book - the word, a set of written, printed or blank pages, fastened along one side, and encased between protective covers. An old definition, needing to be expanded in the ectoplasmic drip of electronic devices.

But here are the shelves with the old paperbacks. Books still in their native skin. And when I visit the room, I'm not the writer who has just been snaking his way through some sentences on a sheet of paper, curled into an old typewriter. That's the guy who lives down the hall. Here I'm not the writer at all, I'm the grateful reader.

Thank you for this honor.
Transcribed from the streamed video at http://www.nationalbook.org/ (DeLillo portion is audio only).
November, 2015 - DeLillo is listed as a guest for the Lisbon and Estoril Film Festival, running Nov 6-15, 2015. Details at leffest.com, but it is not clear what his exact participation may be this time around (he was on the jury in 2011 & 2013).
Karin Badt met up with DeLillo in Portugal and filed the report with the Huffington Post: "A Rare Encounter with Don DeLillo" posted Nov. 14, 2015. Here's a bit from Don:
"I did not read serious fiction early, not even as a child, when I only read books like I Escaped from Devil's Island. I did not read serious fiction until later when I discovered, in reading books like James Farrell's novels set in Chicago, that literature could be about the places where I was living. When I discovered that one could write about places I know."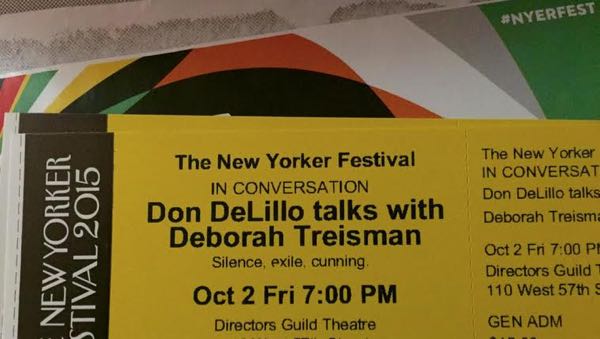 October 2, 2015 - DeLillo appeared as part of the New Yorker Festival in conversation with Deborah Treisman, fiction editor of The New Yorker. Event listing is here: "Silence, Exile and Cunning". A brief report on the event written by Katie Levingston dated October 3, 2015 for Vulture.com, "Don DeLillo on Gun Violence, New York Life, and Writing".
July 21, 2015 - E.L. Doctorow passed away at age 84. George Saunders wrote a piece "The Bravery of E.L. Doctorow" dated July 23, 2015 for The New Yorker which harkened back to 2012 when DeLillo was one of the judges who awarded a PEN award to Doctorow, with a short quotation. See also the entry for October 23, 2012.
April 27, 2015 - DeLillo was scheduled to appear at the First Annual Gilbert Sorrentino Birthday Tribute in Brooklyn, NY. The event was hosted by former DeLillo editor Gerald Howard, and included Sam Lipsyte, Chris Sorrentino and others as well as DeLillo. Event at 7:30pm at St. Joseph's College, Tuohy Hall (245 Clinton Ave.), free.
December 2, 2014 - DeLillo's annotated copy of Underworld was auctioned at the PEN America Center First Editions / Second Thoughts Auction at Christie's Saleroom, 20 Rockefeller Plaza, NYC. Link to the auction catalogue. The winning bid was $57K. See Underworld Annotated for more details.
October 27, 2014 - DeLillo attended and spoke at the sixth annual Norman Mailer Center and Writers Colony Benefit Gala at the New York Public Library. He also received the Mailer Prize Lifetime Achievement, presented by Nan Graham. A short report with DeLillo photo at Page Six Writers honored at annual Norman Mailer Gala by Emily Smith on Oct. 28, 2014. Also attending: John Waters!
September, 2014 - News has appeared that indicates DeLillo sold his longtime residence in Yonkers. Phil Reisman, a neighbor and writer for lohud broke the news in a column dated Oct. 1, 2014, titled "My dog once lunged at Don DeLillo". The column may also shed some light on the origins of the DeLillo story "Midnight in Dostoevsky". My quick research indicates the real estate sale may have closed on Sept 11.
April 4, 2014 - DeLillo's longtime literary agent Lois Wallace passed away at age 73. She started her agency in 1974. Note that White Noise was dedicated to her. Publishers Weekly ran a short obituary dated April 14, 2014, with a quote from DeLillo:
Can I think of myself as a professional writer without Lois Wallace as my representative? We were colleagues and friends for more than four decades and I learned eventually to understand what Lois was saying even when she was saying seven things simultaneously. A deep personal loss.
The New York Times noted that Wallace helped to shape both White Noise and Mao II.
November, 2013 - DeLillo participated on the jury at the Lisbon and Estoril Film Festival, along with Paul Auster, Siri Hustvedt, Arto Lindsay and others. Details at leffest.com.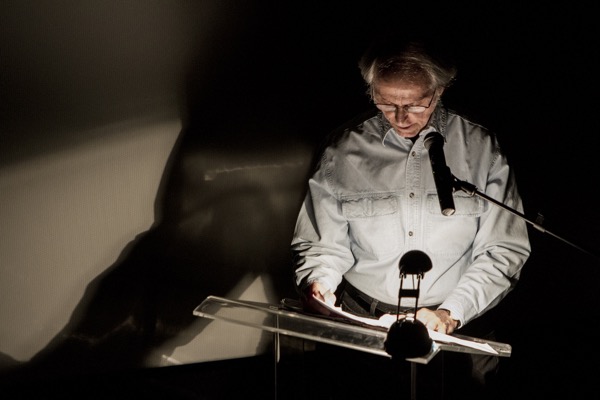 October 8, 2013 - Andy Pafko passed away at age 92.
September 20-22, 2013 - DeLillo read and received an award at the 2013 National Book Festival in Washington, DC. DeLillo was named as the initial recipient of the Library of Congress Prize for American Fiction - see the story by Ron Charles in the Washington Post on April 24, 2013 (with a few DeLillo comments, including the fact that he's busy on a "very challenging novel"). More details at the Library of Congress site. DeLillo spoke on Friday, Sept. 20, and signed books on Sunday morning. Here is a link to video of the interview on Sept 21. Ron Charles has a couple blog posts from the Festival, including a photo of DeLillo meeting Margaret Atwood for the first time (see here and here). A story on the Festival by Luz Lazo in the Washington Post quotes DeLillo - "All I needed was an old typewriter and some paper and my imagination. Nothing else." As per this blog post from Ariel McManus at Marymount University, DeLillo also made a rare classroom visit, on Sept 20, to talk about his writing history and process.
Aug 29 - Sept 2, 2013 - DeLillo appeared at the Telluride Film Festival in Colorado. He "presents La Morte Rouge (d. Victor Erice, Spain, 2006) and analyzes the 26-second Zapruder film" - see the TFF site for more details (though it's unclear which day the DeLillo event happened - I believe it was on Sept 1). This report on Telluride XL Day 4 by Meredith Brody reports that DeLillo was introduced by Mark Danner, read from Underworld and Libra, and participated in a discussion with Danner and Errol Morris.
July 25, 2013 - DeLillo read from "Pafko at the Wall" in Austin, Texas in the Jessen Auditorium of Homer Rainey Hall, as part of the Harry Ransom Center Literature and Sport exhibition - see the HRC site events page for more details. A story on the reading appeared in The Daily Texan on July 28, "American author DeLillo visits UT, attracts crowd of all ages".
March 8, 2013 - DeLillo appeared in Boston at the Association of Writers and Writing Programs (AWP) Conference, with Dana Spiotta. They both gave readings then participated in a discussion (it was scheduled with Noreen Tomassi, but may have in fact been with Nan Graham). More details at the AWP site.
November 1, 2012 - DeLillo appeared with Paul Auster in Brooklyn, at the Congregation Beth Elohim at 274 Garfield Place, as part of the Brooklyn by the Book program. More details at the CBE site. Jason Diamond provided a report on the event "At a Park Slope Synagogue, Auster, DeLillo, Foer, and a brief cultural respite"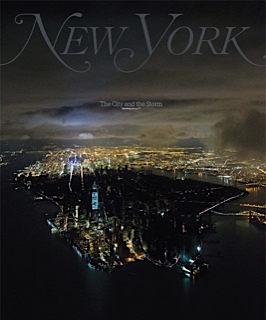 October 28, 2012 - Hurricane Sandy hits the NJ coast and NYC harbor, causing major damage and flooding of Lower Manhattan and other areas.
October 24, 2012 - DeLillo appeared in conversation with Jonathan Franzen at a Live from the NYPL event. The event involved a reading from The Angel Esmeralda ("Human Moments"), at 7pm at the Stephen A. Schwarzman Building, Celeste Bartos Forum (5th Ave at 42nd St, NYC). The event sold out.
Here's a shot from the conversation portion with DeLillo and Franzen (photo by Jori Klein/NYPL):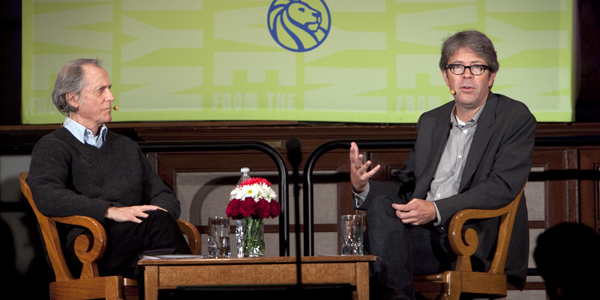 A piece on the event by Andrew Hultkrans titled "Mean Streak" was posted at the Art Forum site on Nov. 5, here's a taste:
An early exchange was typical of the entire interview. Franzen asked how important meaning was to DeLillo's writing. "Not much," the older writer deadpanned. "I'm a writer of sentences... I don't know where meaning comes from." Franzen is visibly chastened by this anti-response.
You can hear the audio of the event, including a reading of parts of "Human Moments in World War III", at this NYPL link.
October 23, 2012 - PEN/Saul Bellow Award for Achievement in American Fiction was presented to E.L. Doctorow in New York City. DeLillo was one of the three judges for the award, along with George Saunders and Jennifer Egan. DeLillo had won the award in 2010. See this PEN page for details - the section "From the Judges' Citation" has a very DeLillo tone.
October 18, 2012 - DeLillo appeared for a reading and conversation at Harold Washington Library Center in Chicago. He read an edited version of "Human Moments in World War III." A report on the event by Mark Jacobs is here on the UCWbLing blog. A recording of the event is also available, which you can find here via the WBEZ radio site.
October 17, 2012 - The Chicago Public Library Foundation will be awarding Don DeLillo with the Carl Sandburg Literary Award, at The Forum (725 W. Roosevelt Road) on the campus of the University of Illinois at Chicago. More details at the Chicago Public Library Foundation site. Here's a picture of DeLillo at the event, along with Nami Mun, Walter Isaacson and Rahm Emanuel (photo by Timothy Hiatt):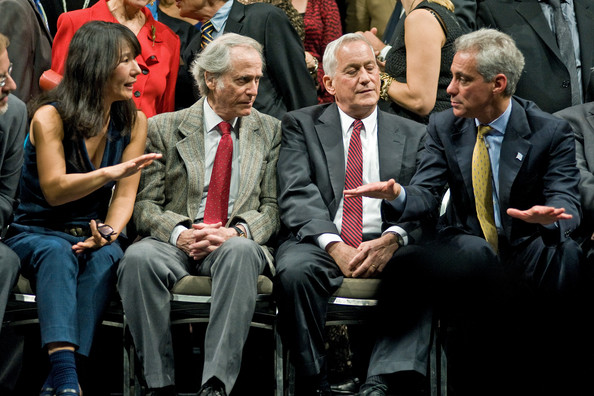 August 17, 2012 - U.S. premiere of the Cosmopolis film.
July 10-12, 2012 - the European premiere of Don DeLillo's one-act play The Word For Snow at the Southbank Centre in London, as part of the London Literature Festival 2012. Directed by Jack McNamara, who previously directed DeLillo's only other British theatre production, Valparaiso, at the Old Red Lion Theatre in 2006. Here's one story on the production from the Independent on July 10, 2012 - Author, author! DeLillo steps on to the stage by James Kidd.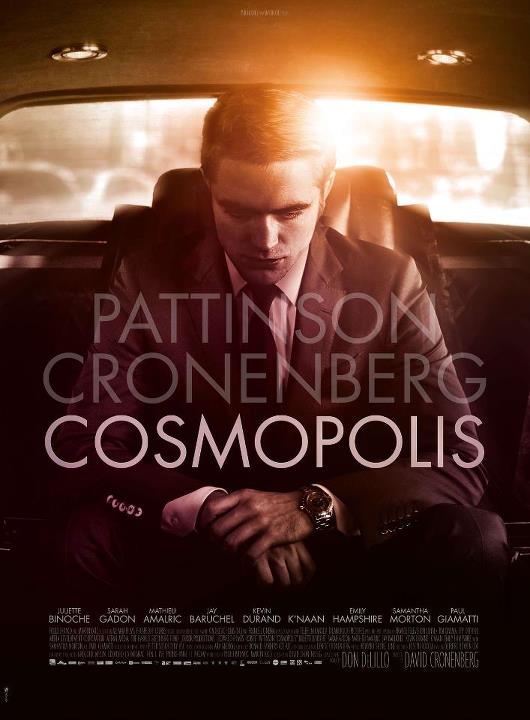 May 24, 2012 - The premiere of David Cronenberg's Cosmopolis film based on DeLillo's novel, at the Cannes Film Festival, France. DeLillo joined the cast at the premiere.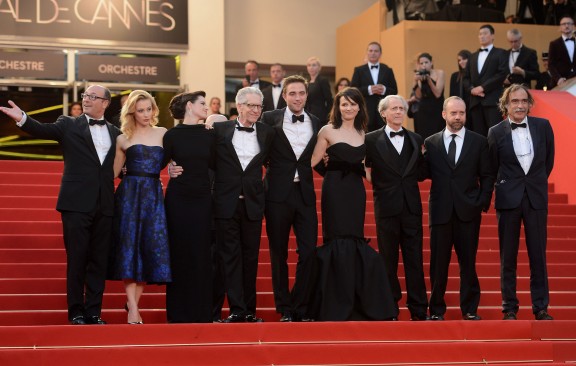 Above left to right: producer Martin Katz, Sarah Gadon, Emily Hampshire, David Cronenberg, Robert Pattinson, Juliette Binoche, Don DeLillo, Paul Giamatti, producer, Paulo Branco
April 20-21, 2012 - The Don DeLillo Society is sponsoring a DeLillo Conference on DeLillo's home turf - Riverdale, NY. More details at the DeLillo Society Events page.
March 26, 2012 - The winner of the 2012 PEN/Faulkner Award for Fiction was announced, and it was Julie Otsuka for The Buddha in the Attic. DeLillo's The Angel Esmeralda: Nine Stories was one of five finalists. More details on the award here at PEN/Faulkner site.
March 21, 2012 - DeLillo appeared and read at the award ceremony for The Story Prize for The Angel Esmeralda: Nine Stories. Took place at the New School's Tishman Auditorium in New York City at 7:30 p.m. on Wednesday, March 21. The three finalists (DeLillo, Millhauser, Pearlman) read selections from their work, and Director Larry Dark interviewed each writer on-stage. The Prize was awarded to Steven Millhauser for We Others; DeLillo received $5K as runner-up. More details on the event and tickets ($14) here at the Story Prize website, and here's a Story Prize blog entry on DeLillo.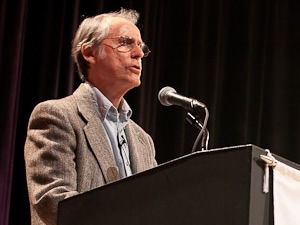 Photo by Beowulf Sheehan
November 29, 2011 - DeLillo appeared along with Paul Auster at the Barnes & Noble in Union Square, NYC for the release of Granta 117, containing the new DeLillo story "The Starveling". Event begins at 7pm, address is 33 East 17th Street. More details here at The Outlet blog: Granta: Horror at B&N with Don DeLillo and Paul Auster.
Granta has posted audio of the Auster/DeLillo event, which you can find at this url: https://granta.com/podcast-don-delillo-paul-auster/. DeLillo reads from 'The Starveling' (at about 16:35) and participates in a discussion with Granta editor John Freeman.
November 4-13, 2011 - DeLillo will be on the jury of the Lisbon & Estoril Film Festival. A reading is scheduled at 6pm on November 10 at Museu Nacional de História Natural e da Ciência - Lisboa, along with fellow jury members Paul Auster, Siri Hustvedt and J.M. Coetzee. More details here: Lisbon & Estoril Film Festival site.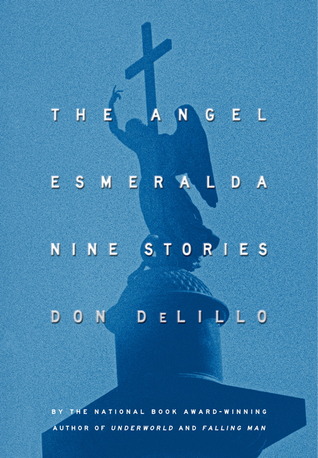 November, 2011 - A DeLillo short story collection, The Angel Esmeralda: Nine Stories was published by Scribner. Follow the link to more details on the book.
May 19, 2011 - DeLillo gave a reading, apparently from an unpublished work, in Rome, Italy as part of the Letterature Festival. More details here: Letterature Festival site.
April 18, 2011 - DeLillo gave a reading from Falling Man in Prague as part of the Prague Writers' Festival. The event was at the New Stage National Theatre at 8pm - more details here: 21. Prague Writers' Festival. He also signed books earlier in the day at the Neoluxor bookshop, and here's a picture from the event courtesy of Milan: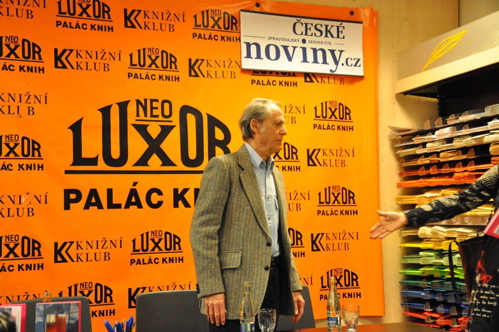 Josh located a video of the reading and interview dated April 19, 2011; interview starts at about 33:20.
March 18 - April 16, 2011 - production of Valparaiso in Cleveland, OH. Find out more on the Valparaiso productions page.
January 19, 2011 - DeLillo read a portion from Mao II at a benefit for the Belarus Free Theater. Event was held at Le Poisson Rouge in New York City. Here's a link to the video of the reading.
Oct. 22-23, 27-29 & 31, Nov. 4-6, 2010 - production of Valparaiso in Madison, WI. Find out more on the Valparaiso productions page.
Oct. 21, 2010 - Don DeLillo appeared in St. Louis, Missouri to receive the St. Louis University Literary Award. DeLillo received the award in the Anheuser-Busch Auditorium at SLU's John Cook School of Business, 3674 Lindell Blvd. A book signing begins at 4:30 p.m. and was followed at 5:30 p.m. by a free program that included a conversation with DeLillo led by SLU English professor Harold Bush. See "DeLillo to receive STL Literary Award" for more information. Ian Froeb posted a story in the Riverfront Times on the event itself on Fri. Oct. 22, 2010 "Don DeLillo Accepts St. Louis University Literary Award".
Oct. 19, 2010 - A PEN event in NYC included Don DeLillo, 'State of Emergency: Censorship by Bullet in Mexico' at the Great Hall, Cooper Union, NYC. With Paul Auster, Calvin Baker, Don DeLillo, Laura Esquivel, Francine Prose, Jose Zamora, Victor Manuel Mendiola, and others.. "Renowned Mexican and American journalists and authors come together for an evening of readings and conversation to call attention to the silencing of Mexican journalists trying to investigate drug-related violence in their country, especially on the U.S./Mexico border." Video & Audio of DeLillo's reading of the Bruno Schultz poem 'Loneliness' can be found at: http://pen.org/event/2010/10/19/state-emergency-censorship-bullet-mexico.
Oct. 13, 2010 - Ceremony in NYC for the 2010 PEN Awards - DeLillo won the PEN/Saul Bellow Award for Achievement in American Fiction. A video has been posted of the presentation by Nathan Englander, and DeLillo comes on at about 3:17.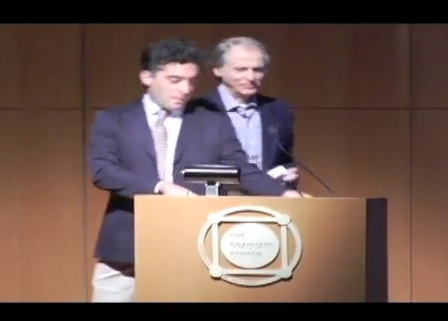 DeLillo begins: "I'm wearing the one suit I own, it's my book award and funeral suit. Sometimes these occasions can seem indistinguishable... not tonight, however, and certainly not from my viewpoint." His short acceptance speech goes on to talk about Bellow's Herzog and Nelson Algren's Herzog of the 1920s Chicago Cubs.
Sep. 25, 2010 - Don DeLillo is scheduled to appear in Paris, France in conversation at the Theatre de l'Odeon at 3pm. See the Theatre de Odeon site for more information.
August 16, 2010 - former baseball player Bobby Thomson passed away at age 86. Thomson figured in DeLillo's Underworld prologue, also known as "Pafko at the Wall" (Pafko watched Thomson's 1951 home run go over his head in left field).
June 18-July 3, 2010 - production of Valparaiso in Durham, NC. Find out more on the Valparaiso productions page.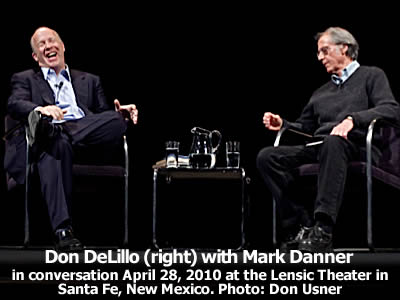 Apr. 28, 2010 - Don DeLillo appeared in conversation with Mark Danner in Santa Fe, NM, at the Lensic Performing Arts Center, sponsored by the Lannan Foundation. See Lannan's event listing for audio recordings of the event.
Feb. 11, 2010 - DeLillo appeared at a reading for Point Omega at Book Court in Brooklyn, NY at 7pm. Book Court is at 163 Court Street, Brooklyn, NY 11201-6263, (718) 875-3677.
A rather funny story on the reading appeared on the VF (Vanity Fair) Daily blog, "Brooklyn's Date with Don DeLillo: a Reading of Point Omega" by Rebecca Sacks, posted on Feb. 12, 2010. Here's a bit of it:
BookCourt employee Anna Cory-Watson gave DeLillo a charmingly giddy introduction, pointing out that the bookshop had never hosted more people. Then DeLillo began, in a surprisingly old and phlegmy voice. But we were rapt. The huge crowed squirmed and shifted, trying to catch a glimpse; the room was becoming a sweatlodge. And of course, like every first date ever, things began to go wrong. A young woman at the front fainted and a kind of anxious, impatient concern took hold. Our whispers said, "I hope she's OK." Our eyes said, "If DeLillo freaks out and leaves because of the interruption, I swear I'll break her legs."
Feb. 2, 2010 - Official release date of Point Omega in the U.S.
Dec. 31, 2009 - DeLillo appeared at a PEN event in NYC in support of Chinese dissident writer Liu Xiaobo, who was sentenced to eleven years in prison for "inciting subversion of state power". The event is at 11am on the steps of the New York City Public Library, 5th Ave and 42nd St. Also scheduled to appear are E.L. Doctorow, Edward Albee, A.M. Homes and others. Audio is available at this PEN event link.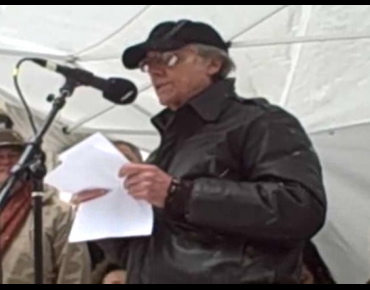 This blog post over at Galley Cat includes video from the event; DeLillo appears at 1:07 reading from an article by Xiaobo.
Nov. 6, 2009 - Don DeLillo appeared along with Russell Banks, speaking after the film "The Man With the Golden Arm" (from the novel by Nelson Algren) in Albany, NY. DeLillo and Banks will speak about their mentor after the screening of this gritty tale of jazz, heroin, hep-cats and low-lifes in post-war Chicago, Algren's famously-named "city on the make." Details at the New York State Writers Institute, Visiting Writers Series site here.
October 20, 2009 - DeLillo attended a benefit for the Norman Mailer Writers Colony held at the restaurant Cipriani in midtown Manhattan, New York City. Noted in the Oct 22, 2009 story "To Honor a Battler, Literary Peace Breaks Out" by Patricia Cohen in the New York Times. DeLillo is listed as an "Honorary Member" of the organization, and he apparently visited the Provincetown, MA colony during the summer of 2009.
October 13, 2009 - A PEN event in NYC included Don DeLillo. 'Reckoning with Torture: Memos and Testimonies from the "War on Terror"' With Matthew Alexander, Paul Auster, Don DeLillo, Eve Ensler, Jenny Holzer, Jack Rice, Amrit Singh, and Art Spiegelman, at The Great Hall at Cooper Union, 7 East 7th St., NYC, 7 p.m. In an evening of readings and response, these Members and friends of PEN will read from the recently-released secret documents that have brought these abuses to light - memos, declassified communications, and testimonies by detainees - and will reflect on how we can move forward as a nation. Video of DeLillo's reading can be found at: http://pen.org/video/reckoning-torture-don-delillo-reads-cia-memo.
Sept. 29, 2009 - An Evening with Don DeLillo at the Center for the Arts, in Jackson Hole, Wyoming. The University of Wyoming, Teton County Library Foundation and Jackson Hole Writers Conference present a rare evening with Don DeLillo, the author of 14 critically-acclaimed novels. Time: 7:30pm. Cost: Free. Location: Center for the Arts, Center Theatre, at 240 S. Glenwood St. Contact: Adult Humanities Coordinator, Oona Doherty, 733-2164 ext. 135 or odoherty@tclib.org. This info is available at Teton County Library's site.
Sept. 28, 2009 - Don DeLillo reading at the University of Wyoming in Laramie at 5pm. Details at the UofW site here.
Here's a nice blog post on DeLillo's visit to UofW at Wyoming Arts, with an excerpt below:
He also talked about living in Greece and the not-modest presence of terrorism, the representation of which took place every day with some kind of explosion on the street, sometimes within five blocks of where he was living. At the time, there were many refugees from Lebanon. There was a strong anti-American attitude. There was terrorist activity taking place in New York in the 1970s. When the events of Sept. 11 happened, the last thing on his mind was writing. Five days later, they were able to get into lower Manhattan, and he wrote an essay at that time about it.
April 25, 2009 - DeLillo received a 2009 Common Wealth Award for Literature, given by PNC Bank of Delaware. The event was held at the Hotel du Pont in Wilmington. See the Awards page for more details. Below is a shot of the 2009 award winners, in clockwise order, DeLillo, Kevin Spacey, Buzz Aldrin and Doris Kearns Goodwin.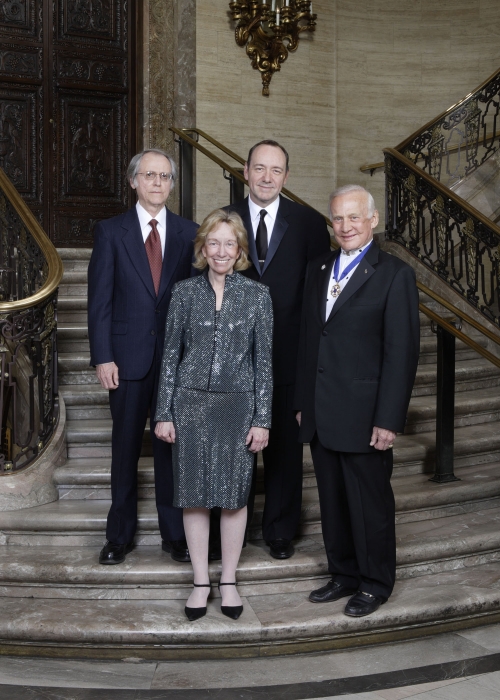 April 6, 2009 - DeLillo participated in a celebration of the 100th birthday of Nelson Algren. The event was sponsored by the Steppenwolf Theatre and Seven Stories Press, and others who appeared include Barry Gifford and Willem Dafoe. This Chicago Tribune story "Fighting from page to stage at Nelson Algren Live" by Chris Jones on April 7, 2009 gives more details. A hitherto unpublished Algren story about a boxer was a highlight; here's the news on DeLillo's involvement:
The ubertext of "Nelson Algren Live," a literary evening that had the great Don DeLillo happy merely to read little bits of narration, and featured the truly delicious casting of Martha Lavey as Simone de Beauvoir? Algren spent a life writing about others and kept this hitherto-unpublished story hidden, because Blackie Cavanaugh, a gaping, emotional, closed, taciturn wound, was far too much like himself.
David Ulin filed a report on the event for the LA Times, "Nelson Algren's legacy ebbs" on April 26, 2009. He reports some talk about Algren at the event:
"He revealed in his writing a kind of isolation, loneliness and sadness that he had a hard time revealing in his life," Banks explains in the theater's ramshackle green room between the rehearsal and the performance. DeLillo agrees. "I used to think of him alone," he says. "He had friends, but he was not attached. I used to wonder what that was like."

As they talk, Gifford and Simon drift over, and soon they're all back-and-forthing about their favorite Algren books. DeLillo picks "Never Come Morning"; Banks prefers "The Neon Wilderness," calling it "a perfect book." Gifford splits the difference and opts for both, while Simon chooses "The Man With the Golden Arm." Someone brings up "Chicago: City on the Make," the 1951 "prose poem" that made Algren persona non grata in his own town. "How many writers are there," Banks asks, "about whom we could sit around and argue what's their best book? With him, you have four or five."

All this raises the question: Why hasn't Algren lingered more? Partly, Banks suggests that it has to do with the bifurcation at the heart of his work: "The people he wrote about," he says, "were different than those who read his books, which is a divide that's impossible to get around."
More details were at the Seven Stories Press site. Those who are wondering about the connection may want to take a look at the beginning of the first story in Algren's The Last Carousel, involving another boxer.
You can see a few minutes from the event, with a special bonus of a little bit of DeLillo reading along with Barry Gifford, at this site: https://vimeo.com/4706892 (check at about 2:40 in).
October 23, 2008 - DeLillo spoke at a memorial held for David Foster Wallace at NYU. Others appearing included Jonathan Franzen, Mark Costello, George Saunders, Zadie Smith, Donald Antrim and editor Gerry Howard.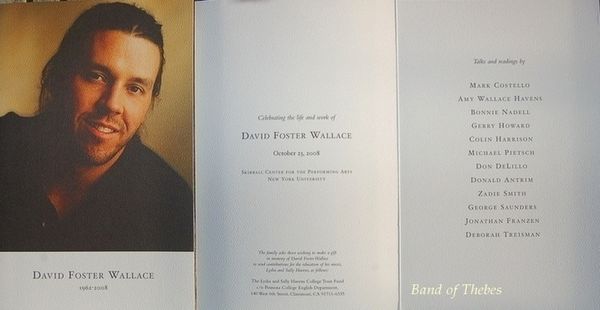 Image grabbed from Band of Thebes blog.
Some details on the event were provided in a story "Friends and Colleagues Celebrate Foster Wallace" by Lynn Andriani at Publishers Weekly. Another story on the event, "Fellow authors memorialize David Foster Wallace" by Hillel Italie on Oct. 23 (an AP story, this link to the Fox News), provides these notes on DeLillo's comments:
DeLillo, whose "Libra," "Mao II" and other dark takes on the modern psyche have been cited as influences on Wallace, praised the author for writing sentences that "shoot rays of energy in seven directions." He called "Infinite Jest" a "3-stage rocket to the future" and said Wallace was a great writer, a "brave writer." His death is a story of "youth and loss," his writing one of hope for "another world."
The January 2009 issue of Harper's Magazine has DeLillo's comments in full (about 1/3 of page 30 - a quick read at the newstand!). Here's a larger taste:
Everything and More. This is the title of his book in infinity. It might also be a description of the novel Infinite Jest, his dead-serious frolic of addicted humanity. We can imagine his fiction and essays as the scroll fragments of a distant future. We already know this work as current news - writer to reader, intimately, obsessively. He did not channel his talents to narrower patterns. He wanted to be equal to the vast, babbling, spin-out sweep of contemporary culture.
There's a nice write up on the Ambiguities blog entitled "DeLillo, DFW, and Places of Mortal Drama" that covers some of the letters between DeLillo and Wallace that are held at the Ransom Center. Here's a taste:
I wanted to see if I could find anything about DFW's thoughts on End Zone, especially after reading the chapter near the end that is clearly the ancestor of the Eschaton section of Infinite Jest, complete with a war game built on apocalypse scenarios and menacing all-caps alliances. Sure enough, in one of his first letters DFW says, "part of a long thing I'm in the middle of has a section that I've gone back and seen owes a rather uncomfortable debt to certain exchanges between Gary Harkness and Major Staley."
October 14, 2008 - DeLillo gave the Frances Steloff Lecture at Skidmore College in Saratoga Springs, NY at 8pm at Gannett Auditorium. Steloff founded the Gotham Book Mart in 1920, and was a native of Saratoga Springs. The event is open the public and free. DeLillo read from Falling Man and took questions. A story on the appearance, "World-famous author gives lecture at Skidmore" by Alex Stevenson appeared in the Skidmore News on October 17:
When asked about his writing process, DeLillo said, "I never know what I'm getting into - I never know the ending. I truly work sentence by sentence - the book begins to tell you where to go. You can't just plan ahead as if you were bridge building." DeLillo explained that, as he works, he likes to create "a space for revelation" in which "the mind begins to discover things."
August 24, 2008 - A performance of Don DeLillo's 'The Word for Snow' had been scheduled to take place in Kamenice nad Lipou, Czech Republic, directed by Jack McNamara, but it looks like this event did not take place - as per the Under the Linden website on 12 July 2008.
July 16 - August 16, 2008 - A production of "Love-Lies-Bleeding" will be on in Melbourne, Australia. Additional details on the productions page.
June 11 - 28, 2008 - A production of "Valparaiso" was up in New York City; I'm told DeLillo attended a performance. Additional details on the productions page.
April 25-27, 2008 - International Conference on DeLillo held in Osnabrück, Germany. The theme of the conference was "Terrorism, Media, Literature: Don DeLillo and the Ethics of Fiction", and a web site is at: http://www.blogs.uni-osnabrueck.de/dondelillo/, which has podcasts available of much of the proceedings, along with pictures.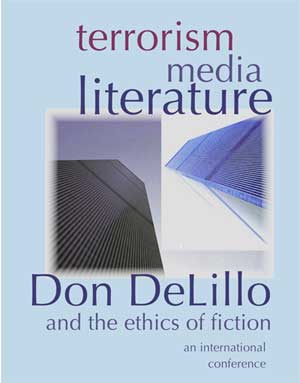 I've created a new page with a few notes on the conference, along with photos from both days. Thanks especially to Julia!
April 22, 2008 - A reading of a short DeLillo play is scheduled as part of the NYU Humanities Festival, on the theme 'Climate of Concern' (see also the event below on Oct 27, 2007). I suspect this is the piece "The Word for Snow." The event is at Segal Center, CUNY, Elebash Hall, 365 Fifth Ave at 34th Street in NYC, starting at 6:30pm (first come, first served). Link to New York Institute for the Humanities at NYU which has a link to the "Climate of Concern PLAYS" with the details.
April 21, 2008 - A reading of the DeLillo play "The Word for Snow" is scheduled as part of the Chicago Humanities Festival for Earth Day, on the theme 'Acts of Concern' (see also the event below on Oct 27, 2007). The event is at Steppenwolf Theater 1650 N Halsted Street, Chicago, IL, starting at 7:30pm.
April 9, 2008 - DeLillo appeared at a Memorial for Norman Mailer, which began at 4pm at Carnegie Hall in New York City. Also on the bill were Joan Didion, William Kennedy, Tina Brown and others; the host was Charlie Rose. The event is free, but a ticket is required, and they will be available starting at 11am on the day of the event. Link to a story on the event from the New York Observer. The LA Times ran a story on the event, "Mailer is recalled as a champion of the American novel" on April 10, by Josh Getlin, who reports:
Novelist Don DeLillo, recalling Mailer's obsessive belief in the power and mission of the American novel, described him as "the writer in opposition, the individual who confronted power....

"Mailer was not just a voice but a force, a provocateur and, finally, a writer. He was a great novelist figuring out the world, sentence by sentence."
We get another report of DeLillo's appearance from an LA Times story "Mailer remembered" (was at: http://www.latimes.com/features/books/la-bkw-brown20apr20,0,6246751.story) by Liz Brown on April 20, 2008:
DeLillo called Mailer "not just a voice but a force" and lifted a copy of The Naked and the Dead. A Signet paperback, 50 years old.

"75 cents," DeLillo said. Laughter. He continued reading the cover copy. "14th printing. Over 2 million copies sold." Pause. "Now a great motion picture," he intoned, and I remembered how with those old editions, the cellulose dried out and the paper stiffened and when you would bend the corner of a page to mark your place, the tip broke off in your fingers.

DeLillo held up the small book. "This is what gives a writer something to do after breakfast each morning," he said. "Thank you."

And then he turned and left the stage.
February 15 - 23, 2008 - Production of DeLillo's play Love-Lies-Bleeding in Boston, Massachusetts. See Love-Lies-Bleeding productions for more details.
Nov 8-17, 2007 - DeLillo was part of the Jury at the European Film Festival held in Lisbon, Portugal (along with "international woman of mystery" Asia Argento). See more details on the festival's site.
Oct 27, 2007 - For the Chicago Humanities Fall Festival, "The Climate of Concern", a new DeLillo one-act play entitled "The Word for Snow" has been commissioned, and will play twice at the Steppenwolf Theatre Company at 3pm and 7:30pm along with a work by Tanya Saracho in a program called "Acts of Concern". DeLillo is scheduled to be there. First noted in a July 31 Chicago Tribune story, "Climate to Star at Humanities Festival". See more details on the Plays page.
Oct 5 - Nov 3, 2007 - Production of Valparaiso at The Garage Theater in Long Beach, CA. Find more details on the Valparaiso Productions page.
Sept 26, 2007 - DeLillo to appear for a reading/talk at the New York Historical Society in New York City, at 6:30pm. The event is titled "Reflections on September 11: Lives Lost and Lives Changed". The Society is at 170 Central Park West (at 77th St).
Sept 24, 2007 - DeLillo appeared for a reading/talk at the 92nd St Y in New York City, at 8pm.
Sept 9, 2007 - DeLillo signed on to an appeal for a worldwide reading in support of democracy and media freedom in Zimbabwe, in conjunction with the International Literature Festival in Berlin. The appeal can be found here.
July 7 - Sept 1, 2007 - Production of DeLillo's play Love-Lies-Bleeding in Sydney, Australia. See the Love Lies Bleeding page for more details.
June 30-July 22, 2007 - Forum production of Valparaiso in Washington, DC, directed by Michael Dove. Details on the Valparaiso Productions page.
May 20, 2007 - DeLillo will be doing a public interview with Gerald Marzorati as part of the Sunday With the Magazine event in New York City, 2 - 3:15pm.
The Topic: How We Live Post 9/11
Times Magazine editor Gerald Marzorati interviews novelist Don DeLillo, winner of the National Book Award and the PEN/Faulkner award. His latest novel, Falling Man, tells the story of a family immediately affected by the events of September 11 and reflects how we live now: with our doubts, our fears and our new, shifting world.
Location: The CUNY Graduate Center, Fifth Avenue at 34th Street, New York City
General Admission: $25
May 15, 2007 - Publication of DeLillo's novel Falling Man.
April 25, 2007 - DeLillo appeared at a PEN event in New York City, reading a portion of Falling Man. Audio of DeLillo's reading at: http://pen.org/book/don-delillo-reads-from-falling-man.
The details: Town Hall Readings: Writing Home

When: Wednesday, April 25
Where: The Town Hall: 123 West 43rd St.
What time: 8 p.m.­9:30 p.m.

With Don DeLillo, Kiran Desai, Neil Gaiman, Nadine Gordimer, Alain Mabanckou, Steve Martin, Salman Rushdie, Pia Tafdrup, Tatyana Tolstaya, Saadi Youssef.

Tickets: $15/$10 for PEN Members

March, 2007 - Showing of a short film made of DeLillo's 1990 mini-play "The Rapture of the Athlete Assumed into Heaven" at SXSW. More details over at Plays.
June 17-25, 2006 - Production of DeLillo's new play, Love-Lies-Bleeding, at the Kennedy Center in Washington DC. See the Love Lies Bleeding page for more details.
May 6, 2006 - DeLillo will be appearing in between performances at the Steppenwolf Theatre to sign copies of Love-Lies-Bleeding.
April 27-May 28th, 2006 - Premier of DeLillo's new play, Love-Lies-Bleeding, at the Steppenwolf Theatre Company in Chicago; Amy Morton directing. See the Love Lies Bleeding page for more details.
April 25 - May 13, 2006 - UK and London premier of Valparaiso at the Old Red Lion Theatre, directed by Jack McNamara. Details: The Old Red Lion Theatre, 418 St John Street, Islington, London EC1V 4NJ, www.oldredliontheatre.co.uk. Box Office: 020 7837 7816. Tuesday to Sunday. Evenings at 8.00pm. Tickets: £12.00, £10.00 concessions. All Tickets on Saturday £12.00. Performance Length: Approximately 2 hours. Nearest Tube: Angel (Northern Line - Bank Branch).
Nov 8, 2005 - DeLillo participated in the second PEN State of Emergency II event at Cooper Union in New York City (see the first State of Emergency entry from August 4, 2004). The evening was labeled "Readings Against Torture, Arbitrary Detention & Extraordinary Rendition." A number of authors, including Salman Rushdie, Dave Eggers, Paul Auster and many more read from other people's work. DeLillo read one of the stories from "Guantanamo: Honor Bound to Defend Freedom" - a play created by Victoria Brittain and Gillian Slovo from the 'spoken evidence' (interviews with the families of detainees at the prison). The piece is "Dreaming of Richard" from the interview with Jeanette Belmar. For more on the play, see this Guardian story by Brittain.
I've taken the liberty of posting DeLillo's reading on the site (it's about 3 and a half minutes, 1Mb). You can also find the MP3 of the entire event at this site (DeLillo comes in at about 23 minutes, of an hour and a half total): http://nysoundposse.com/2005/11/event-state-of-emergency-110805.html
Oct 20 - Nov 5, 2005 - The Stone Soup Theatre Arts company of New York City presents 'Valparaiso'. The production is at Actor's Theatre Workshop, 145 West 28th Street, 3rd floor New York City. Nadine Friedman directs. See more info on the Valparaiso Productions page.
Sept 2-5, 2005 - DeLillo acted as 'Guest Director' of the Telluride Film Festival, participaing in festival selections and appearing at the festival. On Monday the 5th he was scheduled for a public conversation with Greil Marcus (this conversation is published in The Believer, June 2006; see Interviews for details).
The festival guide describes DeLillo as follows:
The power of the image and the presence of film culture have been consistent elements in DeLillo's fiction. That's in part due to his appreciation of great cinema. In 1988 he described in an interview the qualities he enjoyed in films by Godard, Antonioni, Fellini, Bergman, Kubrick and Howard Hawks: "They seem to fracture reality. They find mystery in commonplace moments. They find humor in even the gravest political acts."
In the festival guide, DeLillo provides notes & presents three films: 'Wanda' (1971, dir. Barbara Loden); 'Spirit of the Beehive' (1973, dir. Victor Erice); and 'The Passenger' (1975, dir. Michelangelo Antonioni). The guide also notes that DeLillo is "currently at work on a novel."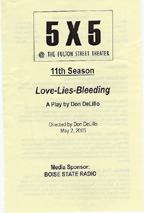 May 2, 2005 - An initial performance of Love-Lies-Bleeding performed at the Fulton Street Theater in Boise, Idaho, directed by Don himself. And there's a nice blog item on the event by Janet Holmes of Boise State, which explains how this happened (there's a connection through "Game 6" director Michael Hoffman). DeLillo apparently spent the preceding week in Boise.
April 28 - May 15, 2005 - The Garage Theatre Group of Teaneck, NJ, presents 'Valparaiso'. Details on the Valparaiso Productions page.
February 10, 2005 - Don DeLillo appeared at the University of Texas in Austin for a public lecture, in association with the Harry Ransom Center. Patrick Beach filed a report on the event for the Austin American-Statesman on Feb. 11, 2005, entitled "Novelist leaves audience wanting more." He notes a sellout crowd of 330, and that DeLillo read from Libra and Underworld before taking some questions. From the article, a couple quotes from DeLillo on The Body Artist:
The change in prose style in The Body Artist "was forced on me by the subject matter more than the fact that I wanted to do it consciously," he said. He said that slim work "is more abstract. It deals with how we perceive time and how we may misperceive it in order to survive. In this book . . . I thought I was forced to elliptical."

Of the book that many critics and fans found difficult to read, DeLillo said, "The book was quite difficult to do. It's an acetic book, a very spare book and, in large part, involuntarily so."
January 22, 23, 24, 2005 - World Premiere of "Game 6" (script by DeLillo) at Sundance Film Festival in Utah. The film was shot in summer 2004 and directed by Michael Hoffman.
January 2005 - publication of Conversations with Don DeLillo, edited by Thomas DePietro, published by University Press of Mississippi. From the catalog:
Throughout long profiles and conversations - ranging from 1982 to 2001 and published in The New Yorker, the Paris Review, and Rolling Stone - DeLillo parries personal inquiries. He counters with details of his work habits, his understanding of the novelists role in the world, and his sense of our media-saturated culture.
Nov 24 - Dec 19, 2004 - A production of The Day Room in Melbourne, Australia. Presented by Red Stitch Actors Theatre in St. Kilda, directed by Alyson Campbell. In a story in The Age, Campbell commented: "It shows that people's grounds for accepting any given reality are very tenuous. It questions the value people place on appearance and even raises doubts about what is real."

August 4, 2004 - DeLillo read at a PEN Writers event entitled "State of Emergency". This event took place at the Great Hall, Cooper Union, at 7 East 7th St at Third Avenue. Also at the event, among others, Paul Auster, Salman Rushdie, and Laurie Anderson. DeLillo read the Zbigniew Herbert poem "Report from a Besieged City." The Village Voice ran a short report on the event, "Heroic Restraint" by Nick Catucci, on August 5, 2004.
May 5-23, 2004 - A production of Valparaiso in Philadelphia, PA. More info on the Valparaiso Productions page.
May 7-22, 2004 - The Virtual Stage Co-op in Vancouver, BC, presents Valparaiso. More info on the Valparaiso Productions page.
May 13-22, 2004 - foolsFURY Theater Company presents a production of Valparaiso at Transparent Theater, Corner of Ashby & Martin Luther King, Jr. Way, Berkeley, CA.
April 15-May 8, 2004 - foolsFURY Theater Company presents a production of Valparaiso at Exit on Taylor, 277 Taylor, San Francisco, CA. More info on the Valparaiso Productions page.
February 2004 - DeLillo sells his papers to the Harry Ransom Humanities Research Center at the University of Texas at Austin, including manuscripts, letters, etc. See the Bibliography page for more details.
September 23, 2003 - DeLillo reading at the Odeon Theatre, Cologne, Germany, done with translator Frank Heibert.
August 3, 2003 - DeLillo in Brazil, appearing at the Parati Literary Festival (aka FLIP). More info here, in Portuguese. Julian Barnes reports on the event in "When Eriqui hit Parati" in The Guardian, August 16, 2003. Here's a rather embarrassing bit on DeLillo:
Don DeLillo also misread the temperature, as he admitted in his author session. "This morning I gave a press conference. I'd never given one before, and I thought, well, press conferences always begin with a news announcement, so I said to the journalists, 'This morning America invaded Syria.' But nobody laughed, so I had to explain it was a joke." Given DeLillo's deadpan manner, and America's current bellicosity, the only surprise was that he was surprised they hadn't picked it for a joke. Or, more likely, they had but - given the strong anti-Americanism in Brazil - they declined to find it funny.
June 19 & 26, 2003 - The radio show "Bookworm" broadcast two hour-long DeLillo interviews in June. DeLillo discussed Cosmopolis on June 19, and The Body Artist on June 26. The interviews are also available online, in RealAudio format. More information at http://www.kcrw.com/etc/programs/bw
June 3, 2003 - DeLillo in Rome, Italy, for the Roma Festival. Here's a link for the festival.
May 29, 2003 - DeLillo interview on BBC Radio 3, Nightwaves program at 9:30pm London time.
May 27, 2003 - DeLillo in London, England. An event sponsored by Foyle's bookshop, the appearance is at 7pm at the Institute of Education, 20 Bedford Way, London. Tickets £8 (£6 students & OAPs). Here's a report from Arnaud Pelle:
After gingerly crossing the stage to the pulpit under a thunder of applause he started abruptly with a brief overview of Cosmopolis and the motivations behind the novel. He then read several sections that illustrated more, as he explained later, the language and the style of the novel than the story and the characters.

From (hopefully faithful but not necessarily orderly and certainly not complete) memory the discussion that followed included the following topics:

How the ever stretching limousine became a symbol of the 90's in New-York and how it caught people's eyes "for about two weeks before becoming unnoticeable again to the jaded New-Yorker."

Asked about whether the recurrent theme of the millennium present from Americana onwards was a particular focus of attention for him, Delillo replied that dates as such didn't matter and he was just guided by the historical events. He shared his observation about the shift from the cold war, which he described as an abstract threat of global destruction, to the current age of terror that targets "you and me, on the streets, on planes, etc with its very real and palpable threat" and how these changes have affected our lives.

He explained with a lot of humour how Eric's extravagant belongings in Cosmopolis were somehow all grounded in reality. Even for the nuclear bomber, which Delillo says he thought he had invented but found out later about someone who actually did privately own such an aircraft.

Got the whole auditorium in stitches when to the question "is Bob Dylan one of your heroes?" he replied with deadpan humour: "Someone from the Bronx doesn't have any heroes" and added more seriously later that Dylan was indeed someone he admired greatly.

He dismissed any similarity between David Bell of Americana and Eric Packer of Cosmopolis claiming that it was a coincidence if they were both 28 years old and explaining why they were extremely different (Bell being under the influence of images and living in the "third person narrative while Packer is smart, cunning, ruthless, etc."). Followed quite an interesting insight on how the details about the lives of the characters he creates seem to be "dictated" to him as he writes. Same comment applied to the length of the novels, which seems to be inherent to each book from the start.

When asked if he was familiar and/or influenced by the works of Baudrillard at the time he was writing White Noise he replied, in a rather tongue in cheek way, "oh yeah, I've read his name a few times." He dismissed any such influence on the novel, insisting that "White Noise was merely based on observations of daily life and nothing more."

On the subject of whether the influence of cinema that fueled "Americana was still as strong on his work he replied in classic Delillo style that even though there are still fantastic film makers around we now "go to the movies to escape images."

As to visual art he deemed "a legitimate observation that the reference to Rothko and pictures involving naked bodies in Cosmopolis might illustrate a stylistic shift to a more stripped form of writing.

He stressed that the creative process and the narrative approach for Underworld and Cosmopolis had been completely different. Cosmopolis was intentionally written with brisk short sentences to capture the pace that he wanted for the book and reflect the way New-Yorkers talk.

During the signature session I asked him whether we could ever hope to see his earlier short stories published. He replied with a smile "my publisher keeps asking me that but I haven't got enough good short stories at the moment (!!!) "I will wait until I have written some more."

Well, I will wait as well but not too long, please...
May 25, 2003 - DeLillo at the Hay Festival of Literature, Hay-on-Wye, UK. The site says, "Hay is a tiny market town in the Black Mountains of the Welsh Marches. It has 1300 people and 39 bookshops." DeLillo is scheduled for 2:30pm on Sunday afternoon. DeLillo's talk and QA had been available (was at http://www.hayfestival.com/2004/ARCHIVE/archiveD.asp), but appears to be gone now. A short BBC Radio 4 interview was done at the festival, and a link is available on the Radio page. A story in The Guardian by Gordon Burn entitled "After the Flood" (Nov. 15, 2003), describes the reading:
When Don DeLillo read from the main stage at Hay-on-Wye in May there was a Sunday afternoon audience of around 2,000 and a genuine sense of anticipation. It felt like it felt in the 60s, going to see Bob Dylan.

...

DeLillo's face flickered in close-up on a large screen on the stage behind him. He was wearing a Brooks Brothers button-down, a v-neck sweater, a professorial houndstooth jacket. DeLillo is 67 now, fit-looking and trim, probably a jogger. His hair is lustrous and his face is deeply pocked, possibly dating back to when he had chickenpox in the Bronx as a child.

These stray thoughts shouldn't have been intruding, but they were because, although it was a pleasure to be in the same room as Don DeLillo, and although the words he was reading were smart, beautifully put-together ones, they were just words - not words telling a story, or describing any kind of emotion, just unspooling words, abstract, drifting on the air like a piece of free-form jazz. Or - the criticism most consistently levelled at DeLillo - like the dream-language of a Cyborg; "cold" and "heartless" like a computer.
April 24, 2003 - DeLillo in Philadelphia: Free Library. Here's a link to the event, with ticket info.
April 14, 2003 - DeLillo in New York City at 7pm, at the Union Square Barnes and Noble, 33 East 17th St.
March 25 - April 23, 2003 - A production of Valparaiso by the Sacred Fools Theater Company in Hollywood, CA. See Valparaiso Productions for full details and links.
April 11, 2003 - DeLillo in Cincinnati, at the Mercantile Library, 6pm. Here's a report courtesy Dan Johnson:
He did a reading a several passages of Cosmopolis, but he also read from a passages towards the end of "Cocksucker Blues" in Underworld where Klara and Miles see an illegal screening of the Zapruder film. He said he read this latter passage because we are approaching the 40th anniversary of the Kennedy assasination.

He gave a generous question and answer session. All quotes are paraphrased and keep in mind that my memory is rarely perfect. Here are a few highlights:

He said that the theme of the 90s in America was something like "money and the growth of the internet." As such, Eric is a product of his times except that he's smarter than most of the people that got rich quick.

He gave a good explanation of his idea that novelists used to influence public consciousness but do not anymore. People once turned to novelists to give them a way of understanding a particular contemporary situation -- for example, people started to understand a certain situation as "Kafka-esque." He noted that understanding a situation as "Kafka-esque" is, in a sense, a way of coping with that situation.

On what may be a related note, he said that he doesn't really want to use his fiction as a way of morally judging the present, but rather as a means of neutrally "understanding" it. "I'm not a theologan," he said.

When asked what he thought about the Oliver Stone film JFK, he said that his problem with the film is that Stone forced an incredibly enigmatic subject into the straight jacket of a typical Hollywood plot, the story of the hero solving the mystery and bucking the system. Sarcastically, he said, "the Costner character begins to think that there was a conspiracy, and immediately after he has great sex with his wife." He added, resoundingly, "Terrible movie."

When asked why he's become less "reclusive" and giving more readings these days, he joked, "how do you know I'm Don DeLillo?" More seriously, he added, "sometimes it's nice to meet your readers."

He said that with the possible exception of White Noise he doesn't think of his books as being postmodern but rather modernist. He mentioned Faulkner, Hemingway, and Joyce as examples of the sort of thing he's doing: "It was particularly the experience of rereading Ulysses in my mid-20s that was important, although I would not want to read it again." People chuckled. "No, I do not want to read it again."

When asked what motivates him to write, he said nothing motivates him in the sense that nothing "motivates" a person to breathe.

He said that he does not speak any foreign languages very well: "It's all I can do to speak English."
April 4, 2003 - DeLillo in Los Angeles: Writer's Bloc.
April 2, 2003 - DeLillo appears at the Herbst Theatre in San Francisco. The event begins at 8pm, and tickets ($18) are available from www.cityboxoffice.com or call 415 392-4400.
My report:

DeLillo gave a quick introduction, telling the story of people burning themselves to death in Czechoslovakia 35 years ago, and that it happened again 2 weeks ago. Then he launched into a fairly long and strong reading from sections of Cosmopolis, with short labeled sections such as 'In the Limo.' 'Kinski,' 'The Burning Man,' etc. which seemed to go steadily forward in the book. He then answered some questions. To my mind the most interesting Q/A items were the following:

1. Asked about the 'current situation' DeLillo said (paraphrasing from memory) that like everyone else he would like to see the conflict end quickly and with minimal loss of life, but that he is picking up on a sense that technology itself causes a need to use it. That the Cold War perhaps stayed 'cold' because the Americans and Russians were able to test their weapons in largely unoccupied spaces within their countries. And he noted how this war began with the 'precision strikes' on Bagdhad, in essence tests of our new technology. He sensed that there is almost a psychic pain if applied technology is not utilized.

2. Asked what he would teach in a modern literature course, DeLillo mentioned that he had never taught, never liked school, and thus saw no reason to go back to it. He said he would probably try to come up with something new, but declined to mention any authors.

3. Asked about 19th century literature, DeLillo talked about how he had not read much as a child, and that he really couldn't read those older works. He said he was fine with watching Kubrick's Barry Lyndon, but he didn't want to read the book!

4. Asked about the future, DeLillo came back to technology, and said that he felt that it would continue to insert itself into our lives, perhaps in new and different ways than we are familiar with now.
March 24, 2003 - DeLillo in Chicago: Steppenwolf Theater. Here's a link to the Steppenwolf site.
March 18, 2003 - First sighting of DeLillo's new novel Cosmopolis in stores.
Jan 30 - Feb 23, 2003 - Valparaiso staged at the Boise Contemporary Theater. See Valparaiso Productions for more details.
Dec 16, 2002 - Jan 12, 2003 - The Woolly Mammoth Theatre Company put on a production of "The Day Room" in Washington, D.C. (performing at the AFI Theater, Kennedy Center). Directed by Howard Shalwitz, featuring company members Rob Leo Roy (The Food Chain), Grover Gardner (director, Rocket to the Moon) and Jennifer Mendenhall (The Gene Pool).
December 9, 2002 - DeLillo attended a Pen American Center celebration of Samuel Beckett at Town Hall, New York. Also attending and/or reading included Salman Rushdie, Peter Carey, Paul Auster, Edward Albee and Israel Horowitz (according to a New York Times story by Danitia Smith on Dec, 12, 2002; "Celebrating Beckett, Against His Will").
October 16, 2002 - Don DeLillo, novelist, playwright and essayist, was the Belknap Visitor in the Humanities at Princeton University in New Jersey, reading from Cosmopolis. Author of Underworld, White Noise, and many other works, DeLillo is the recipient of an American Academy and Institute of Arts and Letters prize as well as PEN/Faulkner and National Book awards. At 5 p.m. he read from his work in McCosh 50.
Greil Marcus reported on the event in his "Top Ten" column (Nov. 4, 2002, item #2). Here are a couple snippets:
Refusing to dramatize, letting the words carry the story, DeLillo read quietly, and the result was a dreamlike rhythm.... Later there were questions from the audience. "What do you know about being fabulously wealthy?" a woman asked. "I can spell both words," DeLillo said.

Sept. 20 - Oct. 5, 2002 - The Dreamwell Theatre in Iowa City, Iowa is staging Valparaiso. See the Valparaiso Productions page for more details.
July 11-August 18, 2002 - The Rude Mechanicals Theater Company is staging Valparaiso at The Blue Heron Arts Center, 123 E. 24th St (between Park & Lexington), New York City. See the Valparaiso Productions page for more details.
June 9 - July 7, 2002 - The Sledgehammer Theatre in San Diego staged Valparaiso. See the Valparaiso Productions page for more details.
May 29 - June 29, 2002 - Theatre de la Bastille in Paris staged Valparaiso. See the Valparaiso Productions page for more details.
Oct 22, 2001 - Publication of "Pafko at the Wall" by Scribner as a stand-alone hardcover, commemorating the fiftieth anniversary of the game.
Oct 11, 2001 - Several New Yorker writers, including Woody Allen, Roger Angell, John Ashbery, Don DeLillo, Amitav Ghosh, Mary Karr, Jhumpa Lahiri, Janet Malcolm, Lorrie Moore, Paul Muldoon, and John Updike, read the work of others, to benefit The September 11th Fund. DeLillo read a poem by Zbigniew Herbert, entitled "Report from the Besieged City."
Thursday, October 11, 2001, 8 P.M.
New York, N. Y.
Town Hall
123 W. 43 St.
212-307-4100
All proceeds will go to The September 11th Fund. Tickets are $35, $25, and $15, and are available through Ticketmaster, at www.ticketmaster.com, or at the Town Hall box office, open Mondays through Fridays, noon to 6.
Sept 11, 2001 - Suicide hijackers bring down both towers of the World Trade Center, killing thousands. Note that the WTC appears in at least two DeLillo novels, Players and Underworld.
June 15 - July 15, 2001 - A staging of The Day Room in Los Angeles, at the Court Theater, 722 La Cienega north of Melrose. Fridays and Saturdays at 8pm, Sundays at 7pm, all seats $20. For tickets call 323/930-9304.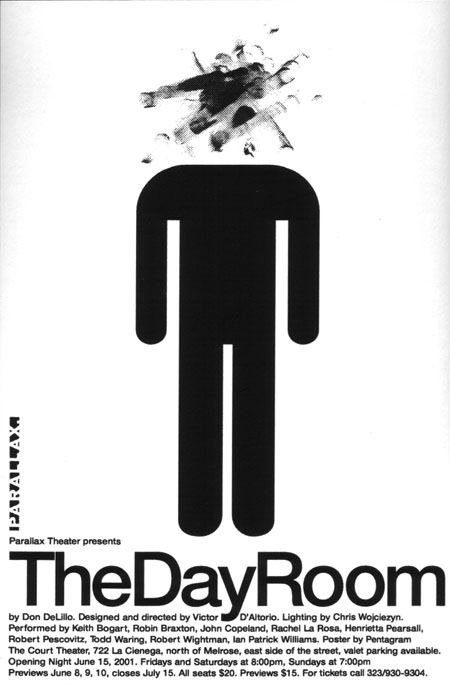 March 9 - April 21, 2001 - A staging of Valparaiso in San Francisco, at the Actors Theater, 533 Sutter St. Opens Friday, March 9 at 7pm, and plays Thurs-Sat at 8pm, Sunday at 7pm thru April 21. Tickets are $25, call 415 296 9179 for details.
February 16, 2001 - Canadian Premier of 'Valparaiso'. The Virtual Stage Co-op and Way off Broadway will be staging DeLillo's 'Valaparaiso' Feb. 16 - Mar 3 in Vancouver, B.C.
February 5, 2001 - DeLillo reading at the 92nd St Y in New York City. Newsweek ran a humorous report on the event called "DeLillo, Live."
February, 2001 - Publication by Scribner of DeLillo's novel, The Body Artist
December 14-17, 2000 - DeLillo is in Bologna, Italy, to receive the first "Riccardo Bacchelli" International award. The ceremony was held on the 16th, and was broadcast on Italian television.
October 12 - November 18, 2000 - a production of DeLillo's The Day Room in Los Angeles. The play is presented at The Actors Circle Theatre, 7313 Santa Monica Blvd, and is directed by Gina Gambill. The show is Thursday through Saturday at 8pm.
For tickets call: 213 896 1559.
August 2000 - the Irish premiere of "Valparaiso" in the Crypt Arts Centre, Dublin Castle, from 8 - 26 August 2000, presented by Íomhá Ildánach. The show is directed by John O,Brien, designed by Bairbre Murray, with lighting design by Paul Winters. The cast includes Mary Keane, Emma Lowe, Aoife Molony, Gerry O'Brien, Patrick O'Donnell, Niamh O'Shaughnessy, Niall Ó Sioradáin, Stewart Roche and Noni Stapleton. Tickets are £8/£6 concessions. A review by Gerry Colgan ran in The Irish Times on Thursday, August 10.
Here is a link to it.
June 2000 - Mark Osteen's book on DeLillo published by the University of Pennsylvania Press in June of 2000. The title is American Magic and Dread: Don DeLillo's Dialogue with Culture.
May 25-28, 2000 - American Literature Association Conference, Long Beach, California. The Don DeLillo Society sponsored a panel entitled 'Don DeLillo's America.' For details, please consult the Society's Events page.
May 17-27, 2000 - A production of The Day Room is being put on in Perth, Australia. Produced by the University Dramatic Society at the University of Western Australia, the show is happening in the Jacksue Gallery, Perth from the 17th thru the 20th and the 24th thru the 27th of May. Directed by Nick Tapper.
May 17, 2000 - DeLillo was awarded the William Dean Howells Medal by the American Academy of Arts and Letters in New York City (633 West 155 Street).
February 24-26, 2000 - Twentieth Century Conference, Louisville, KY. The Don DeLillo Society sponsors a panel entitled Don DeLillo and Postmodern Media Culture. Saturday, February 26, 2000, 10:45 am-12:15 pm at the University of Louisville. Moderator: Joseph Conte. Papers by: Glen Scott Allen, William Robert, Jeffrey Karnicky, and Anthony Miller.
February 3, 2000 - First preview night of Valparaiso at the Steppenwolf Theatre Company in Chicago, 1650 N. Halsted, 312-335-1650, directed by Frank Galati. Previews February 3 through 12: Wednesdays-Fridays, 7:30 PM; Saturdays-Sundays, 3 and 7:30 PM. $32. Opens Sunday, February 13, 6 PM. Through March 26: Tuesdays-Fridays, 7:30 PM; Saturdays-Sundays, 3 and 7:30 PM; Wednesday, March 15 and 22, 2 and 7:30 PM; Sunday, March 19 and 26, 3 PM only. $38-$42; day-of-show rush discounts available. Note: The 7:30 PM show on Wednesday, March 1, is sign interpreted; the 7:30 PM show on Thursday, March 2, is audio described for the visually impaired. Also: Lectures follow the 2 PM shows on Wednesday, March 15 and 22; discussions follow the Tuesday and Thursday evening performances.
December, 1999 - a special session on DeLillo will be a part of the Modern Language Association December 1999 convention in Chicago. The session, entitled 'Reading Don DeLillo's Underworld,' took place Wednesday 29 December, 7:15-8:30 pm, at the Chicago Hyatt Regency. Kathleen Fitzpatrick, Mark Osteen, and Arthur Saltzman gave papers. Nicole did the leading/moderating of the panel.
October 4, 1999 - White Noise is optioned for three years by Barry Sonnenfeld's production company (he is the director of The Addams Family, I believe) at Disney. Story reported by Variety - "S/J whisks 'White' for Disney" by Christian Moerk.
September, 1999 - Publication of the Modern Fiction Studies special issue on DeLillo (Vol 45, No. 3), which will include 10 essays, including work from such friends of the site as Phil Nel, Mark Osteen and Jeremy Green.
May, 1999 - Publication of yet another edition of White Noise, this time as part of Penguin's 'Great Novels of the Twentieth Century' series, which also includes Gravity's Rainbow.
May 6, 1999 - DeLillo attended the memorial service for William Gaddis at the American Academy of Arts and Letters in New York City.
February, 1999 - Publication of Valparaiso by Scribner.
January 29, 1999 - DeLillo's play Valparaiso opened at American Repertory Theatre in Cambridge, MA. More detail on the Plays page.
December, 1998 - Publication of White Noise: Text and Criticism, edited by Mark Osteen, published by Penguin USA (paper) ISBN 0140274987.
November, 1998 - Don DeLillo does a reading tour in Switzerland and Germany to promote the publication of Underworld in German by publisher Kiepenheuer & Witsch, Köln. Dates for the tour are:
November 15, 1998 - Zürich: Venue TBD
November 13, 1998 - Berlin: Tränenpalast (Reichstagufer 17, near S-Bahnhof Friedrichstr.), contact Buchhandlung Kiepert for tickets.
November 12, 1998 - Hamburg: Literaturhaus Hamburg (Schwanenwik 38, +49.40.220 00 07)
November 10, 1998 - Cologne: Stadtgarten (Venloer Str. 40, near U-Bahnhof Friesenplatz), organized by Buchhandlung Klaus Bittner (+49.221.257 48 70) and Literaturhaus Köln
November 9, 1998 - Munich: Literaturhaus München (Cafe Salvatorplatz 1, +49.89.291 93 427). Here are notes from that reading by Rainer Moerike.
Fall 1998 - Perhaps shooting begins on a film of Great Jones Street in Toronto, perhaps starring Keanu Reeves (no joke). This information is drawn from a story that appeared in the Hollywood Reporter on May 18, 1998.
June 10, 1998 - publication of Underworld in trade paperback in the United States.
April 29, 1998 - A rare showing of Cocksucker Blues at the Castro Theater in San Francisco, CA. On the same night at another theater in San Francisco, the documentary film D.I.A.L. History was screened, featuring narration from DeLillo's novels.
March 25/26, 1998 - An academic conference entitled Don DeLillo: "At the Edges of Perception", organized by Jacqueline Zubeck, was held at Rutgers University in New Jersey.
March 23, 1998 - A DeLillo reading with Charles Frazier, Jon Krakauer, Anne Fadiman and other finalists for the National Book Critics Circle Awards at 8pm at the National Arts Club, 15 Gramercy Park S., NYC. (212) 463-6778 for reservations. Per the New Yorker.
February 12/13, 1998 - DeLillo's "The Day Room" performed in German in Krefeld (Rhineland) at the Studiobuehne Fabrik Heeder, Virchowstr. 130. The main character Wyatt is played by Hartmut Neuber, production design is by Ralf Jokisch. A review of the production by Andreas Rossmann was published in the Frankfurter Allgemeine Zeitung, December 9, 1997, page 43.
Further show dates are:
12. / 13. December 1997
3. / 4. / 17. January 1998
12. / 13. February 1998
On these dates the play starts at 8:00 PM. Tickets are available at the Theaterkasse of the Theater Krefeld, Theaterplatz 3, reservations can be made by phone at (02151) 805 125 from 5:00 - 7:00 PM.
January 15, 1998 - DeLillo reading on Thursday, 15 January 1998, 7:30 pm, at The Congress Centre, 23-28 Gt. Russell Street, London WC1. Nearest tube: Tottenham Court Road. Tickets are 3 pounds 50. DeLillo appeared in conversation with Adam Begley. Here are notes on the event by Amy Friedman.
January 12, 1998 - DeLillo appeared at a reading in Dublin Ireland, and also did a radio interview on station RTE.
December 6, 1997 - DeLillo reading at the Barnes & Noble on Saturday, December 6th, 3:00-4:00 pm, at Union Square, 33 East 17th Street, NYC. According to the ad, "Don DeLillo, author of White Noise and Libra, has won numerous awards, including the Pen/Faulkner and the National Book Award. Meet him when he reads from his long-awaited new novel Underworld, a fascinating look at postwar American culture. DeLillo reveals the country's preoccupations, fears and loves through a story about a man and woman who had a brief affair. A limited number of pre-autographed copies of Underworld will be available."
November 19, 1997 - Reading in Toronto - contact: Harbour Front Reading Series.
November 12, 1997 - Reading in Albany, NY - Page Hall, 135 Western Ave., 8:00 pm, free. Check this link for more details.
November 6, 1997 - Reading in Chicago - contact: Chicago Public Library
October 30, 1997 - Reading in Boston, MA - contact: Boston Public Library
October 27, 1997 - Reading at the 92nd St. Y in New York. Here are notes on the event by Joshua Roberts, along with a picture of an Underworld manuscript page which was handed out at the event.
October 21, 1997 - Reading in Los Angeles, CA at the Pacific Design Center - contact: Lannan Foundation. An excerpt from Underworld was produced for the reading: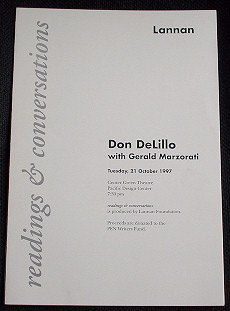 October 20, 1997 - Reading in Seattle - First United Methodist Church, 811 Fifth Ave., 7:30 pm. $10, (206) 621-2230. The Seattle Post-Intelligencer ran a story on the event by Regina Hackett.
October 16, 1997 - Address in San Francisco - Herbst Theater, 8:00 pm. $16, (415) 392-4400. Here are my notes from the event. You can listen to a portion of his talk at this link from the Simon and Schuster site (go down to the Video section).
October 3, 1997 - Reading in Washington D.C. - contact: The Folger Shakespeare Library, (202) 544-7077
September 26, 1997 - Reading in Ithaca, NY as part of the Epoch Festival (Epoch is the Cornell journal which published some of DeLillo's earliest work). Here's a report on the event: "Readings highlight Epoch's 50th anniversary festival" by Darryl Geddes.
May 13, 1997 - DeLillo appeared at the Wei Jingsheng event in New York City at which DeLillo read "The Artist Naked in a Cage."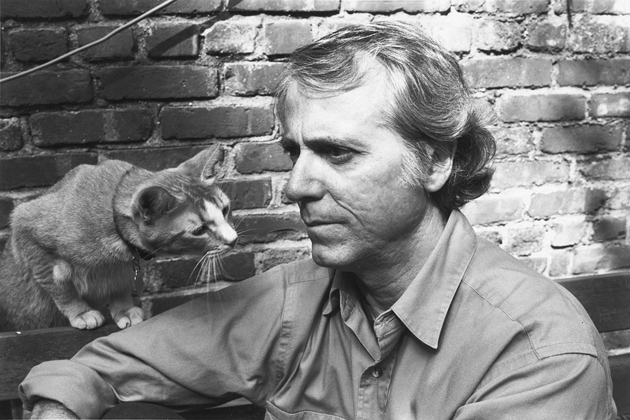 For previous events, please take a look at the DeLillo Biography.
---
Back to DeLillo's America
---