White Noise
A novel by Don DeLillo, 1985. Winner of the American Book Award.
"It's about fear, death, and technology. A comedy, of course." -- DeLillo quoted in 1984.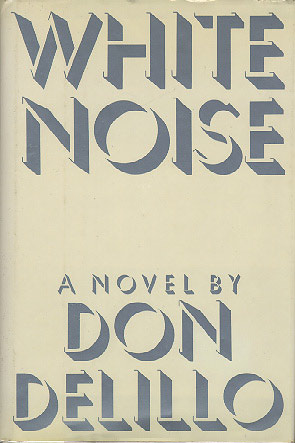 Published by Viking, 1985, 326 pages. Jacket design by Neil Stuart.
British first edition published by Picador, 1985.
Paperbacks issued in US by Penguin. The Viking Critical Library edition from Penguin (Dec. 1998) includes extra content.
White Noise editions.
A film adaptation was directed by Noah Baumbach and released in 2022 - more details here.
Dedication: "to Sue Buck and to Lois Wallace" (Buck was DeLillo's collaborator on Amazons, Lois Wallace was DeLillo's agent).
What it's about:
Back on a college campus, this is the story of Jack Gladney, the chairman of the department of Hitler studies, his family, and the airborne toxic event.
Here's the original dust jacket copy.
First line:
"The station wagons arrived at noon, a long shining line that coursed through the west campus."
What it's really about:
From the DeCurtis interview: "In White Noise in particular, I tried to find a kind of radiance in dailiness. Sometimes this radiance can be almost frightening. Other times it can be almost holy or sacred.... Our sense of fear--we avoid it because we feel it so deeply, so there is an intense conflict at work.... I think it is something we all feel, something we almost never talk about, something that is almost there. I tried to relate it in White Noise to this other sense of transcendence that lies just beyond our touch. This extraordinary wonder of things is somehow related to the extraordinary dread, to the death fear we try to keep beneath the surface of our perceptions."
Check out the White Noise Media Watch for contemporary reviews of the novel and more.
A radio interview with Ray Suarez from "Talk of the Nation" from August, 1994.
Essay engaging White Noise with the Pynchon novel The Crying of Lot 49.
Some trivia:
"DeLillo's next novel, due this fall from Viking, was first titled 'Panasonic,' but the dubious Matsushita Corp. refused permission. It will be called 'White Noise' instead" (from the 1984 Charles Champlin interview).
Another working title was 'The American Book of the Dead' (noted by LeClair, p. 228).
DeLillo told one interviewer that an influence for White Noise was Ernest Becker's Denial of Death.
Added Feb 17, 2005:
A first glimpse at the type of work that may be done with the DeLillo Archives was published in the Austin American-Statesman on Feb 6, 2005; an article entitled "Underword: Unlocking the writing process of novelist Don DeLillo" written by Jeff Salamon. What he did was to create an annotation of the first page of White Noise by looking at early drafts and letters that are in the archive. Here's two of his six annotation entries:
1

"White Noise" was DeLillo's breakthrough book commercially, but as late as the final galleys it had a different title: "Panasonic." In a June 13, 1984, letter to his editor, Elisabeth Sifton, DeLillo explained the importance of this choice: " 'Panasonic' as a title is crucial for a number of reasons. . . . The word 'panasonic', split into its component parts -- 'pan,' from the Greek, meaning 'all,' and 'sonic,' from the Latin sonus, meaning 'sound' -- strikes me as the one title that suggests the sound-saturation that is so vital to the book. . . ." Unfortunately, the Matsushita corporation felt otherwise and denied Viking permission to use the brand name. Included in the Ransom Center archives is a list DeLillo made of 39 possible other titles, among them "White Noise," "Psychic Data" and "Mein Kampf." (The latter is not a tasteless jape -- the book's narrator is a professor of Hitler studies.) Today, DeLillo acknowledges that "White Noise" turned out to be a fine choice, after all. "Once a title is affixed to a book, it becomes as indelible as a sentence or a paragraph."

6

This sentence is the first laugh-out-loud line in the book, but DeLillo didn't nail down the delivery right away. In what appears to be the third draft of this paragraph, the joke makes its first appearance as "giving off a scent of massive insurance coverage," which DeLillo knew wasn't quite right. " 'Scent' is a word that might be taken a little too literally," he says. "And it's ultimately inaccurate. The feeling the men give of insurance coverage is not that pinpointable." In the fourth draft, the phrase has turned into "something about them suggesting a sense of massive insurance coverage," and then the words "a sense of" are crossed out, leaving a joke that is funny because it has been honed until it is honest and spare - funny, as the saying goes, because it's true. DeLillo may have put it best in that letter to Wallace: "I think the key to all this is precision. If the language is precise, the sentence will not (in theory) seem self-conscious or overworked. At some point (in my writing life) I realized that precision can be a kind of poetry, and the more precise you try to be, or I try to be, the more simply and correctly responsive to what the world looks like - then the better my chances of creating a deeper and more beautiful language."
---
Next novel: Libra.
Back to DeLillo's novels.
---
Last updated: 31-DEC-2022