White Noise (premiered Aug 31, 2022) - dir. Noah Baumbach
Screenplay by Noah Baumbach, from the Don DeLillo novel.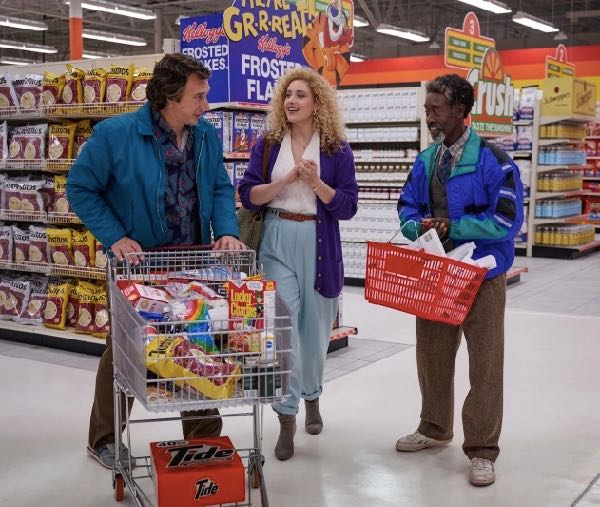 Jack, Babette and Murray at the super market!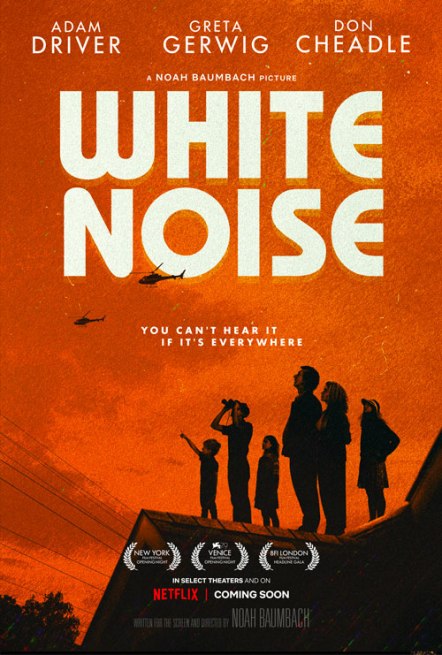 'White Noise' film poster - "You Can't Hear It If It's Everywhere"
This one's for real. Noah Baumbach directed a Netflix film of White Noise, starring Adam Driver and Greta Gerwig, with production on location in Ohio in Summer/Fall 2021, premiering in 2022. It was selected to open the Venice Film Festival on Aug. 31, 2022, then opened the New York Film Festival on Sept. 30.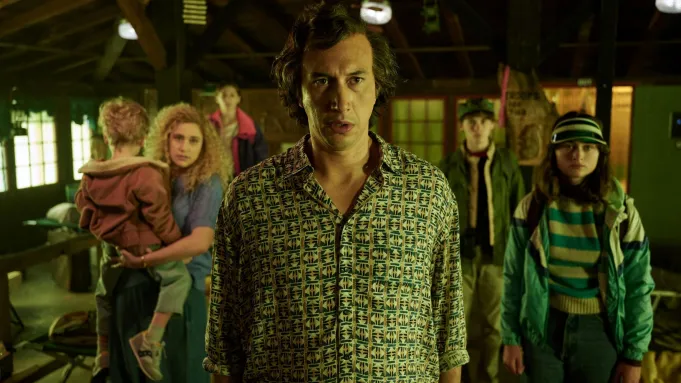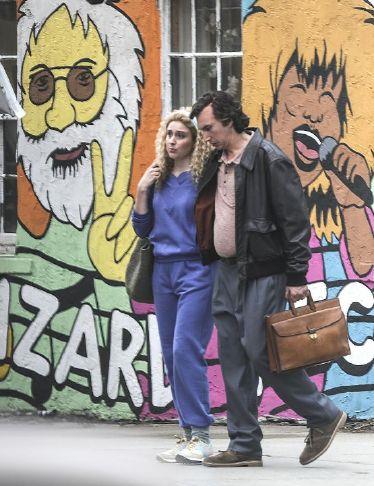 Greta Gerwig and Adam Driver (Babette & Jack) on location, with Jerry and Tina looking on
---
Notes/Media watch for White Noise - the film
Here are a couple recent takes on the film from DeLillo experts:
An exclusive from Tom LeClair hosted here on the site: "The Maladaptation of White Noise". Here's a taste:
The novel has scenes that could be more ambiguous, unsentimental "endings" after Jack leaves the hospital-the Gladneys's appreciation of glorious sunsets, a miracle tricycle ride by the family's youngest child. These Baumbach omits when choosing to end the movie in the supermarket, which figures throughout most of the novel and the movie as a place of solace through consumption. In the novel's very last scene, however, shoppers wander the supermarket aisles, confused by the new placement of the consumer goods from which Jack took comfort: "They walk in a fragmented trance, stop and go, clusters of well-dressed figures frozen in the aisles, trying to figure out the pattern, discern the underlying logic." The movie ends very differently.
A review up at Pop Matters from Jesse Kavadlo was posted on January 11, 2023: "Don DeLillo's White Noise Remains Unfilmable":
White Noise, the novel, is a comedy, but not the same kind of comedy as the film. As much as I enjoyed hearing the dialogue I've read so many times spoken out loud and enacted, I feel that White Noise's dry, stylized language is better read than said. To keep the film version leaner still, Baumbach's White Noise overlaps multiple dialogue scenes—creating white noise! This approach is indecipherability distracted from DeLillo's hard, gem-like language.
And here's one more review (mentioned by LeClair) - Marco Roth in Tablet, with "Don DeLillo on Xanax", published Nov. 3, 2022.
At the same time, lampooning his source text in this way means that Baumbach risks draining his own film of urgency. Not only have the Gladneys not driven their car off a cliff, they have driven it out of the frame of their own story and landed in the pre-scripted safe space called "movies of the 1980s." In precisely this and other myriad tiny ways, Baumbach softens the eeriness, the anxiety, the fear of the unknown that makes up the rapidly beating heart of the original with nice tranquilizing doses of "period drama" that work on audiences far better than DeLillo's fictional drug "Dylar" soothes his characters.
---
By mid-December there have been a gazillion reviews of the film, and I'm not even going to try to list them. You can find listings of reviews at IMDB.
One recent piece from The Atlantic ties things back to the book, "That's Just Like White Noise" by Jordan Kisner - the title is something his mom says often!
Things still seem to be just like White Noise because of DeLillo's gift for observing the world as if he had just been dropped into it. Instead of simply opening some gum, Babette pulls "the little cellophane ribbon on a bonus pack of sixteen individually wrapped units of chewing gum."
I finally had the chance to see the film in Portland OR on Dec. 10 at the Laurelhurst - I liked it, and my favorite scenes dealt with J.A.K. at the doctor's office.
Media ramp-up leading up to New York premier on Sept 30, 2022: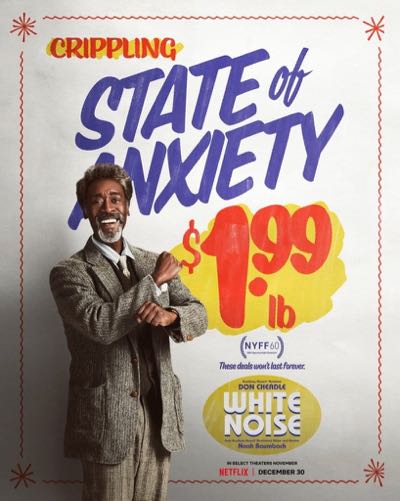 IndieWire scored an interview with Noah Baumbach on the film: Noah Baumbach on His Ambitious 'White Noise' Budget and What the Film Says About America Today by Eric Kohn on Sept 30. Some bits:
"The story is about a culture that is saturated by media," he said. "Movies and entertainment being a big part of that. I felt like there could be a cinematic language we're all familiar with that I could use to tell this story."

"I think of this movie as floating somewhere above reality. It's close but not entirely with its feet on the ground."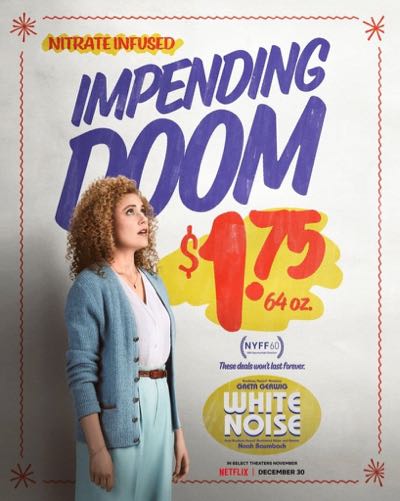 IndieWire also has an piece with Greta Gerwig: Greta Gerwig Knows 'White Noise' Sounds Like the Ramblings of a 'Stoned Teenager' by Samantha Bergeson on Sept 30. Here's a bit:
"In the same way that academia flattens everything, commercials flatten everything. You have a commercial for M&Ms right after plane crash footage. That's the same value; it comes through the same thing. You've got Elvis and Hitler, it's all the same. There's a way that we welcome the flattening to our own psyches, because we don't want to know that we're on a trajectory that goes one direction. So we go, 'That's good. Maybe we're all flat.'"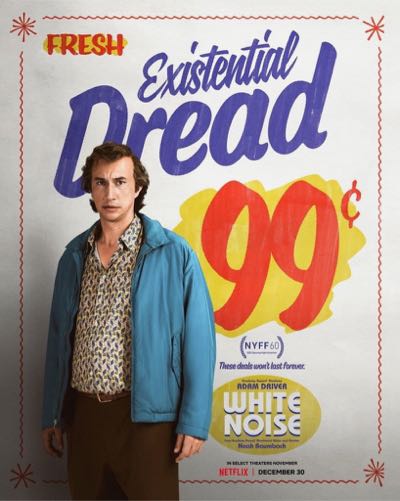 And then there's the coverage of the LCD Soundsystem track used at the end of the film. Pitchfork has an item on "new body rhumba".
---
Some news following the Venice premiere on Aug 31, 2022:
Variety filed a report from Venice: 'White Noise' Opens Venice on a Quiet Note: Adam Driver, Greta Gerwig Soak Up Muted Standing Ovation as reported by Ramin Setoodeh, Zack Sharf, Manori Ravindran:
The 2022 Venice Film Festival got off to a quieter start on Wednesday night with the premiere of "White Noise." Noah Baumbach's Netflix-backed adaptation of the Don DeLillo novel, which stars Adam Driver and Greta Gerwig, was met with a tepid 150-second standing ovation. That ranks as a short smattering of applause on the Lido, where many films enjoy a much more enthusiastic and sustained reception.

"White Noise" is set in the '80s and features an array of Easter Eggs of movies of the era, including everything from "Back to the Future" to "E.T." Some of these references may have flown over the head of the Venice crowd. The film, which was met with mixed reviews, is a twisty, talky family drama about the despair of a married couple facing their own mortality.
Variety also ran a review by Owen Gleiberman with the following mouthful headline: Noah Baumbach Turns Don DeLillo's 1985 Novel Into a Domestic Dystopian Period Piece Top-Heavy With Big Themes:
"White Noise" was published in 1985, and part of the novel's appeal is that it was so far ahead of its time. DeLillo glimpsed, in the mid-'80s, a welter of clues about the world that was coming into being. And now that it's 37 years later, we can see that much of what he saw has moved front and center: the literal poisoning of American life, the sense of spiritual dread bubbling up from under the American dream, the reconfiguring of what a family means in the age of divorce, and — most perceptively on DeLillo's part — the emergence of an insidious new pharmaceutical culture in which people would now attempt to drug away their despair.
The Guardian ran a very positive review by Peter Bradshaw: Venice opener is a blackly comic blast and here's a bit:
Jack and Babette's bizarre lives – a knight's-move away from reality – are too strange to be sympathised with, for all the Spielbergian family chatter in the kitchen. But they are there to be to marvelled at. It is such a fascinating, invigorating spectacle.
Also noted: a Fox News report indicates that Hilary Clinton attended the premiere "beaming in blue."
---
The Hollywood Reporter got the New York news out on Aug 2 in a story by Hilary Lewis, Noah Baumbach's 'White Noise' to Open 2022 NY Film Festival on Sept 30, with this statement from the festival's artistic director Dennis Lim:
Noah Baumbach's adaptation of White Noise is an unequivocal triumph: a wildly entertaining and morbidly funny meditation on the way we live now that is also the director's most ambitious and expansive film. Aided by a brilliant cast led by Adam Driver and Greta Gerwig, Baumbach has not only captured the essence of Don DeLillo's beloved, era-defining book — he has turned it into a movie that speaks profoundly to our moment.
---
Some interesting stories have been circulating about the production of White Noise

World of Reel has a story from June 3, 2022 - White Noise: Details Surface About Noah Baumbach's Epic 9-Month, $140 Million Shoot by Jordan Ruimy.
The budget on the Netflix original is said to have skyrocketed to $140+ million. Of course, there is no way an adaptation of DeLillo's novel should be more than $30-50 million, there is no CGI needed and it's mostly characters monologuing with each other in various rooms. And yet, the budget completely ballooned for this one.
---
'White Noise' or 'Wheat Germ'?
Fun story from Lit Hub by Emily Temple, titled "Why is Noah Baumbach's adaptation of White Noise called ... Wheat Germ?" which appeared on Aug 18, 2021. There's some nice sleuthing to uncover clues as to why this 'code name' may be in use.
Today I learned that Noah Baumbach's adaptation of Don DeLillo's 1985 cult classic White Noise, which is currently filming in Cleveland, is, according to Stereogum, "tentatively titled Wheat Germ."

Um, what?

White Noise starring Michael Keaton? I would guess not. Does it, perhaps, refer to some detail in the novel that I have forgotten? Sure, that's possible. After investigating, I was able to identify two (2) mentions of wheat germ in the novel...
Note that the Stereogum story also reports that André 3000 is in the cast.
---
Recent stories have confirmed more of the cast, and indicate that filming will be taking place in July 2021.

The Oberlin Review provides some details of filming: "Noah Baumbach to Film Part of Movie Featuring Greta Gerwig, Adam Driver in Oberlin", published July 2, 2021, by Ella Moxley. Here's some detail:
Academy Award-nominated director Noah Baumbach will film part of his upcoming movie White Noise in Oberlin between July 15 and 17. The film, starring Adam Driver and Greta Gerwig, is set to be shot on parts of Forest and Cedar Streets. The film is planned for release in 2022.

While most of the filming will take place in Hiram, Ohio, several days of filming will take place in Oberlin and the nearby town of Wellington.
Coverage of the planned production began appearing in early 2021 - here's one example from film-14.com by Patrick Salway: "Noah Baumbach's 'White Noise' Netflix Adaptation", published Feb. 3, 2021. Here's a bit:
Noah Baumbach has been making personal and engaging films since his directorial debut with 1995's Kicking And Screaming (made when he was just 26 years old). Last year's Marriage Story starring Scarlett Johansson, and frequent collaborator, Adam Driver, received several Oscar nominations. Two for Baumbach (Best Director and Best Original Screenplay) and a Best Supporting Actress win for cast member Laura Dern. This year, Baumbach and (possibly) Driver are back with a project in the works – a film adaptation of White Noise, the 8th novel from author Don DeLillo.
---
Back to DeLillo's America
---
Last updated: 14-JAN-2023