"Valparaiso" by Don DeLillo
A play by Don DeLillo, 1999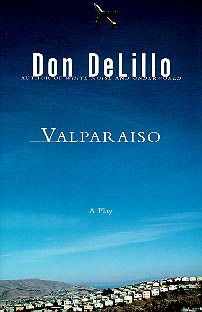 Published by Scribner, 1999 ($18.00) 110 pages. Here is the original dust jacket copy.
"Valparaiso" editions.
Dedication: "to Frank Lentricchia" (author and scholar; see the Lit Crit page).
The play "Valparaiso" by DeLillo had its premier at the American Repertory Theatre in Cambridge, MA on Friday, January 29, 1999. It concerns "a man who took the wrong plane to a mysterious destination (who) now finds himself the obsessive focus of interviews and talkshows."
What it's really about: American fear and dread!
See the "Valparaiso" Productions page for many details and reviews of some of the productions of the play.
---
Back to DeLillo's America.
---
Last updated: 18-DEC-2012