"Valparaiso" Productions
This page documents known productions of DeLillo's 1999 play 'Valparaiso.' Most recent on top.
---
Productions of the play in 2011
Convergence-continuum, Cleveland, Ohio

March 18 - April 16, 2011 - Production by Convergence-continuum, directed by Clyde Simon, staged at The Liminis Theatre in Cleveland, OH. Here's a link to the Convergence-continuum website for more info.
---
Productions of the play in 2010
University Theatre, Madison, Wisconsin

Oct. 22-23, 27-29 & 31, Nov. 4-6, 2010 - Production by University Theater, directed by Jeremy Thomas Poulsen, staged at Mitchell Theatre in Vilas Hall at UW. Here's the Dramaturgical Website. On Oct. 23, 2010 a review by Jennifer A. Smith appeared in the Isthmus, "University Theatre production of Don DeLillo's Valparaiso lacks punch": excerpt here:
Unfortunately, aside from its very strong visual and technical elements, Valparaiso, which opened Friday in UW Vilas Hall's Mitchell Theatre, just doesn't hang together. DeLillo is better on the page than the stage, apparently. Particularly in the first act, stilted, self-conscious language seems to hold the cast back.

While the second act has more blood in its veins, DeLillo's cryptic, probing weirdness and dark humor (like references to "erotomaniacal underwear," for starters) again seem better suited to his novels.
Common Ground Theatre, Durham, North Carolina

June 18-July 3, 2010 - Production by FATE, directed (I think) by Julya M. Mirro. Here's a link to the Common Ground Theatre site.
---
Productions of the play in 2008
HB Studio, New York, NY

June 11-28, 2008 - Production of the HB Studio, in New York City, directed by Rasa Allan Kazlas. Program above, I'm told DeLillo attended one performance. Here's a link to the HB Studio site.
---
Productions of the play in 2007
The Garage Theatre, Long Beach, CA

Oct 5-Nov 3, 2007 - Production of The Garage Theatre, in Long Beach, CA, directed by Jeff Kriese. Here's a link to The Garage Theatre site.
---
Forum, Washington, DC

June 30-July 22, 2007 - Forum production directed by Michael Dove. Thursday - Saturday at 8pm, Sunday at 2pm (additional shows 7/14 and 7/21 at 2pm), post-show discussions 7/7, 7/14, and 7/21.
@ H Street Playhouse
1365 H Street NE
Washington, DC 20002
Here's a link to the Forum Theatre site.
---
Productions of the play in 2006
Theatre Vertigo, Portland, Oregon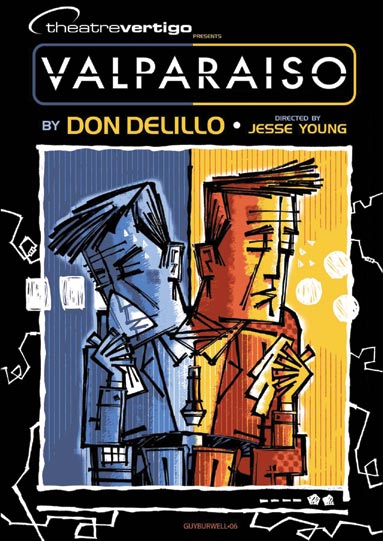 August 25-Sept 23, 2006 - Directed by Jesse Young. Theatre Vertigo plays at the landmark Theater! Theatre! building 3430 SE Belmont, Portland OR · (503) 306-0870 · vertigo@theatrevertigo.org. On Thursday - Saturday at 8pm, $15 each. Here's a link to the Theatre Vertigo site.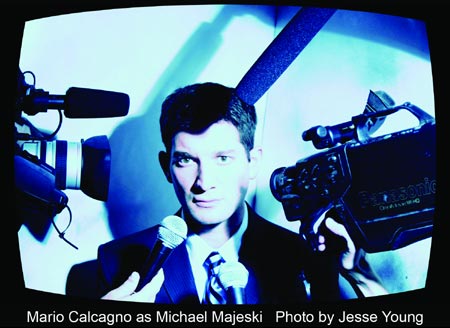 Old Red Lion Theatre, London, UK
April 25-May 13, 2006 - UK and London premier of Valparaiso at the Old Red Lion Theatre, directed by Jack McNamara. Details: The Old Red Lion Theatre, 418 St John Street, Islington, London EC1V 4NJ, www.oldredliontheatre.co.uk. Box Office: 020 7837 7816. Tuesday to Sunday. Evenings at 8.00pm. Tickets: £12.00, £10.00 concessions. All Tickets on Saturday £12.00. Performance Length: Approximately 2 hours. Nearest Tube: Angel (Northern Line - Bank Branch).
---
Productions of the play in 2005
Stone Soup Theatre Arts - New York, NY

Oct 20 - Nov 5, 2005 - The Stone Soup Theatre Arts company of New York City presents 'Valparaiso'. The production is at Actor's Theatre Workshop, 145 West 28th Street, 3rd floor New York City. Nadine Friedman directs. Tickets are $10.
Garage Theatre Group - Teaneck, NJ

April 28 - May 15, 2005 - The Garage Theatre Group of Teaneck, NJ, presents 'Valparaiso'. The stage is at the Becton Theater at Fairleigh Dickinson University, 960 River Road, Thursdays-Sundays, tickets $32.
---
Productions of the play in 2004
Virtual Stage Co-op - Vancouver, BC

May 7-22, 2004 - The Virtual Stage Co-op in Vancouver, BC, presents 'Valparaiso' as directed by Craig Hall. The stage is at Performance Works, 1218 Cartwright, Granville Island, tickets $20/16. Here's a link to the Virtual Stage site.
Theatre Exile - Philadelphia, PA

May 5-23, 2004 - at Second Stage @ The Adrienne Theatre, as directed by Joe Canuso. The theatre is located at 2030 Sansom Street, phone: 215.922.4462, tickets $12-$20. Here's a link to the Theatre Exile site.
foolsFURY Theater Company - San Francisco, CA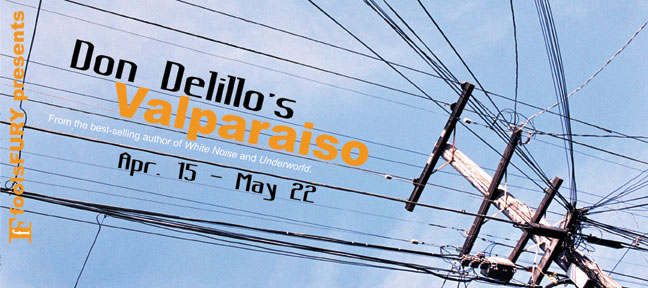 April 15-May 8, 2004 - at Exit on Taylor, 277 Taylor, San Francisco, CA.
May 13-22, 2004 - at Transparent Theater, Corner of Ashby & Martin Luther King, Jr. Way, Berkeley, CA.
Shows mostly Thursday thru Saturday at 8pm. Tickets are $15-$22, Here's a link to the Fools Fury site.
I found a review in the Bay Guardian, "Calling Doctor D" by Robert Avila, April 28, 2004, p. 42.
With a physical rigor and nervy humor all their own, they bring to DeLillo's sardonic interrogation of the postmodern self a series of animated performances, grounded in an imaginatively stylized form of physical theater that at times gives striking visual shape to the play's central tensions.
---
Productions of the play in 2003
Sacred Fools Theater Company - Hollywood, CA

March 25- April 23, 2003. The Sacred Fools Theater Company is staging 'Valparaiso' as directed by David LM McIntyre. Tuesdays and Wednesdays at 8 p.m. Also Sunday evenings April 6 and 13 at 7 p.m. Sacred Fools Theater, 660 N. Heliotrope Dr., Hollywood. This is between Normandie and Vermont and is east of the Melrose Ave. exit of the 101 Freeway. Some onsite parking available. Tickets available through the Sacred Fools web site.
LA Weekly, "Meet John and Jane Doe" review of 'Valparaiso' by Steven Mikulan, April 11-17, 2003 issue.
This harrowing L.A.-premiere production, deftly mounted by director David LM Mcintyre, always has its finger on the pulse of DeLillo's bleak comedy. Mcintyre's eye for physical nuance reveals itself in nearly every moment, as when he has a bored interviewer slyly push away sandwiches Livia has brought into a room, even while inching his microphone toward her. From leads Elliott and Nelson to the show's Chorus (a ghostly trio of flight attendants played by Wuchte, Lockhart and Liesel Kopp), the ensemble leaves behind a first-rate work of acting; Alexander almost walks away with the show as the self-absorbed imp Delfina - a role perfectly complemented by Robert Tobin as her cynical sidekick, Teddy, who idly flips through Vanity Fair while Delfina grills Michael about his elliptical journey to Chile.
Boise Contemporary Theater - Boise, Idaho
Jan 30 - Feb 23, 2003. The Boise Contemporary Theater in Boise, Idaho is staging 'Valparaiso,' as directed by Matthew Clark. Tickets available through TicketWeb, for about $20.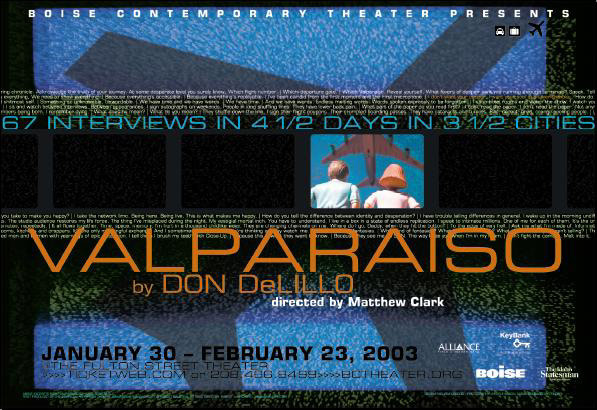 The Arbiter ran a review "'Valparaiso' is a dark multimedia experience" by Tammy Sands on Feb. 6, 2003.
DeLillo's pen creates a surreal world where an ordinary business trip becomes a flight into the glaring light of celebrity. A world where nothing remains unseen and nothing is left unsaid.

Valparaiso, directed by Matthew Clark, takes DeLillo's twisted view of talk show-televised revelations and routine airline announcements, creating an atmosphere of anxiety and ambiguity that lingers in the audience until the last word is spoken and the lights finally go down.

The Idaho Statesman ran a review "'Valparaiso' gets to the truth of the matter" by Dana Oland on Feb 3, 2003. Here is a short excerpt:
The play is a technical monster. Video projections, TV monitors, pre-produced segments, computer visual and audio cues all make the play risky for a young theater company like BCT.

One wrong push of the button and zap - you're off the air. Kudos must go to technical director Robert Riddle and his crew. On opening night it all went off without a hitch. The result is exciting, multi-media theater with some clever moments arranged by video designer Andy Lawless.

This play is also a risk because it isn't a light-hearted or even a dark comedy. It's a complex comedy with overtones of epic tragedy. All elements are well handled by director Matthew Clark.

Oland also wrote a preview "'Valparaiso' looks at today's cult of the celebrity" in the same paper on Jan. 30, 2003, which featured a short interview with the director; here's a snippet:
Matt: This is much more stylized and poetic, lots of non sequitur questions and answers. The language reveals itself. The meanings of words reveal themselves. You´ll realize that all these great repeated phrases you hear start to fit together.

Dana: Can you give me an example?

Matt: There´s a phrase he uses to describe people, basically Majeski´s adoring public. He says they have "cataracts and tumors," as a way of describing their imperfection. He then later describes them as having cataracts and waterfalls. Cataract means an eye disease and it also means a strong deluge of water.

DeLillo will use a word once one way and then discover a different use for the same word.
---
Productions of the play in 2002
Dreamwell Theatre - Iowa City, Iowa
Sept. 20 - Oct. 5, 2002. The Dreamwell Theatre in Iowa City, Iowa is staging Valparaiso, as directed by Scot West. Tickets are $10, and the show is on at 8pm. From a local review:
All of DeLillo's major themes are on display in Valparaiso, including how personal decision making is manipulated in crowds, how technology and media have recreated our values and perceptions, and how the signified and the signifier continue to drift apart. Under Scot West's skillful direction, these themes are brought to life in ominous and disturbing ways.
Rude Mechanicals - NYC

July 11-Aug 18, 2002 - The Rude Mechanicals Theater Company stages Valparaiso as directed by Hal Brooks at The Blue Heron Arts Center, 123 E. 24th St (between Park & Lexington), New York City. Shows Tuesdays - Fridays at 8, Saturdays at 2 and 8 and Sundays at 7PM. More information and reservations at (212) 414-5136.
The Village Voice ran an article on the production, which gives some details of DeLillo's involvement with this and other productions, "Don DeLillo's Chile Dish" by Christopher Hickman, July 10-16, 2002 issue.
Hal Brooks, the play's director, workshopped a production of Valparaiso last year for the Lincoln Center Theater Directors Lab. Lincoln Center's Anne Cattaneo arranged for DeLillo to attend the seminar to work with Brooks, and the two hit it off at once. Brooks was particularly impressed by DeLillo's humility about his work. "He provided an outline for me and allowed me to fill it in," says Brooks. "That was really generous." David Wheeler, who directed the play's world premiere at ART, feels DeLillo's interest in the theater is the natural extension of his interest in human behavior. "One has the impression when with him that his marvelous antennae are taking in the world," Wheeler says. "He's totally aware of what actors are doing and subtle shifts in their performances." When Chicago's Steppenwolf Theatre Company mounted its 2000 production, the director, Frank Galati, changed the order of scenes, cut them internally, and reduced a two-act play to a single, brisk act. DeLillo unblinkingly approved it all. "He's open to every suggestion that comes his way," Wheeler says. "Instead of rejecting, negating, fighting it, he says, 'Let's see what it's like.' That's extraordinary."
The New York Times ran quite a positive review in July 25, 2002 issue; "He's Famous (Briefly), Therefore He Is (Briefly)" By Bruce Weber. Here are some excerpts:
But Mr. DeLillo has given his blessing to this production, and it's no wonder; under the direction of Hal Brooks, "Valparaiso" as a whole seems suddenly fresh and pertinent. It is drawing a hip, downtown crowd and may well extend beyond its announced closing date of Monday.

This success is largely due to terrific work by the ensemble of actors, virtually all of whom have parsed Mr. DeLillo's esoteric language with genuine imagination. On a set by David Korins that spots red-orange accessories like strident inkblots in a generic, ash-white living room, they succeed in creating actual characters (or parodies of characters) from the intellectual conceits that exist on the page.

Overall their withering portrayals add up to a brutally scornful view of the media. Among other things in this intelligent production, it makes a theater critic consider anew the role of his opinions.
Time Out New York ran a piece entitled "Any Questions" on the play and DeLillo's involvement, in issue 354, July 11-18, 2002, by Ben Williams. Here's an excerpt:
DeLillo has often been characterized as a recluse, but not by Valparaiso director Hal Brooks, who struck up a relationship with him while workshopping the script at Lincoln Theater Director's Lab last summer. DeLillo has been coming to rehearsals, talking to the cast about the script and generally enjoying the participatory process of theater. "It is a pretty mysterious play," says Brooks. "And he's been there for me to answer questions. Sometimes what's great is that he'll say, 'You know, I don't really know the answer to that.' And that creates a big freedom for me."
The Village Voice ran a review entitled "High and Low" by Ed Park, August 14-20, 2002 issue:
Published in 1999, Valparaiso was less a coda to his 1997 Cold War omnium gatherum Underworld (which ended with the word "Peace") than a dry run for The Body Artist (2001), a slim work of calibrated radiances that presented language as erasure, a text for nothing. Thankfully, the talented Mechanicals (under Hal Brooks's direction) dust off the play's hidebound glories with a blast of pure oxygen, conveying menace and humor with remarkable assurance.
Sledgehammer Theater - San Diego, CA
June 9 - July 7, 2002 - The Sledgehammer Theatre at1620 6th Ave. in San Diego staged "Valparaiso." Don DeLillo's darkly comic examination of marriage, media and modern life as one man's business trip goes awry. (Also June 24, 8 p.m.)
Sundays, 7 p.m., Thursdays, 8 p.m., Fridays, 8 p.m., Saturdays, 8 p.m.
Price: $18-$20; June 24, Pay-What-You-Can. Tickets: 619-544-1484.
The Orange County Weekly ran a review by Cornel Bonca entitled "Your Soul in a Thimble" in the June 14-20, 2002 issue:
This Warholian parable of a man collapsing into his 15 minutes of fame is written by that great novelist (White Noise, Underworld) and chronicler of postmodern suffering, Don DeLillo, and staged by the energetic folks at downtown San Diego's Sledgehammer Theater, who engage banks of TVs above the audience, video cameras projecting the action onstage against the theater's back wall, deafening sound effects, a Greek chorus of bruised, partially nude flight attendants who look like they just survived a crash landing-all the Zoo TV Tour stuff imaginable to get across the play's theme, that when your sense of identity has been emptied out by dread, dislocation and tragedy, the mass media is always there to fill you back up again with its slippery seductions. Director Matthew Wilder revs the play at full throttle from the first minute and never lets up. The actors scream, leer, paw and menace one another; the music and video sound are cranked to 11. There's all manner of post-Brechtian stylization. This is one muscular, intense production.

Unnecessarily muscular and intense, it turns out.
San Diego Playbill ran a review by Rob Hopper:
Sledgehammer Theatre was created with the intent to bombard the audience's senses, leaving them stricken but thankful for a dramatic theatre experience far different from the norm. In that vein, Valparaiso is a raging success. The onslaught from blaring, unnerving noise accompanied by large, striking screen images of the actors above and to the sides of the stage make by far the biggest impression, although there is a story lurking in there somewhere -- the story of a media out of control and the foolish people who crave it at the expense of their own lives and souls.
Theatre de la Bastille - Paris, France
May 29 - June 29, 2002 - Theatre de la Bastille in Paris staged "Valparaiso." The show runs starts at 9pm (5pm on Sundays), lasts 1hr 15mins, and costs 19 euros. The address of the theatre is 76, rue de la Roquette. Here is a link to the company's site: http://www.theatre-bastille.com/.
Here are some notes from Henry who saw the show:
I went to see it last night. It's in French of course: my French is pretty good, but I am not a native speaker, and it's hard to know exactly how DeLillo 'sounds' in this language, but I thought it was a good show. The backdrop to the stage consists of an enormous screen which is used quite effectively I think (though with these things the borderline between 'too much' and 'enough' is very fine). For instance, we see about two seconds of the Zapruder film at the start ... the production itself is punctuated by immense blasts of static which is quite disconcerting... I was pretty captivated throughout: they do manage to capture very well the paranoia fear and uncertainty that Mr. DeLillo does so well. The programme itself mentions 'the particpation of DeLillo' which I assume refers to ten seconds of DeLillo broadcast over the speakers at the end of the show which sounds like it was recorded over the telephone...
There was an extra event on the 8th of June: the director Thierry de Peretti talks about how he adapted the play ... this is on at 'forum des images', forum des halles, at 14:30. (info. 01-43-57-70-73)
---
Steppenwolf production, 2000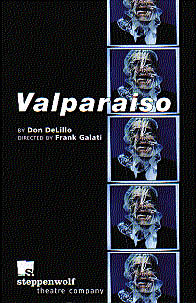 A Chicago production of Valparaiso hit the stage on Feb. 3, 2000 at the Steppenwolf Theater. The director is Frank Galati, and he worked with DeLillo to make some changes to the play (made it one act instead of two, for instance).
Here is some of the media for the Steppenwolf production:
Chicago Tribune, "Frank Galati's Schedule is Packed With One Exception" by Richard Christianson, February 6, 2000.
Chicago Sun-Times, "Valparaiso a DeLillo Head Trip" by Hedy Weiss, February 6, 2000. The preview includes quotes from DeLillo, and mentions that he won't talk about his new 'short novel.'
Chicago Tribune, "Identity Crisis: Pendleton sets tone for Passion in 'Valparaiso'" by Richard Christianson, February 14, 2000.
Chicago Sun-Times, "Valparaiso" by Hedy Weiss, February 14, 2000. The review includes quotes from DeLillo, and mentions that he won't talk about his new 'short novel.'
---

'Valparaiso' Premier - 1999 at ART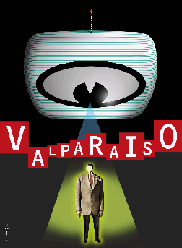 The play "Valparaiso" by DeLillo had its premier at the American Repertory Theatre in Cambridge, MA on Friday, January 29, 1999. It concerns "a man who took the wrong plane to a mysterious destination (who) now finds himself the obsessive focus of interviews and talkshows."
Full details can be found at the ART Valparaiso site. The site includes a synopsis of the play, and the short piece from DeLillo titled "Looking for Valparaiso".
---
I made it to the premier of 'Valparaiso' on Jan 29, 1999 and here are a few notes:
The play is, as one column put it, unmistakably DeLillo. As in 'White Noise,' he is particularly tuned in to the media soundscape that we tend to take for granted. This play strikes me as a new type of DeLillo poetry, key repetition of phrases and pauses.
The play is in two acts, with the first chronicling the beginning of Michael Majeski's media wave. As one interviewer says, 'Everything is the interview' - not just his airline mishap, but his entire life becomes fodder for media investigation. 'We deeply need to know'.
Act Two is quite an extravaganza; a talk show as scripted by DeLillo, with Michael and his wife Livia guesting on Delfina's show. The audience of the play has become the studio audience of the show. As Delfina questions Michael and his wife, she begins to uncover facets of the story that are only hinted at in Act One.
Quite different from 'The Day Room,' I believe, and I am pleased to see DeLillo again digging in to the strangeness of our time, after the more historical concerns of 'Underworld.'
ART production, 1999 - Media coverage
Here is the media checklist for the first production at ART in 1999:
Sidewalk Boston untitled review by Vicki Sanders.
New York Times "'Valparaiso': An Airline Ticket Mixup Gives a Man 15 Minutes of Fame" by Peter Marks, February 24, 1999.
DeLillo appeared on NPR radio on February 23, 1999. The review is available on RealAudio at http://www.npr.org/ramfiles/me/19990223.me.15.ram
Der Spiegel ran an article on Valparaiso in the 6/1999 issue, page 209-11, entitled "Odysseus im Talk-Studio.
Boston Phoenix "Traveling Man" by Carolyn Clay, Feb. 11, 1999.
Boston Herald "Patton Shines in 'Valparaiso'" by Terry Byrne, Feb. 5, 1999.
The Boston Globe "DeLillo Flies Straight into the Heart of Darkness" by Ed Siegel, Feb. 5, 1999.
Boston Phoenix "Destination: Valparaiso" by William Corbett, Jan. 29, 1999, page 13 of Arts section.
The Boston Globe "Unmistakably DeLillo" by Mark Feeney, Jan. 24, 1999, page H01. Here's a brief excerpt:
''I don't consider this parody or satire,'' he [DeLillo] says. ''I consider this, really, the story of a man with a missing identity and the means by which he seeks to pursue this identity. It happens that he does it publicly. It's very important to remember that in the series of interviews he does there are technological instruments involved. This, to a certain degree, is also a play about cameras, microphones, and audio recording equipment. This is the taken-for-granted presence of the force of technology in our lives - which I try not to take for granted."
Mirabella "The Bronx Bard: Don DeLillo Moves from Underworld to the Theater World with Valparaiso" by Michael J. Agovino in Feb. 1999, p. 30. This is a very short article -- a paragraph plus a photo, taking up probably one third of a magazine-size page.
---
Back to DeLillo's America.
---
Last updated: 06-MAR-2011