Plays/Screenplays by Don DeLillo
---
"The Word for Snow" (2007)
DeLillo's short play The Word for Snow was commissioned by Steppenwolf Theater for the Chicago Humanities Festival (centering on a theme of climate change, tagged 'The Climate of Concern'), and premiered on October 27, 2007. The length is approximately 20 minutes. A performance was staged in London in 2012, see Events for details.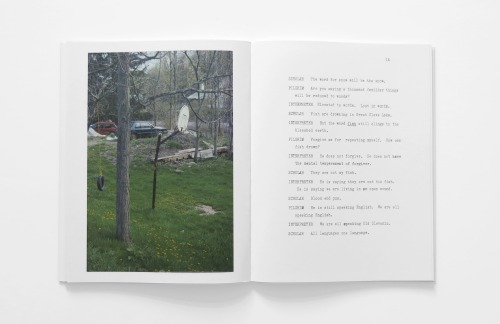 In 2014 Karma has published "The Word for Snow" in a small edition with photographs by Richard Prince. For more details: Karma's edition.
---
"Love-Lies-Bleeding" (2006)
DeLillo's play Love-Lies-Bleeding was published in January, 2006, and premiered at the end of April, 2006 in Chicago. See the Love-Lies-Bleeding page for details.
---
"The Mystery at the Middle of Ordinary Life" (2000)
A 'playlet' that appeared in Zoetrope magazine (volume 4, number 4), out in late 2000 - appears in full here at the Internet Archive. The notes indicate that this piece "was originally written for a benefit evening at the American Repertory Theatre."
---
"Valparaiso" (1999)
The play by DeLillo premiered at the American Repertory Theatre in Cambridge, MA in late January, 1999.
Valparaiso has its own page, along with notes on known productions of the play.
---
"Libra" / Adapted by John Malkovich (1994)
Libra was produced as a play adapted and directed by John Malkovich at the Steppenwolf Theater Company in Chicago in 1994 (opened May 15).
DeLillo was involved with the adaptation, as detailed in a story by Mel Gussow which appeared in The New York Times, May 18, 1994 (page C17). DeLillo is quoted: "John has his own attack. He wants to create a stage space in which the novel can reinvent itself. The play comes at you with lots of texture and with a level of irreverence that is advantageous."
See also "Reimagined, history repeats itself" by Clifford Terry, which appeared in the Chicago Tribune May 8, 1994, section 13, pages 10, 22. There's a long DeLillo quote on Libra:
I was, of course, aware that no serious novelist has treated this [assassination] material and decided to take a crack at it. It started with a slight air of detachment, even unreality. You know, I couldn't quite accept the fact that I was entering this anaconda of information and mystery and confusion.

This is the book I will have the most trouble outdistancing, because these people cling to you--particularly Lee Oswald himself. I tried to get as close to Oswald as my abilities allowed. I was not looking to create a myth about Oswald--or Kennedy, for that matter. I'm not sympathetic toward him. For me, he was guilty, he wasn't a dupe, he wasn't tricked. He did it, and his hard life is not a justification. I don't think America made Lee Oswald shoot at the president. It was inner turmoil, a deep character flaw and a desperation.
---
"Game 6" (1991)
"Game 6" is a screenplay by DeLillo written in the early 1990s, and made into a film which premiered in 2004. A "Game 6" page now collects all the information on the screenplay and film.
---

"The Rapture of the Athlete Assumed into Heaven" (1990)
This two page piece was first performed in April 1990 by the American Repertory Theatre in Cambridge, MA as part of a festival of one-minute plays. It was first published in The Quarterly, Volume 15, 1990, and reprinted in Harper's in December 1990 and in the South Atlantic Quarterly in Spring 1992. This piece also appears in the book after yesterday's crash: The Avant-Pop Anthology edited by Larry McCaffery (Penguin, 1995).
A just victorious tennis player is "interviewed" after the match, though in fact we only hear the interviewer, who begins, "How special it must feel, Bobby, finishing off a career in this fashion, it must feel like a culmination you could only dream of years ago, ..."
A short film was made of this piece in 2007, directed by Keith Bogart, and starring John Laroquette and Tyler Hoechlin. Five minutes long! Looks like it was shown at SXSW in 2007. Here's an archive of the website, and here's the IMDB entry.
---
"The Day Room" (1986)
Originally published in American Theatre, Sept. 1986, and first produced by the American Repertory Theater (Cambridge, MA) in April 1986, directed by Michael Bloom.
I've created a page devoted to "The Day Room".
---
"The Engineer of Moonlight" (1979)
Cornell Review, 1979.
Apparently this play has never been produced. Here is a statement from DeLillo about the play, from the 1979 interview in Anything Can Happen:
We talked earlier about people in rooms. The play is just that. People talking, people silent, people motionless, people juxtaposed with objects. There are four characters. What connects them is the awesome power of their loving. The main character is Eric Lighter, a once-great mathematician who is now a pathetic but compelling ruin. If the play has a line of development at all, it hinges on whether Eric's former wife will abandon a recent marriage and successful career to help the others transcribe and type Eric's half-insane memoirs, along with other day-to-day chores and obligations. The idea is absurd on the face of it. Diana ridicules the notion. Toward the end of the play she leaves the stage still denying that she'll stay. But we know she still feels a powerful love for Eric, for the aura of greatness that clings to him, and we feel uncertain about taking her at her word. The suggestion that she may stay is contained in a strange board game she'd played with the others earlier in Act Two. A game involving words and logic used in unfamiliar ways. If we take this game as a play within the play, what we see is that Diana, who has never played before, gradually comes to understand the strange and complex nature of the game--an understanding the audience doesn't share. Toward the end she is elated; she is saying it all begins to fit, the colors, the shapes, the names. She wants to play.
Note: a character mentioned in the play, Sister Edgar, years later appears in the story "The Angel Esmeralda", which is included in Underworld.
---
Back to DeLillo's America.
---
Last updated: 30-OCT-2014