Underworld
A novel by Don DeLillo
Nominated for the National Book Award. Garnered 11 votes (second highest total) in the New York Times poll of writers for the "Best Work of American Fiction in the past 25 years" in May 2006. Placed in The Guardian's 2015 list of 100 best novels.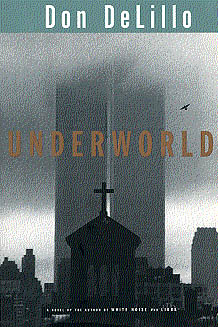 Published by Scribner, 1997, 827 pages. Jacket photo by André Kertész, 1972.
First British edition published by Picador, 1998, and Scribner Classic hardcover edition published June 2007. Editions of 2015 are including a short afterword from DeLillo, "Staring at the wall" (with thanks to the Wayback Machine!).
Scribner trade editions starting (I think) at the 30th printing include a new 2 page preface, marking the 25th anniversary of the publication of Underworld.
See images on the Underworld editions page.
I am keeping track of the media coverage on the Underworld Media page.
Dedication: "to the memory of my mother and father"
What it's about:
The story of a baseball from 1951 to the early 1990's.
Here's the original dust jacket copy.
First line:
"He speaks in your voice, American, and there's a shine in his eye that's halfway hopeful."
Compare perhaps with the first line from Saul Bellow's The Adventures of Augie March: "I am an American, Chicago born—Chicago, that somber city—and go at things as I have taught myself, free-style, and will make the record in my own way: first to knock, first admitted; sometimes an innocent knock, sometimes a not so innocent."
Hear DeLillo reading the first few lines: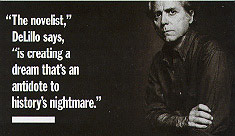 What it's really about:
"In a novel about conflict on many levels, this was the primal clash--the tendency of the language to work in opposition to the enormous technology of war that dominated the era and shaped the books themes." --DeLillo from "The Power of History" essay, 1997.
"While I worked on the book, I gradually compiled a number of titles. I first hit upon Underworld when I started thinking about plutonium waste buried deep in the earth. Then about Pluto, the god of the dead and ruler of the world. New connections and meanings began to suggest themselves, and I recall drawing a circle around the title Underworld on a page filled with prospective titles." --DeLillo to Jonathan Bing, 1997
---
The book consists of eight main sections:
Prologue - The Triumph of Death
Part 1 - Long Tall Sally
Part 2 - Elegy for Left Hand Alone
Part 3 - The Cloud of Unknowing
Part 4 - Cocksucker Blues
Part 5 - Better Things for Better Living Through Chemistry
Part 6 - Arrangement in Grey and Black
Epilogue - Das Kapital

See also the Annotated copy of 2014.
---
Though some might say I'm biased, I do believe that Underworld is a very fine book, in which DeLillo provides ample rewards to close readers.
---
Next novel: The Body Artist
Back to DeLillo's novels.
---
Last updated: 31-AUG-2023