Underworld
A novel by Don DeLillo
Nominated for the National Book Award. Garnered 11 votes (second highest total) in the New York Times poll of writers for the "Best Work of American Fiction in the past 25 years" in May 2006.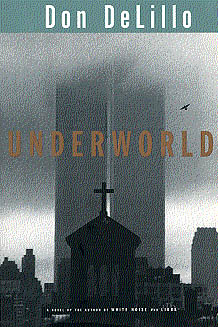 Published by Scribner, 1997, 827 pages. Jacket photo by Andre Kertesz.
First British edition published by Picador, 1998, and Scribner Classic hardcover edition published June 2007.
See images on the Underworld editions page.
Dedication: "to the memory of my mother and father"
What it's about:
The story of a baseball from 1951 to the early 1990's.
Here's the original dust jacket copy.
First line:
"He speaks in your voice, American, and there's a shine in his eye that's halfway hopeful."
Hear DeLillo reading the first few lines: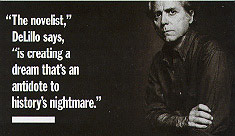 What it's really about:
"In a novel about conflict on many levels, this was the primal clash--the tendency of the language to work in opposition to the enormous technology of war that dominated the era and shaped the books themes." --DeLillo from "The Power of History" essay, 1997.
"While I worked on the book, I gradually compiled a number of titles. I first hit upon Underworld when I started thinking about plutonium waste buried deep in the earth. Then about Pluto, the god of the dead and ruler of the world. New connections and meanings began to suggest themselves, and I recall drawing a circle around the title Underworld on a page filled with prospective titles." --DeLillo to Jonathan Bing, 1997
---
Though some might say I'm biased, I do believe that Underworld is a very fine book, in which DeLillo provides ample rewards to close readers.
---
The book consists of eight main sections:
Prologue - The Triumph of Death
Part 1 - Long Tall Sally
Part 2 - Elegy for Left Hand Alone
Part 3 - The Cloud of Unknowing
Part 4 - Cocksucker Blues
Part 5 - Better Things for Better Living Through Chemistry
Part 6 - Arrangement in Grey and Black
Epilogue - Das Kapital
---
I am keeping track of the media coverage on my Underworld Media page.
---
Next novel: The Body Artist
Back to DeLillo's novels.
---
Last updated: 10-JUN-2007