Underworld
Part 6 - Arrangement in Grey and Black
Time period: Fall 1951 - Summer 1952
---
The title refers to the famous 1871 painting by James McNeill Whistler (better known as "Whistler's Mother"). Klara has "a small print of a Whistler, the famous Mother..." (748).
Thanks to Sean McVeigh for the tip.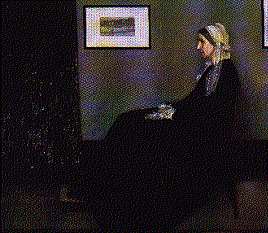 ---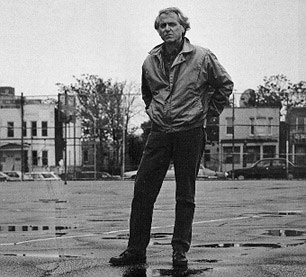 DeLillo on a playground on East 182nd Street in the Bronx. Photo by Nigel Parry, from Vanity Fair, Sept. 1997.
From the Hungry Mind Review interview with Gerald Howard:
...the Bronx episodes in Part Six particularly were written out of a sense of intimate knowledge. Something I discovered after I finished writing the book, as I was reading the proofs, is that much of the book is nearly saturated with compound words, hyphenated words, many of them which I invented or grafted together. In Part Six, suddenly the language is a bit different. It's a bit simpler. It's more visceral. And it occurs to me that this is what a writer does to transcend the limitations of his background. He does it through language, obviously. He writes himself into the larger world. He opens himself to the entire culture.
---
DeLillo makes a point of mentioning the row house at number 607 (756) - I feel some connection to the Libra dedication:
"To the boys at 607 - Tony, Dick and Ron"
---
There's another quick gesture to an early DeLillo story.
Someone was evicted, put out on the street, chairs, tables, bed, right around the corner -- the bed, John said, the super. Frame, spring, mattress, pillows, out on the sidewalk. (768)
Sounds just like the 1965 story "Spaghetti and Meatballs."
---
To the Epilogue.
Back to DeLillo's Underworld.
---
Last updated: 03-OCT-97