Underworld
Part 3 - The Cloud of Unknowing
Time period: Spring 1978
---
The title of Part 3 comes from the title of a book that Nick remembers.
A long time ago, years ago, I read a book called The Cloud of Unknowing. Written by an anonymous mystic, I'm not sure, fourteenth century maybe, whenever the Black Death was -- he was writing in the days of the Black Death. A priest gave me this book. (295)
---
The Watts Towers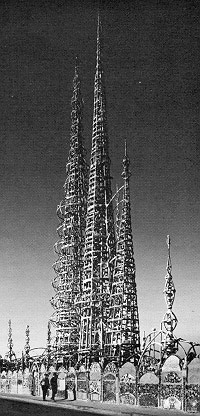 Built by Simon Rodia between 1921 and 1954. Born in 1879 in Ribottoli Italy near Naples, he came to the U.S. at age 15. The Watts Towers are located at 1765 East 107th Street, Watts, California. There are three main structures, the tallest about 100 feet. They are built from steel and mortar, encrusted with broken tiles, dishes, bottles, seashells.
In 1955 Rodia deeded the property to a neighbor and moved away. He died in 1965 in Martinez, California age 86. In 1959 William Cartwright and Nicholas King purchased the lot for $3000.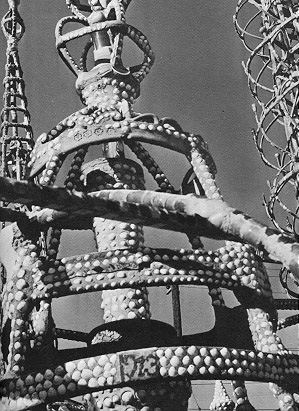 The following quotes by Rodia are from a 1961 pamphlet, "The Watts Towers" published by the Commission to save Rodia's Watts Towers.
"I have nobody to help me out.
I was a poor man.
Had little to do at a time.
Nobody helped me.
I think if I hire a man
he don't know what to do.
A million times
I don't know what to do myself.
I never had a single helper.
Some of the people say
What was he doing...some of the people
think I was crazy
and some people said
I was going to do something.
I wanted to do something
in the United States
because I was raised here you understand.
I wanted to do something for the United States
because there are nice people
in this country."
Another:

"You have to be good good or bad bad to be remembered."
And:

"I had in mind to do something big, and I did."
For the full story on the Watts Towers, refer to The Los Angeles Watts Towers by Bud Goldstone and Arloa Paquin Goldstone (Los Angeles: the Getty Conservation Institute & J.Paul Getty Museum) Dec 1997.
---
The Waste Ship
"The ship left a pier on the Hudson River with one name, I don't know what is was but it got changed three months later off the West African coast. Then they changed it again. This was somewhere in the Philippines." (279)
---
Detwiler
We meet Jesse Detwiler, garbage archaeologist:
Detwiler had been a fringe figure in the sixties, a garbage guerilla who stole and analyzed the household trash of a number of famous people. He issued mock-comintern manifestos about the contents, with personal asides, and the underground press was quick to print this stuff. His activities had a crisp climax when he was arrested for snatching the garbage of J. Edgar Hoover from the rear of the Director's house in northwest Washington and this is what people remembered. (286)
Detwiler seems to be modeled after A. J. Weberman, garbologist/Dylanologist of the late sixties, who hounded the singer and raided his trash. Here's a short bit from Weberman's 'interview' with Dylan, first printed in the East Village Other, January 19, 1971 (D stands for Dylan, DLF stands for Dylan Liberation Front):
"We went outside & I decided to go thru D's garbage with the class, & so they formed a circle around me. David Peel (DLF) pointed out that his garbage bags were green, like his money. My 'Garbage Article' had already come out so there was nothing of interest to be found, but we did the thing anyway."
---
Where's the ball?
Marvin Lundy is in San Francisco, trying to meet Chuckie Wainwright, to confirm the last link in the chain. He met with Chuckie's ex-wife, "Susan somebody," and we learn that "Chuckie in the Air Force, in Greenland, in Vietnam, and going AWOL, which is a what, an acronym, and drifting afar and growing a beard and fathering a child and naming it Dakota." (308) Lundy meets the Lucky Argus at the pier, but Chuckie "Jumped ship in Vancouver." (313)
---
To Part 4.
Back to DeLillo's Underworld.
---
Last updated: 17-FEB-98