Underworld
Part 4 - Cocksucker Blues
Time period: Summer 1974
---
The title of comes from the 1972 Robert Frank documentary film on the Rolling Stones, one of the three films dominate Part 4: Cocksucker Blues, Unterwelt, and the Zapruder film.
---
Cocksucker Blues
Here's a writeup from Hollywood Rock by Marshall Crenshaw (1994):
Cast: The Rolling Stones; DIR: Robert Frank; PROD: Marshall Chess; STUDIO: (unreleased); 95 min., color (no video release)

Stones '72 tour exposed
With the release of their definitive album Exile on Main Street, the Stones sought to document their own burgeoning celebrity and self-mythology by hiring renowned photographer-filmmaker Robert Frank (known for his documentary study of madness Me and My Brother as well as the brilliant cover photography for Exile itself). The resulting movie was at once so dreamy and harsh -- crowded with scenes of the Stones nodding out, roadies balling groupies, and assorted tour hangers-on shooting up -- that the band refused to permit its release. Eventually Frank secured right to screen it once a year, but it has only appeared on video in bootleg form.
---
Unterwelt
The mythical Eisenstein film "Unterwelt" (German for Underworld). I have found no evidence that such a film is even rumored to exist, but a bit of research has uncovered a sweet connection.
From a footnote in City of Quartz by Mike Davis (page 92):

What a 'real' Marxist Hollywood film would have looked like remains a matter for arcane conjecture. Perhaps the best potential candidate was the remarkable screenplay of An American Tragedy which Serget Eisenstein and Ivor Montagu wrote in 1930 during the Soviet director's brief and troubled stay in Hollywood. Dreiser supposedly loved the script, but Paramount -- alarmed by its 'monstrous challenge to American society' -- killed the project.
Now I'm not sure what screenplay was used, but An American Tragedy was made into a film released in 1931, directed by Josef von Sternberg. Just four years earlier, in 1927, Sternberg had directed a picture entitled Underworld. DeLillo mentions it on page 431.
Note that there's also a 1961 film by Sam Fuller entitled Underworld U.S.A.
---
The Zapruder Film
The Zapruder film was shown once on TV (495).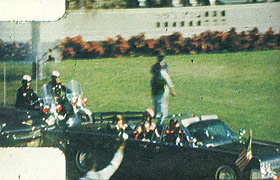 Frame 238
Shot by Abraham Zapruder in Dealey Plaza on Nov. 22, 1963, the Zapruder film consists of 22 seconds of film at 18.3 frames per second. From the Warren Commission Report: "The pictures or frames in the Zapruder film were marked by the agents, with the number '1' being given to the first frame where the motorcycles leading the motorcade came into view on Houston Street." Zapruder sold the film to Life magazine, reportedly for $150,000 paid over several years.
---
Rooftop summer
This is an interesting inversion. Since the literal underworld of Manhattan is in the subways, which are crowded and busy, the secrets and mysteries are up on top, where most people can't go.
---
Moonman 157
Klara: "What's in the Bronx?"
Esther: "A kid who does graffiti. He does trains, subways, whole trains, he does every car in a subway train." (377)
"The whole point of Moonman's tag was how the letters and numbers told a story of backstreet life." (434)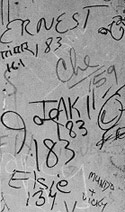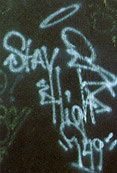 Shown above are two early names in the New York graffiti world. Taki 183 was written up in the New York Times on July 21, 1971. Here's a few excerpts: "Taki is a Manhattan teenager who writes his name and his street number everywhere he goes. He says it is something he just has to do.... He has spawned hundreds of imitators, including Joe 136, BARBARA 62, EEL 159, YANK 135 and LEO 136."
Stay High 149 was another early graffiti artist, who used the stick figure from The Saint as part of his tag. By 1973 he was doing "whole cars" (the entire side of a NYC subway car, including the windows).
Information from Subway Art by Martha Cooper and Henry Chalfant, 1984.
---
The Bomb
Eric Deming: "Did they do all this to protect the kids from Soviet bombs or from our bombs and our fallout?" (411)
Deming pursues the rumors, but says he doesn't believe them. "You can never underestimate the willingness of the state to act out its own massive fantasies." (421)
Here's Lenny Bruce on the subject (from The Essential Lenny Bruce, p. 96):
The bomb -- it's dropped already. What they found out is -- dig the bomb. When it went up there -- the Russians sent theirs off, we sent ours off -- and when it hit that stratacaposhere, something happened to change it, and it came down and hit only bomb shelters. Attracted to nothing but bomb shelters.
---
We learn what Acey's been up to:

I thought and worked and sketched and did small oils and large charcoals and finally I realized. It's not Marilyn I want, it's fake Marilyn. I want a packaged look. I didn't want Monroe, I wanted Mansfield. All bloated lips and total boobs. I mean it was so obvious and it took me fucking forever. (474)
---
To Part 5.
Back to DeLillo's Underworld.
---
Last updated: 03-OCT-97