The Silence Media Watch - a novella by Don DeLillo - 2020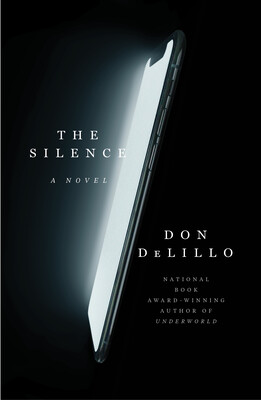 This page lists the prominent reviews and other items related to Don DeLillo's 2020 novella, The Silence.
---
The Quietus: December 5, 2020, a review of The Silence "Always At The Edge Of Perception: Don DeLillo's 'The Silence'" by Calum Barnes.
Much of their conversation is pre-occupied with language itself, mulling over peculiar words. This has become something of a hallmark of DeLillo's late style. His novels from this century have become more condensed, rarely breaching the two hundred page mark, this one being no exception. Words are more carefully chosen and take on numinous qualities.
---
Los Angeles Review of Books: December 1, 2020, a review of The Silence "The Main Thing Is Dread: On Don DeLillo's 'The Silence'" by Cornel Bonca.
Three-quarters of the novel is spent in a single room — a bourgeois apartment in uptown Manhattan, where the five main characters have gathered to watch the Super Bowl on a TV that's stopped working. They sit, fidget, drink whiskey, occasionally take a glimpse out the window, munch on Super Bowl food. Mostly they experience dread and articulate it as best they can. This is not to complain. This is what DeLillo knows how to do better than any American novelist alive.
---
London Review of Books: December 3, 2020, a review of The Silence "Coughing Out Slogans" by Andrew O'Hagan.
The couple crossing the Atlantic are both slightly flattened out by the anxieties of living. 'All I want to do is get home and look at a blank wall,' she says. Then the plane starts to bounce, then it shakes, and there's a loud knocking in the undercarriage. Suddenly, there's an outage. (Not his word, but it seems right to me.) The screen goes blank. Turns out a screen going blank isn't at all like looking at a blank wall.
---
Los Angeles Review of Books: November 16, 2020, a Real Life Rock Top 10 entry for The Silence in November 2020: Special Election Edition! by Greil Marcus.
A first review said this wasn't really a book, but a couple of warm-up chapters for a book the writer didn't bother to write. For a novel that crystalizes DeLillo's work since Cosmopolis in 2003 — his best work, I think — you couldn't miss the point by more. This book is about a world where there will be no plots, no stories.
---
CBC Radio One: November 10, 2020, a short interview with DeLillo on The Silence, with a transcript at Author Don DeLillo discusses new book, The Silence by Matt Galloway.
"Well, my wife and I took an occasional walk, but we we're very careful. We don't walk as we used to do. We walk cautiously. Like a broken field runner in football, avoiding certain people, people without masks and staying close to buildings and sometimes walking in the street because it's safer than walking in on a crowded sidewalk. So there is that element of a wary freedom and getting out and taking a walk."
---
The New York Review of Books: December 3, 2020 issue - Review of The Silence "The Sense of an Ending" by Michael Gorra.
Edward Said writes that in late style death appears refracted as irony; Adorno that such works are the catastrophes of art. Some pages in this book verge on self-parody, and I doubt it will draw any readers who haven't already invested themselves in DeLillo's work, in the half-century of risks his voice has taken. But those of us who have will find something poignant and terrible in this strange unbroken silence.
---
PBS: November 10, 2020 - Brief interview with DeLillo on The Silence "What Don DeLillo dreads — and finds compelling — about a blank screen" by Jeffrey Brown.
"Yes, the characters are confined to an apartment in Manhattan and because the power has failed, they are limited in what they can glean from the outside world. They don't know what's happening. Apparently, nobody seems to know what's happening and all they can do is speculate. And I guess this is the reason I began to work in a somewhat stylized manner, a kind of formalized approach to this novel. One character in particular, Martin Dekker, a physics teacher, tends to make speeches, although he's not speaking to his class, his roomful of students, he's speaking to friends and acquaintances."
---
The Spectator: October 24, 2020 - review of The Silence "Cyber apocalypse" by Adam Begley.
After the virus, what comes next? A blank screen that gives no answer. Or is the answer. And the voices of these five people, and DeLillo's familiar, distinctive voice? There to remind us that we will always try to make ourselves heard, to make a mark, even as end times approach. Meanwhile, Tessa's advice is as good as any: "Tend to the simplest physical things. Touch, feel, bite, chew. The body has a mind of its own."
---
NPR: October 23, 2020 - short interview with DeLillo : On new novel The Silence by Ailsa Chang, with audio and transcription.
DELILLO: (on the characters) "I think that they are somewhat stricken by the circumstances in which they find themselves. The fact that power has failed, that their powers of communication have also failed to a certain extent. They are stranded, and that affects the way they address each other and the way they think."
---
Observer: October 23, 2020 - review of The Silence: "Don DeLillo's The Silence Imagines the Death of Tech" by Craig Hubert.
The Silence, a brisk new novel from Don DeLillo, opens with a quotation attributed (with some contention) to Albert Einstein: "I do not know with what weapons World War III will be fought, but World War IV will be fought with sticks and stones." Anecdotally credited to Einstein as a response to the dangers of nuclear testing at the beginning of the Cold War, here it acquires a different meaning. In our current age, might the more imminent danger come from the collapse of our increasingly digital lives? If the plug is pulled, and everything goes blank, what happens next?
---
The Guardian: October 22, 2020 - review of The Silence: "The machine stops" by Anne Enright.
The Silence is just over a hundred pages long, so it is not as commodious a novel as Underworld, and not as funny as White Noise. Many of the same themes recur in a pared-down form, the novel illuminating the previous work with an intense, narrow beam. Sporting masculinity, educators, other languages, systems, paranoias, what is remembered and what is forgotten, the mass mind; these are presented, not in a fritz of interconnectivity but as mimicry, emptiness and, finally, silence.
---
The New York Times: October 20, 2020 - review of The Silence: "In Don DeLillo's New Novel, Technology Is Dead. Civilization Might Be, Too." by Joshua Cohen.
DeLillo has never been content with merely reporting, however: He wants to tell us not just what-is, but how it feels, and it's this ability to transcribe the moment's emotion that constitutes his genius. Terrorism, financial collapse, nuclear and biochemical disaster: These phenomena might've occurred in The Names, Mao II, Cosmopolis and White Noise somewhat differently than they occurred in the world, but the reactions of DeLillo's characters were often determinative.
---
A.V. Club: October 19, 2020 - review of The Silence: "The lights go out in Don DeLillo's familiar yet slight The Silence" by Rien Fertel.
This new novel isn't prime DeLillo, but it's definitely not not DeLillo-esque: in ideas, in tone, in the way his characters think and act and, most notably, speak. There's a whole world of DeLillo in these 116 pages. Yet, that might not be enough.
---
The Guardian: October 18, 2020 - review of The Silence: Don DeLillo: 'I wondered what would happen if power failed everywhere' by Rachel Cooke, with a number of quotes from DeLillo.
"The other important element was a volume I've had for some time: the 1912 manuscript of the special theory of relativity by Albert Einstein. It's an oversized book, and much of it is too technical for me. But I read what I could comprehend in the English translation, and then I began looking at other volumes concerning Einstein's life and work – and I found he was entering the narrative. He was beginning to occupy my mind. Both these things accompanied me into The Silence." Is the connection between the two of them time, which is never more paradoxical than during a long flight? "Yes. Time is a powerful matter: elusive, as you say."
---
4Columns: October 16, 2020 - review of "The Silence" by Tracy O'Neill.
Like the people in Einstein's metaphor who aboard a uniformly moving windowless train cannot detect its motion, the characters in The Silence are unsure what is happening. They do not know if what's occurring could be said to be an event at all or if - as Diane tries to quip - it's the end of world civilization.
---
The Los Angeles Times: October 9, 2020 - review of The Silence: "Don DeLillo's prescience is a mystery even to his acolytes" by Carolyn Kellogg, which includes comments from Dana Spiotta, Rachel Kushner and Jonathan Lethem.
But, I'd say, if DeLillo has been writing the American century, he's also been writing the end of it. If that loss can be hard to read, it doesn't make it any less true or the work any less powerful.
---
The New York Times: October 12, 2020 - review of The Silence: "Don DeLillo, an Old Hand at Paranoia and Dread, Meets Us Where We Are" by Dwight Garner.
The bad news, in addition to a certain amount of black-box, black turtleneck pretentiousness that is a hallmark of late-career DeLillo, is that The Silence reads like the first two chapters of a disaster novel. At 117 pages, it's over before it gets started. It's as if a filmmaker put two couples inside a remote old farmhouse for the weekend, cut the power, cued the dogs of hell and then rolled the credits.
---
The New York Times: October 11, 2020 - interview with DeLillo on The Silence and more: "We All Live in Don DeLillo's World. He's Confused by It" by David Marchese.
Q: Your fiction, inasmuch as it's about any one particular thing, is about what makes us uncomfortable. So I'm curious: What gives you comfort?
A: Writing gives me comfort. Trying to understand can be somewhat self-enlightening, maybe in a self-deceptive way, but that's helpful. My personal question is, Will I keep writing fiction? The answer is that I'm just going to see what happens. It's possible that I'll try to think about arranging a volume of my nonfiction work. I don't know.
---
The Brooklyn Rail: October, 2020 - review of The Silence: "Don DeLillo's The Silence" by M.C. Armstrong.
The plot of survival, like one sees in so many dystopian novels these days, is not the territory DeLillo seeks to map. The Silence is not a story of rugged teenage heroines, bombed-out wastelands, or a brave interstellar search for a new world beyond our own. What many readers will recognize in the second half of DeLillo's novel, I suspect, is an uncomfortable black mirror on the strange earthly spaces of these past months and years.
---
Pop Matters: September 30, 2020 - review of The Silence: "For Don DeLillo, 'The Silence' Is Deafening" by Jesse Kavadlo (a friend of this site!).
The Silence, however, is less about a 2022 "different catastrophic event" than the catastrophic event we are currently living. DeLillo's 16th novel appears to be his first that is neither late nor early to the uncanny prediction of current events but arrives precisely on time.

Yet one of the most difficult aspects of 2020 is that unlike other, singular, dated catastrophic events in the US—Kennedy's assassination, 9/11—we have nothing specific to point to, no "where were you when…" elegies. We were all home or went home. Everything changed, and nothing happened.
---
LitHub: June 24, 2020 - a preview of The Silence by Emily Temple contains this little preview:
The publisher describes it as "a novel about five people gathered in a Manhattan apartment on Super Bowl Sunday 2022, when an unknown catastrophic event renders the digital world silent. With echoes of the sudden, isolating effects of the Coronavirus, The Silence is a powerful work about what it means to be human from one of the most highly-decorated, dazzling, and essential voices in American fiction."

DeLillo himself said that he began writing the novel in 2018. "I started with a vision of empty streets in Manhattan. The idea of the silence grew from sentence to sentence, from one chapter to the next."
---
EW: July 16, 2020 - provided the cover and a nice excerpt paragraph of airplane dread: Get a first look at Don DeLillo's The Silence by Seija Rankin:
He decided to sleep for half an hour or until an attendant showed up with a snack before they landed. Tea and sweets. The plane began to bounce side to side. He knew that he was supposed to ignore this and that Tessa was supposed to shrug and say, Smooth ride up to now.
---

Back to DeLillo's novels.
---
Last updated: 13-DEC-2020