Mao II
A novel by Don DeLillo, 1991. Winner of the PEN/Faulkner Award for Fiction.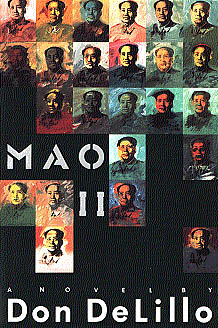 Published by Viking, 1991, 241 pages. 75,000 copies in the first printing. Jacket design by Michael Ian Kaye, artwork by Andy Warhol.
See the Mao II editions for more.
Dedication: "to Gordon Lish" (author; see the Odds and Ends page for more on DeLillo and Lish)
What it's about:
The story of Bill Gray, an author in hiding, terrorists, and crowds.
Here's the original dust jacket copy.
First line:
"Here they come, marching into American sunlight."
What it's really about:
From the Passaro article: "I do think we can connect novelists and terrorists here. In a repressive society, a writer can be deeply influential, but in a society that's filled with glut and repetition and endless consumption, the act of terror may be the only meaningful act. People who are in power make their arrangements in secret, largely as a way of maintaining and furthering that power. People who are powerless make an open theater of violence. True terror is a language and a vision. There is a deep narrative structure to terrorist acts, and they infiltrate and alter consciousness in ways that writers used to aspire to."
Check out the Mao II Media Watch for contemporary reviews of the novel.
In several interviews DeLillo mentions two photographs which in some way made this book happen. Here are some comments from the 1991 William Leith article:
"One of the starting points for this novel was a picture I saw in a newspaper. It was a grainy photograph of a Unification Church wedding, 1,500 people getting married in a soft-drink warehouse in Korea.

"In the summer of 1988, I looked on the front page of the New York Post. There was a startling picture of an elderly man - he looked frightened and angry. It was J D Salinger. The last time he'd been photographed was in 1955. . . . For the editor to send these two men [the photographers] to New Hampshire was a little like ordering an execution. And when you look at the face of the man being photographed, it's not a great leap of imagination to think he's just been shot."


Tom LeClair's lecture entitled "Me and Mao II.".
Here's an essay by Mark Ireton on parallels between Mao II and Great Jones Street.
Extensive reading notes can be found here.
---
Next novel: Underworld
Back to DeLillo's novels.
---
Last updated: 18-DEC-2012