Players
A novel by Don DeLillo, 1977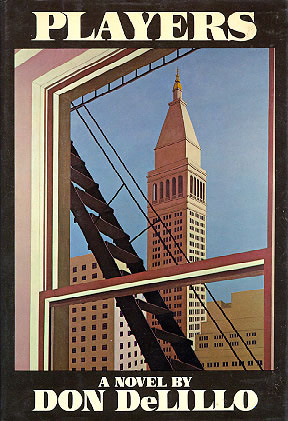 Published by Knopf, 1977, 212 pages.
Jacket painting is "Blue Surrounded" (1972) by Cecile Gray Bazelon (see photos below, and note the character in "The Day Room"), jacket design by Lidia Ferrara.
Paperbacks issued by Ballantine, 1978 , and later by Vintage.
Players editions.
No dedication.
What it's about:
A Wall Street couple run off with terrorists.
Here's the original dust jacket copy.
First lines:
"Someone says: 'Motels. I like motels. I wish I owned a chain, worldwide. I'd like to go from one to another to another, There's something self-realizing about that.'"
What it's really about:
From the LeClair interview: "The original idea for Players was based on what could be called the intimacy of language. What people who live together really sound like. Pammy and Lyle were to address each other in the private language they'd constructed over years of living together. Unfinished sentences, childlike babbling, animal noises, foreign accents, ethnic dialicts, mimicry, all of that. It's as though language is something we wear. The more we know someone, the easier it is to undress, to become childlike. But the idea got sidetracked, and only fragments survive in the finished book."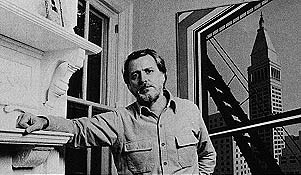 Photo by Thomas Victor, 1985
Check out the Players Media Watch for contemporary reviews of the novel.
Other tidbits:
The first section of the book is titled "The Movie" and is set in an airplane bar, where passengers are drinking and a film is being shown with piano accompaniment. The film shows a group of golfers being murdered by terrorists, matching in many ways the escapade described in DeLillo's 1970 story "The Uniforms".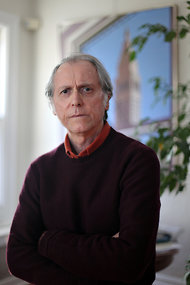 Photo from NYT, 2010
---
Next novel: Running Dog.
Back to DeLillo's novels.
---
Last updated: 18-DEC-2012